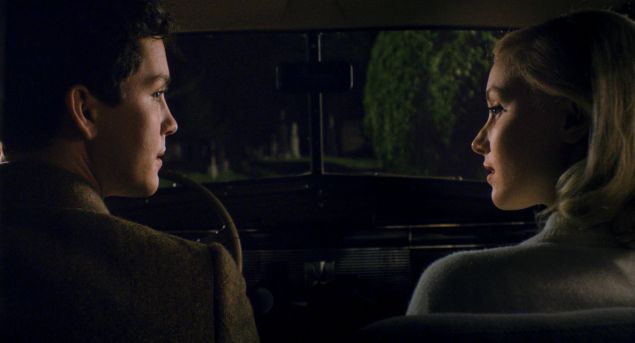 The personal and the political always commingle at the Berlinale—the festival is headquartered at Potsdammerplatz, famously bisected for decades by the Berlin Wall, and never too far from controversy. And the most compelling stories last week have been ones where the protagonists fight for their own dignity.
From Mohamed Ben Attia's stirring North African drama Hedi, about a Tunisian man taking an unlikely lover on the verge of his arranged marriage, to Soy Nero, Rafi Pitts' uneven but unexpectedly arresting and beautifully photographed look at a Mexican immigrant's struggle to get American citizenship, Berlin's competition entries have put a human face on social issues large and small.
The alternate title for many of these movies could easily be the name of James Schamus' directing debut, Indignation, his adaptation of the 2008 coming-of-age Philip Roth novel set in 1951 about a young Jewish boy from Newark who confronts narrow minds while finding love at a small college in Ohio. The film caused a well-earned stir last month at Sundance when it sold to Summit less than three hours after its rapturous premiere. In Berlin, the movie had its European premiere in the Zoo Palast, an opulent mid-century cinema that also held the first screening of Ang Lee's 1993 Berlinale entry The Wedding Banquet—which Mr. Schamus produced.
"Berlin is really a home for me in so many ways," he said during an overcast afternoon at the Regent Hotel the next day. "I essentially launched my career—at least the business side of that—with The Wedding Banquet here so many years ago in the same theater that I got to premiere that movie last night. That means a lot. "
And what a career. Since then, three-time Oscar nominee Mr. Schamus has had a hand in writing and producing almost all of Mr. Lee's films, including The Ice Storm and Crouching Tiger, Hidden Dragon. And, after co-founding Focus Features in 2002, he went on to produce Brokeback Mountain and distribute such acclaimed modern classics as The Pianist, Lost in Translation, The Kids Are Alright, Milk, and Moonrise Kingdom.
Mr. Schamus was also head of the Berlin Film Festival jury in 2014, and has strong ties to the local filmmaking community—especially X Filme Creative Pool, whose financial support was crucial in getting Indignation produced.
"I think there's just a strange affinity I have for the culture here in Berlin," he said. "The people, the filmmakers…It just feels like a home away from home. To be honest, someday I hope it will be home! But right now, life and children and friends and business—I'm a New Yorker, what can I tell you?"
His students at Columbia University would agree—he's a fixture at the school, where he's taught film history and theory for more than a quarter century. "As I was in pre-production on Indignation," he said, "I was invited into the 25-Year Club at Columbia. There was a dinner and I got a Tiffany frame." No drunken ritualistic paddling? "Oh, the alcohol poisoning!" he joked. "I'm still suffering the trauma."
Two years ago, the Comcast-owned Focus (operated under Universal's supervision) went through a corporate shake-up that left Mr. Schamus without a job for the first time since the early '90s—and more importantly, without an office, which longtime collaborator Mr. Lee insisted on rectifying. "Yes. It was just absurd," Mr. Schamus remembers. "Literally the day after I got fired, Ang wanted me to move into his office, which I said absolutely no—it would drive me crazy. He's in Chelsea, and we ended up finding an office right around the corner, which is great. So I have my own space and I can lock the door and he doesn't have the key. And vice-versa! So we can maintain our friendship and sanity. We're developing a Joe Frazier-Muhammad Ali film right now, which has been an extraordinary adventure—but a really epic development process. So we'll see if that gets made, but we're trying."
Mr. Schamus wasn't lacking for other projects, including a gig adapting Zealot, Reza Aslan's historical reappraisal of Christ's life, for producer David Heyman. But directing was an unexpected and welcome change of pace for the longtime producer/screenwriter/professor. "It's funny," he said Schamus of his first film. "Of course, I was unemployed. That helps. And my youngest daughter was off to college—that empty nest thing. It was like, 'Why not?' And at that point, as a producer, I can honestly say I was the cheapest director I could find to hire."
As for the subject material, Philip Roth wasn't the most obvious choice either. The author is "notoriously difficult to adapt, and rightfully so," he said. "But, to me, if you finish a novel and say, 'this will be so seamless an adaptation,' then you actually haven't read a novel, you're read a screenplay in novel form. Those are not good novels, which is precisely the difficulty of the transition that makes it interesting."
"I love that challenge of adapting," he continued. "I don't think anybody was reading The Ice Storm at the time and thinking, 'Wow, what a movie!' Are you kidding me? And those are the ones I like to do. Philip Roth made it easier with Indignation because it's one of his later works, it's more of a fable…so there's a bit more innocence and therefore the opportunity is there for this romance, and for genuine tragedy."
The film's most talked-about moment is a 16-minute scene between the young protagonist Marcus Messner (Logan Lerman) and Dean Caudwell (Tracy Letts) in which the two of them challenge each other's notions of academic priorities and social conformity, while also dipping into deeper theological issues—a risky proposition for any film to make into its centerpiece. "Look, we were worried, of course," admitted Mr. Schamus. "In the middle of the movie we've got people sitting around talking about God for 16 minutes! But what's weird is that that scene ends up being the most narratively tense and exciting. It's bizarre, of course, but that was the goal. And if we had not achieved that goal, the film would have failed."
Inherent in that scene is, well, indignation, since Marcus is really bearing the brunt of the Dean's paternalistic attitudes—which, though well-intentioned, come off as not only condescending but also unabashedly anti-Semitic.  "I love the word 'indignation,'" Mr. Schamus explains. "In English, we have a hard time understanding what it is because we think it means 'angry.' But the structure and intonation are actually very complicated. You are indignant because you don't have dignity. So dignity has been taken away from you. But you're only indignant because you do have dignity. So you're experiencing a kind of shame, but you're also feeling the opposite. I love that Philip Roth just seized on that word."
Indignation is essentially a tragic romance between Marcus and a vulnerable but disarmingly direct classmate named Olivia Hutton (Sarah Gadon). But it's also a study in shifting perspectives, and how the truth is actually a hard concept to grasp.
"For me, the crux of the film is the acknowledgment as human beings that truths can often be our worst enemies," Mr. Schamus said. "They're not nice—and, by the way, sometimes they're not true. They're facts, but they may not be truths. A truth is a very specific thing—it's a statement, it's a proposition that correlates to some kind of reality. A fact is. But a truth has to do with the situation."