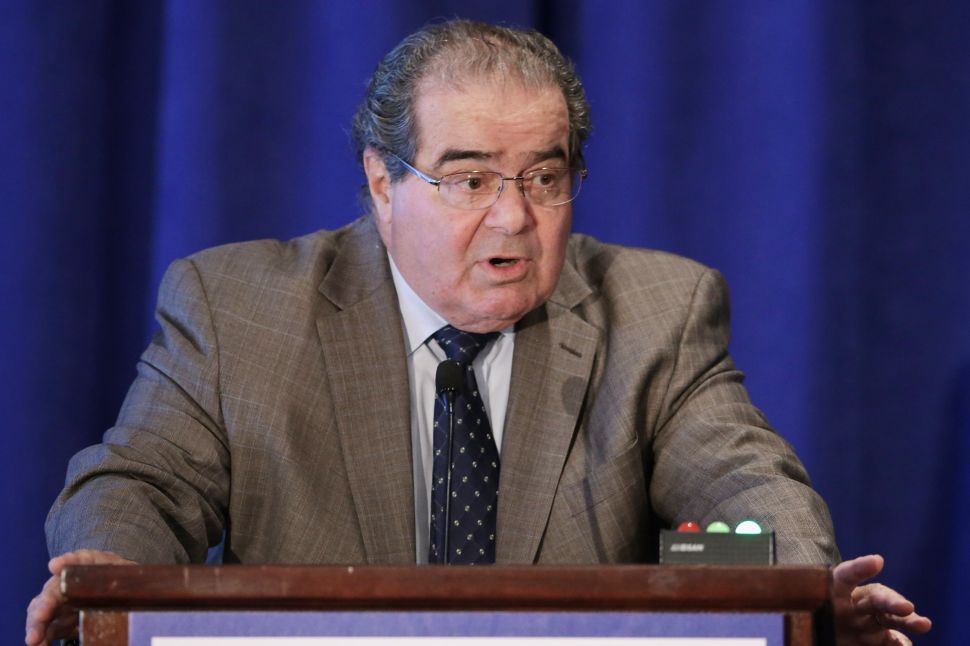 The death of Supreme Court Justice Antonin Scalia is a profound loss to the country. Whether one agreed or disagreed with his positions—particularly on hot-button social issues—he was a rigorous and thoughtful defender of the Constitution. His colleagues respected him, liked him, and listened to him—even if they too disagreed with him.
Scalia's adherence to the actual words of the Constitution elevated the debate on the cases before the Court. Because he also insisted on reading the actual text of legislation written by and passed by Congress—not others' interpretations of what Congress intended or meant—he helped elevate that branch of government as well. And for that, we, as a nation were well served and better off. He made us adhere more closely to the hope, if not always the truism, that America is a nation of laws and not men.
Rudy Giuliani knew Antonin Scalia well, from early in both of their storied legal careers. The former mayor told the Observer, "Our nation has lost its most passionate, brilliant and articulate defender of our Constitution. I have also lost a good friend I served with Justice Scalia in the Edward Levi post-Watergate Justice Department. He taught me more about the Constitution and law than any class in Law School. His debates with his colleague Robert Bork were equal to Socratic dialogues. Whatever your political position, you had to respect his intellectual honesty, his dazzling brilliance and his overpowering, nice, warm and charming personality. My wife Judith and I and my entire family extend our deepest  condolences and will pray for him and the Scalia family. Most important, he will be praying for us and the continued exceptionalism of our constitutional government."
Mr. Justice Scalia was appointed to the High Court in 1986 by President Reagan, and was confirmed unanimously by the Senate. That he was bringing a clear ideology to the Court was no surprise. And while it was certainly "conservative" it was far more based on a profound respect for the Constitution.
He made his logic clear in decisions that were often controversial and unexpected. On abortion, he infuriated liberals with his opposition to Roe v. Wade by stating, "The states may, if they wish, permit abortion on demand, but the Constitution does not require them to do so." He was equally willing to infuriate conservatives, and did so with his opposition to a bill banning flag-burning, saying, "I do not like scruffy people who burn the American flag …. regrettably, the First Amendment gives them the right to do that."
Mr. Justice Scalia's decisions often confounded commentators' desire to pigeonhole him on a liberal-to-conservative spectrum. The Justice upheld the individual's right to own guns – while recognizing a city's right to impose some regulation. Yet he was among the Court's toughest critics of police searches and among its firmest protectors of defendants' rights. The common denominator, he explained, was the text of the Constitution. The constitution, he said, was not a living organism, explaining "It means today what it meant when it was adopted."
We were on the Upper West Side of Manhattan when Justice Scalia's death was announced. We were saddened, and at times appalled, by the glee with which the news was shared on social media by some of our friends. They surely weren't aware of the first time we encountered Justice Scalia – which was also on the Upper West Side.
It was in 1996 at a memorial service for Fred Friendly, the former CBS News president, and Edward R. Murrow's long-time producer. Mr. Friendly was an unabashed liberal, and Justice Scalia, speaking at the service, admitted that the two men disagreed on practically everything. But they were very close friends, and Justice Scalia reminded the audience how Mr. Friendly always carried a dog-eared copy of the Constitution in his breast pocket, and was quick to point out appropriate text to make his point in a discussion. Apparently having been on the receiving end of such reminders, Mr. Justice Scalia said, "He knew I was trying to do my best to figure out a complicated world, just as he was."
A few hours after his death, we were talking with someone else who might be assumed to be an opponent of Justice Scalia's opinions: the long-time head of the ACLU, New York Law School Professor Nadine Strossen. She was a fan and a friend of the conservative jurist.
"While Justice Scalia provoked the ire of many liberals, he wrote important opinions upholding individual rights, including free speech and privacy, which liberals should celebrate," said Ms. Strossen. "Moreover, despite his vaunted 'originalism,' he expansively construed Bill of Rights provisions in the context of new technologies and new dangers. For example, he championed the right to be free from newfangled, high-tech surveillance methods, and in the Court's first post-911 constitutional ruling, his opinion (which was joined only by the liberal Justice Stevens) was the one that most strongly supported the rights of an accused terrorist."
Ms. Strossen, who holds an endowed chair in Constitutional law named after another Supreme Court Justice, John Marshal Harlan II, added, "I do have full-bore admiration for him, not only because of his pro-civil libertarian opinions—not to mention his terrifically vivid, witty, memorable writing—but also because of his personal warmth, ebullience, and generosity."
We cannot imagine a higher tribute. The nation has lost an important intellect, a fair jurist, and a great and good man.