Art forgery has taken center stage this month at the Knoedler trial, which, prior to its surprise settlement, had been tasked with sorting out who did or did not knowingly sell fake de Koonings and Rothkos to unwitting collectors. But while these high-end, high-profile scams keep coming to light, a different group of collectors have been snapping up artworks that are very similar to those of master painters such as Joan Miró and Robert Ryman—and even young art stars like Joe Bradley—at a fraction of the cost. These artworks are completely legal, even though they were also made by people other than the canonical artists whose styles they resemble. The difference is, collectors know the real identities of these painters.
One painter that fits the profile is 35-year-old German artist Chris Succo, who, according to his resume, has had five solo painting exhibitions and at least 12 group exhibitions over a 21-month period in 2013-14. Since then, Mr. Succo has worked through at least five other styles, including a series of "pin-up girl" collage-style paintings and a new series of text paintings, but the one that initially brought him attention was a series of almost entirely white paintings like 2013's Actress Showed Her Love. These artworks are made up of thick, white paint marks that partially reveal a flat underpainting, usually of a single color. It's a handsome enough trick, but Robert Ryman (b. 1930), who currently has an exhibition covering half a century of his exceptional work at Dia:Chelsea, exhausted that exact format in the '60s and '70s with his own "white" paintings (when extreme formal  ventures were still considered avant-garde.)
The fact that Mr. Ryman began his project over 50 years ago and achieved a greater sensitivity of line and composition than Mr. Succo, leaves very little to chew on in the younger artist's works. Yet surprisingly, Mr. Succo's very familiar body of work thrived in the marketplace, so much so that one of his six-foot-tall paintings sold for $76,000 at Phillips' spring auction in London in 2014.
Paintings like these had become popular during recent boom years (between 2011-2015) in the art world, and while it's rarely mentioned in press releases, or even in the media, many of these paintings look quite similar to artworks by highly recognizable painters like Mr. Ryman. These "copycat" artists have been popping up all over the place in high—and low—end galleries, in America and abroad. It's ironic since one of the major tenets of Modernist art, as practiced by the cannonical artists now being copied, was originality. In fact, the quest for originality has maintained its value in Contemporary art, despite the widespread acceptance of appropriation, first popularized by artists like Richard Prince and Sherrie Levine in the 1980s. But to be clear, these new imitative paintings don't use appropriation.
"I think appropriation is a gesture that acknowledges the relationship to the art utilized…adding a complexity to the experience of the viewer," said artist Carl Ostendarp, who is represented by Elizabeth Dee Gallery in New York City and is the director of graduate studies for the department of art at Cornell University. The fact that similarities to other artists are rarely mentioned in the press releases of copycat artist exhibitions leads one to believe that these artists aren't working with appropriation.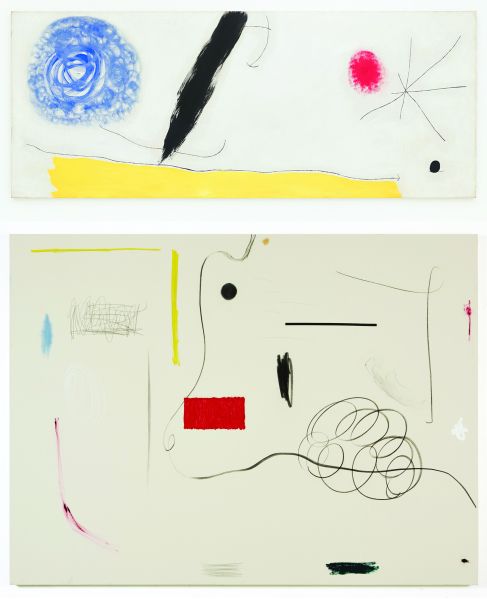 As imitation slowly became more commonplace amongst emerging artists, prices for other derivative painters climbed even higher at auction and on the secondary market. A Brazilian painter by way of Austria named Christian Rosa found wild success by invoking the work of an even bigger artist—Joan Miró—in his canvases. By 2015, Mr. Rosa saw his work selling at auction for over $200,000.
Unlike Mr. Succo, who chose to develop a few distinct styles, Mr. Rosa tends to work in a singular style that mutates in various ways. Nevertheless, at the core of his process are confident, swirly lines and shapes in oil paint, charcoal and graphite. Though the works are entirely non-representational, they have the unfortunate effect of looking very much like Joan Miró's more Minimal painting style, but completely drained of Miró's uplifting, nature-based content. Mr. Rosa has been tinkering with different formats of late, including the use of a rigid understructure meant to look like lines on sheet music to offsets his snaky loops and squiggles. This new approach helps to distinguish his work, but it comes only after years of exhibiting and selling dozens of Miró-esque paintings.
While Robert Ryman's popularity is more limited to the art world, Miró's brilliance is known around the globe by anyone with even a passing interest in art. But very few objections were raised at Mr. Rosa's oeuvre, and the work was lauded in some circles, though in vague terms. Mr. Rosa's representing gallery, White Cube, did not respond with comment but referred the Observer to the artist's website page where the resemblance to progenitor artists is mildly acknowledged. "On the surface, Mr. Rosa's paintings appear to pursue the ideals and procedures of high modernism while also dispensing with its rules," it states. "However, despite their possible visual references to the work of both Wassily Kandinsky and Cy Twombly, his approach is highly personal."
While Mr. Rosa does work in a less representational vein as both Twombly and Kandinsky have done, his aesthetic seems closer to Miró's. And despite the claim that this work is "highly personal," no personal relationship to this work is explained in the rest of the release—only formal concerns are. Perhaps "personal" is code for "made by this artist despite the fact that it looks like it was made by another artist"? It makes one wonder if the once-desirable quality of being original—versus what one might now deem personal—has finally lost its appeal in the art world, and if so, what quality or qualities now fill its void.
Even a summary look at the exploding market for Contemporary art between 2010 to 2015 shows that a reckless and under-qualified desire to sell on the part of dealers—and invest on the part of collectors—might at least be partially responsible. Around 2010, the emergence of newly minted blue-chip artists at auction like Joe Bradley and Tauba Auerbach set art dealers, collectors and consultants on a hunt for their own future stars as more and more money from America, Europe, South America and China began flooding into the art world. They descended upon a group of very young painters whose prices rose quickly thanks to a new breed of financially motivated collectors that viewed their collections more like stock portfolios than art. Painters in their 20s such as Parker Ito and Lucien Smith were being plucked from relative obscurity and, within a few years, had become highly sought-after commodities despite their lack of exhibition history or critical acclaim. This fervor for emerging art peaked in 2014 when then-26-year-old Lucien Smith broke a record for one of his "Rain Paintings," which sold for a gaudy $372,000 at a Sotheby's sale in London. After watching collectors walk off with gains of up to 2,000 percent, both collectors and dealers frantically sought to uncover the next big payday artist—even if that meant ignoring some art history along the way.
But it seems those heady days could be over. With more modest sales all across the contemporary art landscape, 2016 is thus far telling a very different tale than the art world of just a few years earlier. At the height of the speculative emerging market, the turnover of these lookalike paintings in galleries and at fairs was so rapid there was hardly enough time to critically engage with them. And since critics tend to be drawn to discussing the work of either well-known artists or younger artists who seem novel, most of them looked past these derivative works that collectors were promoting and hoarding.
Of course, mimicry—either the naive or purposeful kind—is not new, nor is it illegal. "Some artists appear to use the means of painting to produce an artifact instead of using them to form the viewer's experience," said Mr. Ostendarp, who spoke to the Observer via email from his Ithaca, N.Y., studio. "All of it's kosher—borrowing, stealing, appropriating, copying etc., it just depends on your artistic interests or expectations."
Others might argue that it's just too difficult to be truly original with paint these days. According to the Bureau of Labor Statistics, there were over 500,000 people in 2014 working as full-time craft or fine artists in the United States, with most of them working in the most popular medium: painting. There are only so many variants of color, brushstroke and composition to discover, especially once you get into formal abstraction. And in fact, the art world had seen an explosion of simplistic wall works over its recent boom years, many of which rehashed post-Minimalist or process-based ideas from the '60s and '70s in order to produce a high yield of nearly indistinguishable abstractions.
But young artists are not only borrowing styles from those decades. Some of them, like Grear Patterson, are going back to 2008 for inspiration. Mr. Patterson, who is 28, has already made art in a wide variety of styles and mediums, from a series of decorative seashore paintings that were shown at Marlborough Chelsea in Manhattan last year, to short digital videos dating from 2013. He first found success with a series of wall works he began that year—cutout smiley faces with three, fabric-stretched parts (an "X" and an "O" hovering over a smiling arc). As lacking as those works were in concept, the format of the work at least stood out as somewhat unique (even though the trope of simplified faces had been heavily explored ever since LA-based art star Mark Grotjahn begun his new series of Face Paintings around 2009.)
But it was Mr. Patterson's next series that really raised eyebrows. The works in that series, referred to as "tanks," consist of three rectangular, fabric-stretched shapes that, put together, resemble a simplified tank as it might look in a 1980s video game. It might seem like fitting territory for Mr. Patterson, based on the reductive smiley faces he made previously, but lamentably the painter Joe Bradley had already found extensive fame and critical renown for a similar-looking series of clustered monochromes that somewhat resembled robots and other objects that he'd started in 2006. It is a somewhat ironic twist, considering that Mr. Bradley's series is noted for referencing the blocky figure sculptures of Joel Shapiro from the '70s and '80s, but in a way that purposefully borrows a style that had transitioned from avant-garde to passé over the decades. While Mr. Bradley's works, through this idea, manage to express a recognizable feeling of ineffectual longing for past greatness, Mr. Patterson's series merely expresses physical similarities to Mr. Bradley's series.
The rise in redundancy does not have everyone worried, though. Top curators, like the Contemporary Art Museum of Houston's director Bill Arning, insist that painting isn't dead. "Every time I go to New York, there's always going to be at least one show that is identified—by broad definition—as painting that will undoubtedly charm the pants off me, and I'll remember the [artist's] name and look for it again," said Mr. Arning via phone. Of course, the extensive history of painting and the challenge of adding to its esteemed lineage is part of why artists like it, but this is a medium that has supposedly "died" (or in art-speak, has become irrelevant) a multitude of times since the invention of the daguerreotype in the 1800s. Perhaps it's possible that at a certain point in history—in fact quite recently—young painters decided to cease the now age-old quest for art historical significance and instead focus on the simple pleasures of decorating well for a living? As far as crimes go, it's something that deserves nothing more than a slap on the wrist.