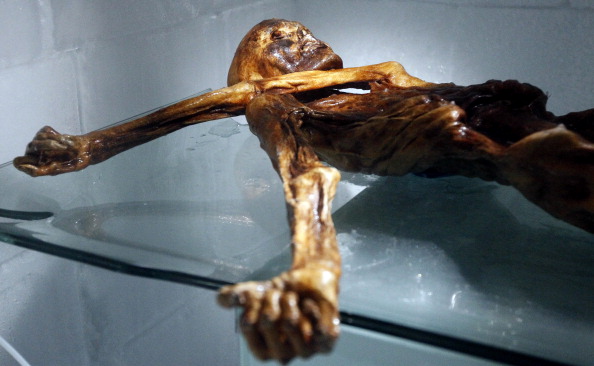 The subjects of artist Gary Staab's work are known all over the world, from displays in major museums to the pages of classroom history books. But while Mr. Staab considers himself an artist, you won't find his work on view in a contemporary gallery.
Instead of painting or drawingg, he specializes in painstakingly sculpting models of extinct creatures and ancient peoples. Past projects have included a replica of King Tut's mummified body for a National Geographic Exhibition and a commission to make his own versions of Pompeii's ash-covered victims of the ancient eruption of Mount Vesuvius.
Now, Mr. Staab has been tasked with making three replicas of a 5,300-year-old mummy known as the "Ötzi the Iceman," and he's done so by using some of the most advanced 3-D printing technology available.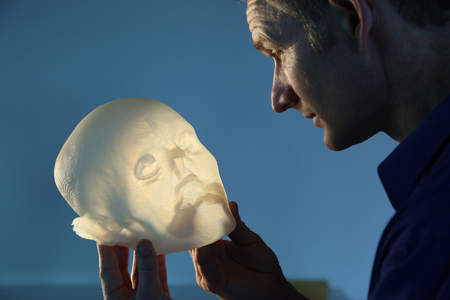 3-D printing is now becoming widely popular among artists and archaeologists as a way to make historical artifacts more accessible to the general public, as well as save those in danger of being lost. Last week, the New York-based digital art organization Rhizome premiered 3-D models and prints of artworks recently destroyed by ISIS, resurrected by artist Morehshin Allahyari. And London's Grant Museum of Zoology has been using 3-D printing to reconstruct and complete the skeletons of extinct species.
In the case of the "Iceman," the mummy itself is too fragile to be exhibited. However, 3-D printed copies will bring the ancient human to audiences for the very first time.
Mr. Staab has used a combination of 3-D prints of Ötzi's torso, medical CAT scans and hand-carved details to make near-perfect copies that will be displayed at the Dolan DNA Learning Center in Cold Spring Harbor, N.Y., the South Tyrol Museum in Italy (where the real Ötzi is safely stored away from the public eye) and a third for a undisclosed exhibition forthcoming in New York.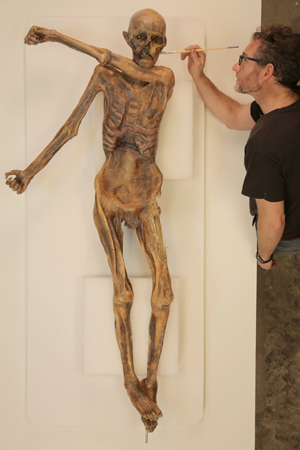 His latest efforts have also become the subject of a documentary series for PBS's science channel, NOVA.
In an interview with Smithsonian Magazine, Mr. Staab discusses the "Iceman" project and the many challenges of trying to create an artistic representation of one of history's most recognizable icons. Below, some highlights.
On hazards of the trade: You don't want to be the one guy that trips and breaks the Tut mask or something, right? We had to get in scrubs so we didn't bring in any of our own DNA and contaminate Ötzi.
On the many steps it took to make Ötzi: These scans of the Iceman weren't complete because of his shape—his hands are out to the side. I had to digitally sculpt his hands. When I went into the freezer with him, I took a bunch of high resolution photographs and sandwiched them together to create the 3D shape.
3-D printing is just a first step: The model is just the blank that we start from. We used traditional medical scans, which don't get surface texture, so we sculpted over the model to create the final skin texture.
The tough part of the job is in the details: We also had to sculpt all of the crazy difficult pathologies and damages that are on the rest of his body…We made thousands of tendons for each one of the models and those had to be glued on independently.
Mummies can be gross: One of Ötzi's hips was ravaged by an animal at some point, so a great deal of his innards are exposed around that area. In the freezer, we talked about it: 'Okay, so here's the lower intestine, here's the stomach contents spilling out of the lower intestine…' That part took a lot of testing different materials, techniques and colors to figure out.
He added a little bit of himself to the replica: Ötzi also has one eyelash in his left eye, so I took one of mine out and I glued it in there.
He works a little different than other artists: I use all the same skills, it's just a different final result. I'm trying to build something that is really believable—something that's essentially a scientific display model. It's not a fine art piece. A fine artist or painter wants to leave their mark on the work. But in my job that's the worst possible thing I could do. If I do a good job, then no one ever knows that I was there.