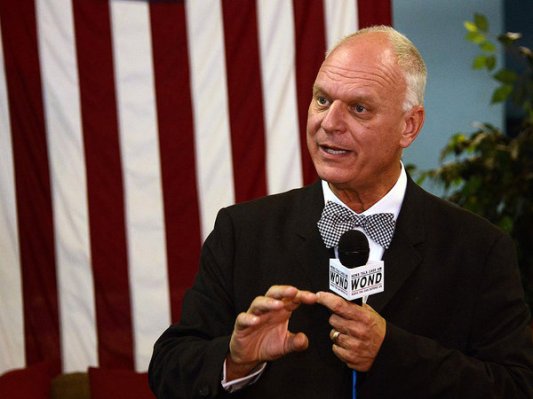 Whether Atlantic City submits to a state takeover or not, bankruptcy is still on the table and county Republicans have been the most outspoken supporters of renegotiating the terms of its debts by restructuring. Assemblyman Chris Brown (R-2) has opposed the takeover while remaining ambivalent on the question of a municipal bankruptcy, but Atlantic County chairman Keith Davis and county executive Dennis Levinson remain committed to the idea.
Invoking Republican mayor Don Guardian's comments calling the takeover effort tantamount to a "fascist dictatorship," Davis accused Senate President Steve Sweeney of undermining the Democratically controlled city council. 
"You have a complete disconnect in the Democratic party between the state Democratic leadership in Trenton, and the Democratic party in Atlantic City," Davis said Wednesday. "And the view in Atlantic City is that this is a civil rights issue, and that they've been following the state's lead on the way the city's been managed in the last several years.
"I think this is just continuing to kick the can down the road instead of pulling off the band-aid and having the city file for bankruptcy. Put all the creditors on equal footing, everybody takes a haircut and we get back on track."
Meanwhile, Levinson has repeatedly called for bankruptcy and a reassessment of casino properties. That path would oppose both the takeover and the payment in lieu of taxes bill proposed by Senator Jim Whelan (D-2), which would set the casinos' property tax payments in place for ten years.
"This is legislation that was written by the casinos for the casinos," Levinson said.
Whelan has expressed his frustration with the Guardian for digging in its heels, comparing the mayor and the city council to "a spoiled child."
Montclair State University political science professor Brigid Harrison said of Levinson, Davis and Guardian that their open rebellion against the Christie-backed takeover plan demonstrates unusual "political courage," especially in light of the development interests likely motivating the Democrats' position in negotiations. Levinson as met repeatedly with Christie and Democratic power broker George Norcross III throughout the fits and starts of the behind-the-scenes negotiations.
The real wild card may not be Atlantic County's iconoclastic Republican party, but Assembly Majority Leader Lou Greenwald (D-9) and his announcement Monday that he would let the bill languish in the Assembly if the city and state can't broker a peace. That move marked a strange olive branch to a Republican mayor, especially as Guardian and Senate President Steve Sweeney (D-3) continue taking each other to task in the press.
"Unless we can get an understanding with the mayor and council, we may just not do anything," Greenwald said.
"Typically, legislators in that part of the state are operating in lockstep. And so the inclusion of Guardian in particular is interesting," Harrison said of the Greenwald's comments.