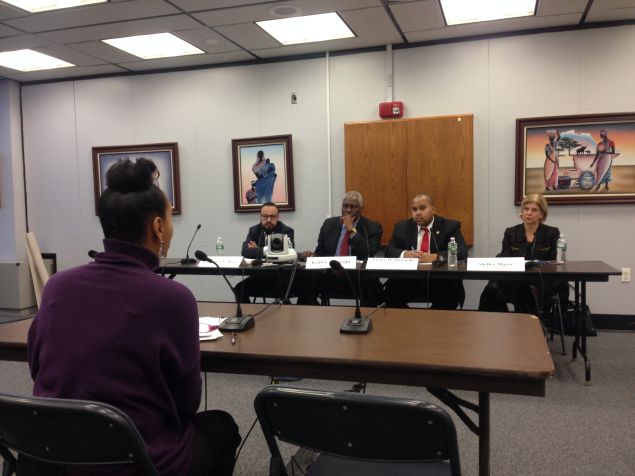 On Friday, members of the State Assembly's Housing Committee gathered at a conference room in Harlem to hear expansive, sometimes contradictory testimony on co-operative housing in New York.
Lawyers, tenants, and advocates spoke at length about co-op management, transparency, resale limitations, and other issues that threaten what Anne-Marie Hendrickson, deputy commissioner of the city's Department of Housing Preservation and Development, called "a very important piece of the affordable housing fabric in New York City."
Co-ops, which are essentially corporations that operate housing facilities in which tenants are shareholders, have been one means of providing affordable housing in the city since the 1950s, when the state built many through the Mitchell-Lama program. Most of the affordable co-ops in the city, for a total of 26,000 units, are Housing Development Fund Corporation co-ops, or HDFCs, which are overseen by the HPD. Many are in buildings that the city built after seizing blighted properties in the 1970s through Mitchell-Lama, and were originally sold for $250 each.
There was almost unanimous agreement that co-op boards, a group of decision-making shareholders that ostensibly represent the interests of all shareholders, needed to operate with more transparency and oversight. Manhattan Borough President Gale Brewer called for provisions to "authorize oversight agencies and technical assistance providers to intervene on glaring governance missteps" in HDFC boards.
Barbara Askins, an 18-year shareholder of 1270 Fifth Avenue Cooperative, Inc., said she and other concerned shareholders had had to take their board to court just to get a meeting convened to discuss spending on capital improvements. Asked by Assemblyman Victor Pichardo (D-Bronx) how much they had spent on the case, Ms. Askins thought for a moment before saying "about $9,000," eliciting gasps from the crowd.
An area of disagreement was the income limits that, by law, some co-ops set for new tenants. Jason Wu, a lawyer speaking on behalf of the Legal Aid Society, said "we have serious concerns regarding the ever-expanding and relaxed definition of 'affordable'," and urged the lawmakers to ensure the enforcement of resale price caps.
Gregory Baggett, Diretor of the New York Council for Housing Development Fund Companies, said it seemed "irrational that a shareholder who earns $30,000 would be expected to be able to compete with their neighbor who earns $130,000."
Yet Tina DiFeliciantonio a filmmaker and shareholder at 130 West 26th Street, argued that she should be able to sell her share at a more market-rate price. "I don't have any savings right now," she said, adding that she had a special-needs child to take care of.
The argument echoed the testimony of Tyreta Foster, a partner at Foster, Lynch & Thomas, LLC. "It doesn't matter if you're low-income, or moderate income. It doesn't matter if you paid $250 for a unit. You want your unit to appreciate in value, and you want, if necessary or if you so choose, to sell it sometime… It doesn't criminalize you, it doesn't make you greedy," she said.
Yet Ms. Foster urged the lawmakers to preserve the co-op model. "Why would you own versus rent?" she asked, before answering her own question: "It's like the American dream. You want to own something."