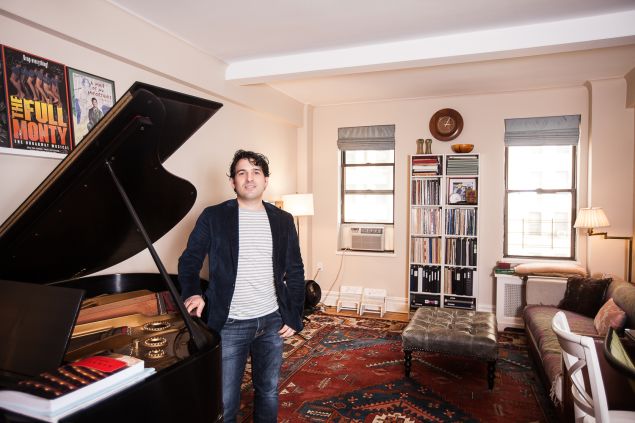 When you walk into Noah Waxman's home, you'll most likely hear a Carole King song played on the piano by Mr. Waxman himself. The shoe designer lives with his husband, the composer Ted Sperling and their 4-year-old twin daughters. With a neutral backdrop filled with pops of color, the spacious two-bedroom, two-bathroom home also benefits from strong natural light. Mr. Waxman has filled his home with family artworks. Born in Pennsylvania to a New York family, Mr. Waxman spent 10 years in Amsterdam before moving back to New York to start his high-end shoe company.
How long have you been in NYC? I was born in Bucks County, Penn., but my family was a New York family. My great-grandparents came to NYC in the 1890s. I settled here when I returned from a 10-year stay in Amsterdam, where I learned to make shoes. 
What brought you here? New York has always felt like home to me. It allows me to be an insider and an outsider at once. I find myself living, at times, in a small radius around my Upper West Side home and my Garment District studio.
How long have you been living on the UWS?
I've been an Upper West Sider pretty much since I returned from Holland, about eight years. The Upper West Side reminds me of Amsterdam, more in attitude than architecture. People in my neighborhood have a deep sense of belonging there, like the Dutch. It's not a touristy area, which can be refreshing. There's the creep of national chains, like many places, but I so appreciate the gems that have been around the neighborhood for generations, in all their disheveled perfection.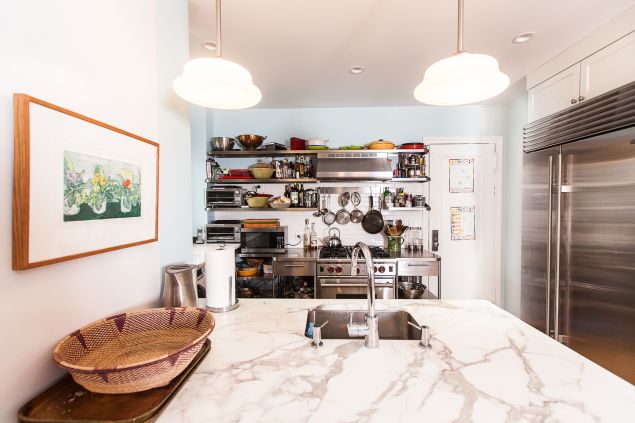 How does your work as a fashion designer influence ideas for designing a home? I have the same values for footwear and home decor—unpretentious, with an appreciation for authentic craftsmanship. When I come home from my studio, it's important that home feel like home. And I have a very particular sense of what home feels like, one that's intimately connected to my grandparents' generation. Shoemaking is an old art, so much of it needs to be done by hand to make a good shoe. I want my home to have that old-worldliness—objects of lasting beauty and a style that binds us together. 
Who designed your home? It's a prewar building. As much as possible, we enjoy keeping what's beautiful about that era intact. The layout has been changed a bit over the years, but it's a classic apartment. Lately, it feels like the kids are in charge of home decor. They are learning to pick up after themselves! 
What's your favorite place to be in it? We gutted the kitchen before moving in, so this space is totally ours. Kitchens are so important to family life—when we're not sleeping, this is where we are living our lives. It has an old-world feel. I wanted it to feel like I was walking into my favorite bakery and I think it has that feel with the Italian marble and glass cases.
Favorite artwork? I have two. The Pennsylvania Dutch barn in the living room was painted by my maternal grandmother, it is her farmhouse, built in 1743. The painting beautifully captures the feeling and history of the area. My grandmother was very ill when she painted this; it was one of her final paintings. It's a triumph of the mind over body. My great aunt was also a painter, more modern in style, and very New York. I have two oils she painted of the Chrysler Building that are amazing. But my favorite is her self-portrait in ink. It's so hard to look at yourself, and she created something of absolute honesty. It reminds me of her more than any photograph could.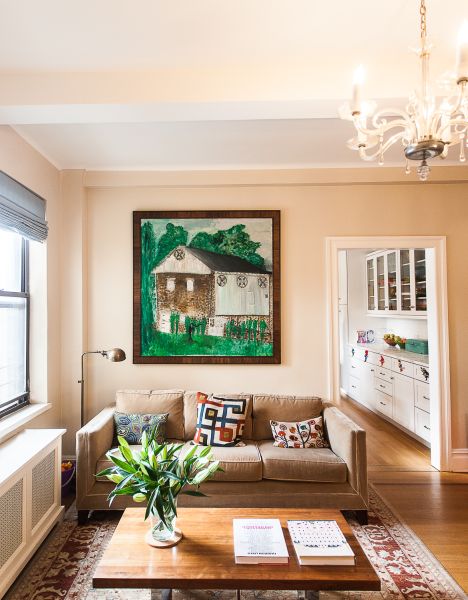 Most meaningful part of the home? I'm happiest when I'm at the piano, singing and playing with my family. My husband is a conductor, and this piano was his grandmother's. She moved to New York from Vienna, narrowly escaping the Nazis, so it is unique with a meaningful history to us. It's been recently restored and gives me immense pleasure. It's a luxury to even have a grand piano at home in this city, and making music on this instrument with my kids feels to me what life is about.
Upcoming projects with your fashion brand? We had our first pop-up shop in my studio in December and it was a blast. I'd like to host events like that regularly. I get a thrill lacing people up in my shoes. 
What has been the most valuable lesson learned while in New York? The importance of home. There is so much to do in New York, and there is always the pull of the city. This is why making a home here is so important to me. I think New Yorkers love the city and need their refuge. This home is mine.