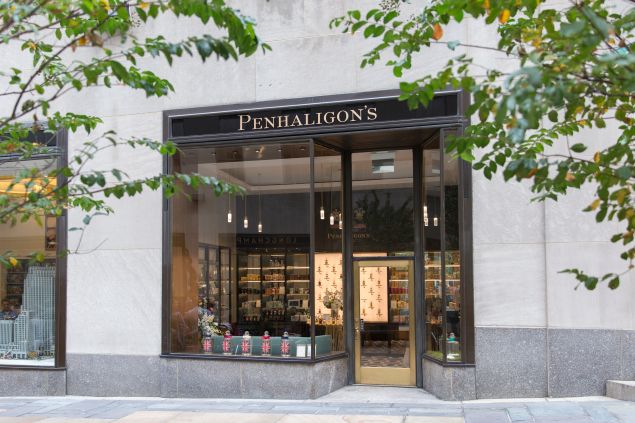 In a world where fragrance is an easy commodity, a common celebrity product with names like "Purr" and "Curious," where the promise of sex is often its biggest draw, there is something quaint, almost noble, about a heritage fragrance, with evocative names that speak to a grand, glamorous old world. Names like "Ellenisia" and "Artemisia" sound romantic, and something as fleeting as scent can feel grounded with gravitas when the formula hasn't changed in over a hundred years.
Enter Penhaligon's. In 1870, Victorian court barber and perfumer, William Penhaligon, opened up his eponymous shop to sell men's grooming supplies such as shaving cream and razors. It then evolved to include perfume and scented candles.
Last year, in January 2015, the brand was bought by Spanish-based fashion conglomerate Puig. By March, Penhaligon's was looking to expand into the U.S market, with the Commercial Observer reporting that the company was looking at retail spaces in Manhattan to house its first American store. The company eventually settled on Rockefeller Center, an open area shopping destination, and the store opened this past October. Since the launch of that first store, the U.S expansion has accelerated at dizzying speeds: locations have popped up all across the country, from Short Hills, New Jersey to Rodeo Drive.
Rockefeller Center is a retail mecca, a popular tourist destination home to a skating rink, NBC studios and a famous Christmas tree. Here you will find harried natives speed walking next to tourists strolling casually and taking in the sights. It is a lucrative combination, where a company specializing in affordable luxury can attract both the weary 9-5er at the end of a long shift hunched over a desk and the enthusiastic traveler with the promise of a good product and enjoyable shopping experience. Penhaligon's fits the bill.
Penhaligon's is tiny, but this store is no hole-in-the-wall. The interior is filled with a divine scent―a subtle tangling of citrus, floral and musk from its wide array of perfumes and colognes―achieved from the periodic spritzes of each scent onto paper testers by impeccably suited sales associates.
References to Penhaligon's Victorian beginnings abound. The decór mimics a Victorian naturalist laboratory replete with beakers perched atop watch glasses filled with what can presumably be called specimens. But a naturalist's laboratory, with its terrariums, taxidermy and clutter of beakers and archaic gadgets, can feel stuck in time―musty, rank and filled with dust, not to mention crowded with oddities and quirks of the resident naturalist. This of course, sounds like a hipster's dreamland, but Penhaligon's goes far beyond old-school. Unlike a typical naturalist lab, it is not a dark, overcrowded room filled with knick-knacks. It is a spare space, with a neutral-toned, cubist-style floor and spare furnishings that suggest a sense of modernity. There are touches of the fantastical. At the back wall, each fragrance is displayed in large bell jars atop golden pedestals. A golden contraption stands in the corner, holding various vials filled with vegetation and verdure, and beakers perched atop petri dishes filled with what can presumably be called specimens. At the center is a large, golden birdcage-like circular table, crowned by tiny, individual stands holding every fragrance in the store, with paper testers at the ready to allow for customer sampling.
The prices are affordable enough to make it dangerously ok to go on a bit of a spree, but are also expensive enough for it to be deemed a luxury item. For perfume and cologne, a travel-sized rollerball is as low as $25, but a 100 milliliter bottle of eau de toilette of Vaara (an exotic fragrance named for an Indian princess) can set you back $170. I purchased the "scent library"―a sampler of 10 of their most popular fragrances, including one of Penhaligon's oldest and most beloved scent: the very elegant Blenheim Bouquet―encased in a royal amethyst-toned metal tin for a mere $30.
At various intervals strategically placed throughout the store, prices are printed on framed cards that list their wares in a format akin to a spa menu. Speaking of spas, this shop pampers you: smiling sales associates greet you at the door and they offer their assistance with the kind of reserved, quiet sensibility of someone wishing to respect your space and time. When showing you the different scents available, they explain the backstory, the notes that you are supposed to smell, and you close your eyes as you inhale each intoxicating scent. You may or may not feel transported from the rigors and anxieties of city life to a mythical world of exotic aromas. It's quite the heady experience.
At checkout, a sales associate takes one of the perfumes and, in a dramatic arm wave, spritzes some printed tissue paper with perfume and wraps the tissue paper around your purchase. It is an intimate gesture, a nod to how the tiny store only serves to personalize the experience, to make the wares seem that much more luxurious and special.
Penhaligon's
620 Fifth Avenue
Open Monday-Saturday 10 am-8 pm and Sunday 11 am-7 pm
http://www.penhaligons.com/us/