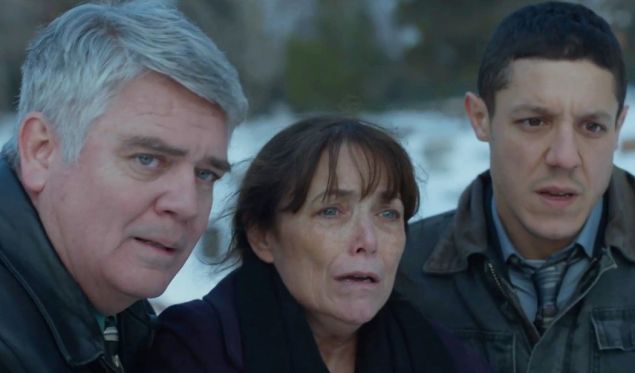 After the big year-end films now competing for awards, marquees are now adding a sudden rash of effective little indie-prods about small lives with big problems. Bad Hurt, about the heartbreaking hurdles of a hardscrabble Staten Island family, is one of the best of the batch.
---

BAD HURT ★★★
(3/4 stars)

Written by: Mark Kemble and Jamieson Stern
Directed by: Mark Kemble
Starring: Ashley Williams, Karen Allen and Johnny Whitworthz
Running time: 101 min.

---
Karen Allen, who hasn't been seen much since her Indiana Jones days, gives a warm, earthy performance as Elaine Kendall, the beleaguered matriarch who devotes her life to relieving the grief and suffering in her hapless household. Her unlucky husband Ed (Michael Harney) strives to hold up his share of the burden, but hasn't been much of a provider. Daughter Dee Dee (Iris Gilad) is a mentally challenged schizophrenic who disrupts her special-needs school on a daily basis with fits of uncontrollable violence. Ed wants her institutionalized, but pragmatic Elaine, who eschews political correctness and insists on calling her "retarded," believes she can be controlled as long as she holds onto her dreary dead-end job in a local box factory.
Karen Allen, who hasn't been seen much since her Indiana Jones days, gives a warm, earthy performance.
Oldest son Kent (Johnny Whitorth) returns from war in the Middle East a decorated but tortured hero, almost catatonic from combat trauma and suffering from a mysterious guilt complex that has turned him into a junkie who rarely leaves his room except to score narcotics. This leaves younger son Todd (Theo Rossi) to chip in with occasional shards of income as a volunteer in the police reserves who dreams of someday becoming an actual cop, despite the fact that he continually fails to pass the entrance exams for the police academy. It's no wonder dad escapes from the domestic squalor and chaos at home to the neighborhood tavern for nightly reunions with his best friend, Jack Daniels.
Sensitively directed by Mark Kemble, an adroit first-timer who skillfully adapted the wrenchingly honest script from his own stage play Bad Hurt on Cedar Street (with the help of co-writer Jamieson Stern), this is an agonizing study of what some disenfranchised American families endure to make ends meet, hold onto their sanity and survive the hardships of an everyday life you don't read about in Good Housekeeping or Family Circle. It gets worse before it gets better, but in spite of the harrowing details, the film builds compassion for even the most disturbing characters and scenes.
In the most intimate scene in the picture, Kent confesses to his younger brother the reason why, even after his honorable medals for bravery under fire, he was kicked out of the Marines—caught in the arms of a fellow soldier, desperately seeking a rare moment of tension-relieving affection and sexual release under physical and mental distress. It's a shocking revelation that underscores both the tenderness and turmoil that binds the Kendalls in a search for love in the darkest of times. Bad Hurt is not a conventional entertainment, by any stretch, but a true and profound definition of strength and hope in the name of family.