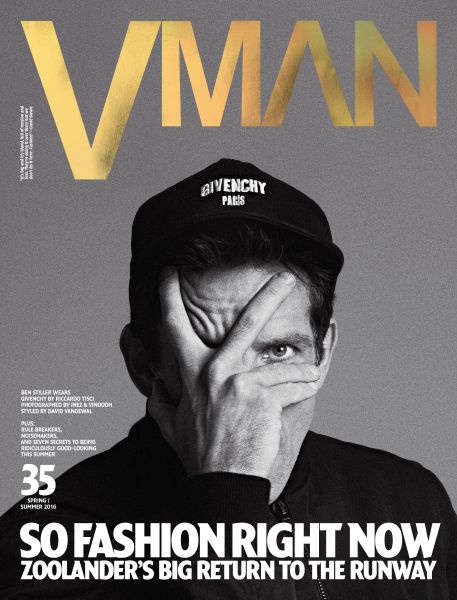 Suffice it to say Derek Zoolander, er, Ben Stiller, is really on a Zoolander 2 promotional roll, especially when it comes to magazines. Not only did he snag his first Vogue cover this past February, but he has since landed on the front of the March issue of Esquire UK. And who could forget his mug on the cover of the January 2016 edition of L'Uomo Vouge?
Following up those three coups is his appearance on the cover of the 35th issue of V Man.
Decked out in Riccardo Tisci-designed Givenchy, and obscuring his face in one of the shots, Mr. Stiller sat down for a photo session with Inez & Vinoodh, plus an interview with Tim Blanks for V Man. Of course Derek Zoolander is the topic of most conversation. But while the actor dissects just how much his character loves selfies–and himself–he also delves into deeper topics.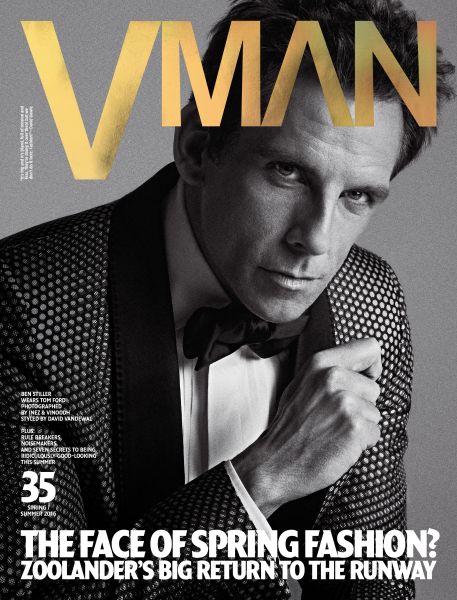 Mr. Stiller laid out all that he's learned about the fashion world: "It's almost necessary to take yourself seriously in fashion because that's your stock in trade, because what you're really saying is, 'This is what we think is fashion, what we think is cool, what we think is the next thing.' And if you don't take that seriously, no one else will," he told Mr. Blanks, the legendary style scribe.
However, when fashion is put into perspective of a comedy, Mr. Stiller sees the lighter side of things. While he may have forged friendships with Anna Wintour, as well as Maria Grazia Chiuri and Pierpaolo Piccioli from Valentino, the actor is really after the humor of the whole situation. His main goal? "First and foremost to hopefully make people laugh. That's why people come to a comedy," he explained in the magazine's pages.
This past weekend, the actor partook in a walk off with model Cara Delevingne (and her puppy Leo) on the streets of Paris, which debuted on Instagram. He was also caught posing in the windows of Valentino in Rome, alongside Hansel (otherwise known as Owen Wilson). While Zoolander 2 isn't set to hit theaters until February 12, expect to see Blue Steel take part in many, many more brilliant marketing blitzes between now and then.
Also, head over to VMan.com to read more on Mr. Stiller and Zoolander 2.