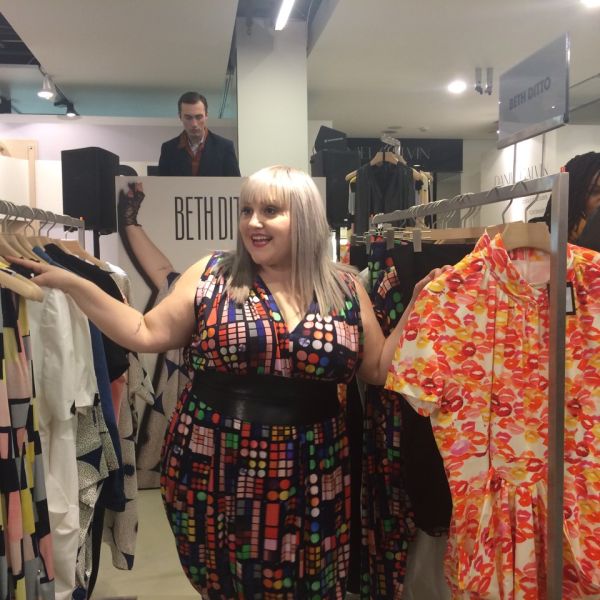 Beth Ditto the adorable, fat (in her words) baby faced chanteuse, and Marc Jacobs fashion muse opened proceedings at London Fashion Week with a soft but incredibly fun-filled launch of her plus-size collection at Selfridges. Working the crowd of outsized, transgender, outsiders who had all come to admire her new fashion venture, Ms. Ditto looked confidently at ease, rocking one of her own candy colored striped shift dresses, a super-sized leather cummerbund belt and recently colored silver blue hair. Visibly thrilled about the capsule collection she personally bankrolled, borrowing money from her wife and without the help of any corporate investors, she was ready to spill the beans about her ongoing experience with the fashion industry and why she chose to reveal her latest project in the U.K.
"We tried New York but it just didn't work out that well for us there. London is the best, I love it here because they really get me, my sense of humor and my brashness. I love the aesthetic and the way young people look, they have access to such cool stuff, and they really know what to do with it." Her new pieces are designed to confront traditional beauty standards within a notoriously size prejudiced fashion industry, and to make normal women who are not always perfect, feel good about themselves. The 11-piece collection includes crazy scarlet and orange clashing op-art prints worked into loose flowing T-shirts and matching silky leggings, sexy black lame jumpsuits, embroidered denim and very grown up, high necked dresses designed to cling to womanly bodies. Production values are high (these pieces are not cheap) and for women who are so often overlooked in the style stakes, there is finally something to get excited about.
"Growing up in America people were mean to me and it was hard to find great things to wear, so I was always thrifting. I learned to be resourceful and got crafty with DIY, so I wanted to make a collection of clothes that people could buy to make then feel good about themselves as individuals." London more than any other city has always embraced subcultural identity, provided a backdrop for authentic street style and championed new ideas, so it seemed a perfect fit for a woman who has spent a lifetime challenging size and gender stereotypes.
"I think young designers and social media are slowly changing conventional ways of thinking, but nothing compares to what you have here. The people here have always been really good to me which is why I think London is my favorite city." Ms. Ditto is not alone in thinking that London is streets ahead when it comes to quirky individualism and a desire to dare to be different. Carine Roitfeld, global fashion director of Harper's Bazaar was recently quoted in the English press as saying "Style? The Brits do it better. I go to London to get dressed when there is nothing in France." Fans of new designer Beth Ditto would certainly agree with that.
Available from BethDitto.com and Selfridges in the UK.