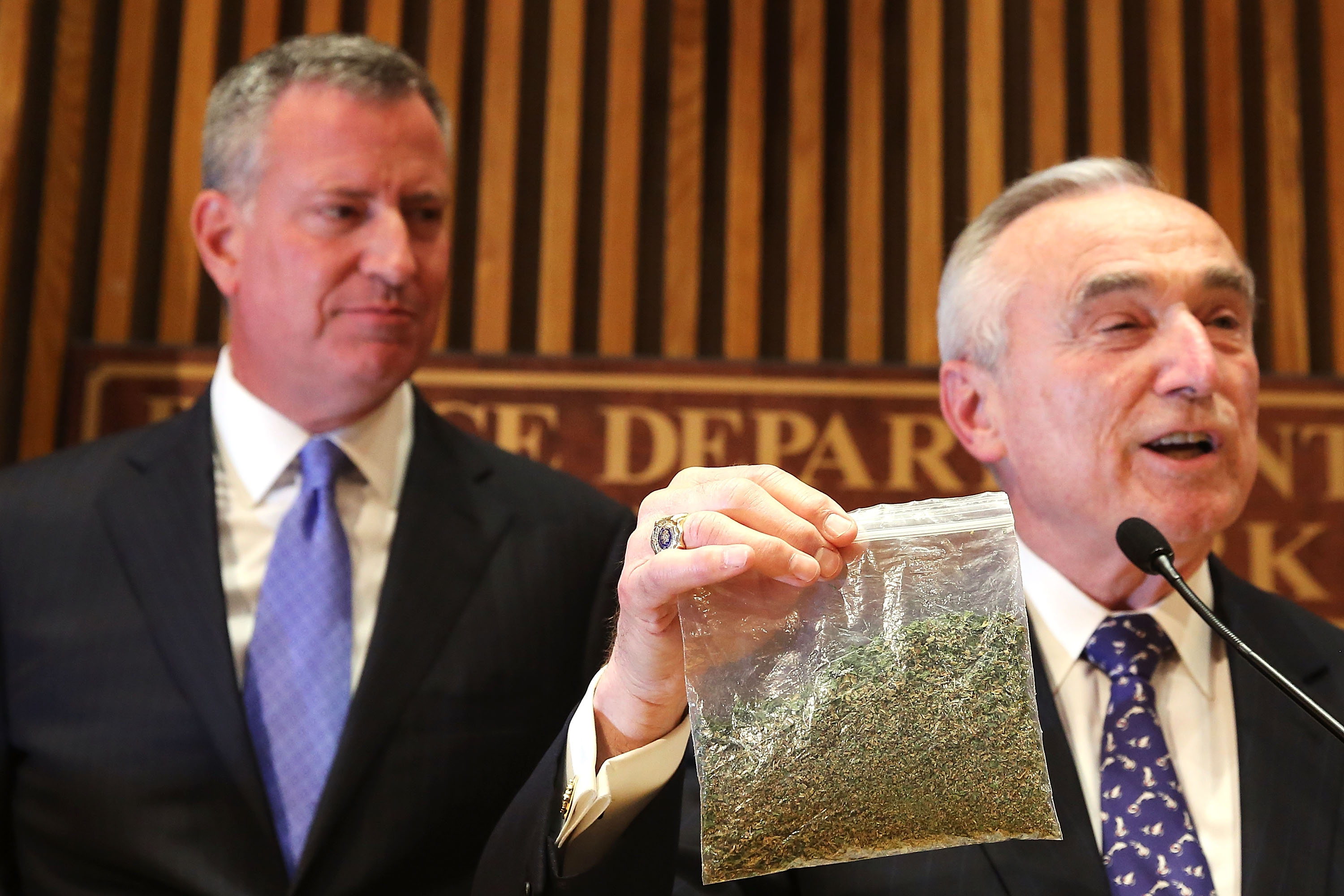 As New York City rolls out its first medical marijuana dispensaries, Mayor Bill de Blasio said today he'd take a wait-and-see approach to the question of legalizing pot for recreational the way Colorado and Washington state have.
"I'm sure there'd be some positives and I'm sure there'd be some negatives, but we have a real good experiment—we're watching in those two states and we have to see what comes from that," Mr. de Blasio said today in a radio interview.
The sticky subject came up on Hot 97—as it has before—when Mr. de Blasio called in to the morning show Ebro in the Morning to discuss his upcoming State of the City speech and his agenda at large. Host Ebro Darden noted to the mayor that "a dispensary" had opened in Manhattan.
"You know, you just said dispensary. I think it says an interesting thing about you that you just said dispensary and assumed we all were thinking marijuana," Mr. de Blasio joked. "I think you need to think about that. That's medical marijuana."
"I was taking you down the path of me dreaming here," Mr. Darden replied. "We have a medical marijuana dispensary here in Manhattan. How long before weed is legal for the people?"
Mr. de Blasio—who noted medical marijuana was a state policy that believed was "a smart thing"—said he'd be watching how legal pot played out elsewhere.
"I think we have to see what happens in Colorado and in Washington State, those are two big states with big cities in them," Mr. de Blasio said. "That's going to play out in the next year."
While Mr. de Blasio has decriminalized possession of smaller amounts of marijuana, citing disproportionate arrests of young people of color, smoking weed is still illegal in New York. Police Commissioner Bill Bratton has been staunchly opposed to the idea, noting the role the marijuana trade plays in shootings in the city, while Mr. de Blasio has stuck mainly to the wait-and-see approach.
"There are real mixed realities here, a sort of double-edged sword," Mr. de Blasio said today.
Mr. Darden noted the amount of tax revenue being raised in other states, but Mr. de Blasio pivoted to other factors, deeming the issue "very complicated."
"What impact does it have on safety? What impact does it have on health? You can throw revenue in the mix," he said. "My gut feeling is we have two states that have decided to go do it. Let's find out what happens with them, and then we can go from there."
Earlier in his mayoralty, Mr. de Blasio eventually addressed rumors that he had been a fan—or still was a fan—of the drug, and even poked fun at the rumors in a performance at the annual Inner Circle Show. The mayor has said he hasn't smoked weed since his New York University days.
Mr. de Blasio also talked about his speech, planned for tonight, and about a recent spike in subway crime. The mayor argued that the media is too interested in focusing on conflict, noted his political rivals had sought to paint him as someone who would bring back the bad old days, and ticked off positive crime statistics. He argued "good news doesn't travel very far" in the media, though at Hot 97, as usual, his interview ended with a round of applause.
Mr. de Blasio also touted his presidential candidate of choice, Hillary Clinton—though unlike Ms. Clinton, he was apparently not hip enough to know what the hosts meant when they asked him to "dab," a reference to the popular and uncomplicated dance move.