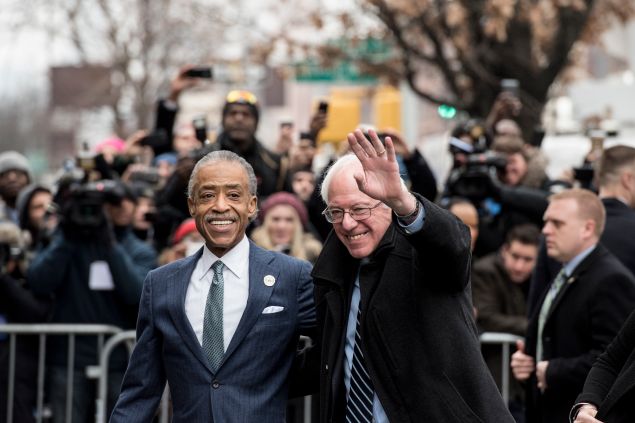 In a Facebook post on January 28, Michelle Alexander, author of The New Jim Crow wrote:
If anyone doubts that the mainstream media fails to tell the truth about our political system (and its true winners and losers), the spectacle of large majorities of black folks supporting Hillary Clinton in the primary races ought to be proof enough. I can't believe Hillary would be coasting into the primaries with her current margin of black support if most people knew how much damage the Clintons have done—the millions of families that were destroyed the last time they were in the White House, thanks to their boastful embrace of the mass incarceration machine and their total capitulation to the right-wing narrative on race, crime, welfare and taxes. There's so much more to say on this topic and it's a shame that more people aren't saying it. I think it's time we have that conversation.
African-Americans and Latinos are increasingly shifting support from Hillary Clinton to Bernie Sanders for the Democratic presidential nomination—yet despite Ms. Clinton's dwindling lead among these voter demographics, major media outlets continue to push the narrative that she has an overwhelmingly disproportionate amount of support from them, without citing any actual figures. An NBC News poll from mid-January put Mr. Sanders' support from African-Americans at 20 percent compared to Ms. Clinton at 63 percent, and Mr. Sanders at 37 percent with Latino voters to Ms. Clinton's 52 percent—both significant increases in support for Mr. Sanders from where they were several months ago.
In South Carolina, where African-Americans comprise 30 percent of the population, Mr. Sanders cut Ms. Clinton's lead from 40 points to 22 points. In the past two weeks alone, South Carolina State Rep. Justin Bamberg defected from his initial endorsement of Ms. Clinton to Mr. Sanders, and State Rep. Joe Neal also officially endorsed Mr. Sanders—in addition to the growing list of African-American state legislators who have already come out in support of the Vermont senator over the Democratic establishment favorite. To combat the surge in support Mr. Sanders is receiving in South Carolina, Ms. Clinton sent her husband, Bill Clinton, and 170 black women to try to protect her lead in the state. Ms. Clinton knows her lead in South Carolina serves as a firewall for her to win the Democratic nomination. If she loses, the nomination will likely go with it.
'He has been one of the most consistent candidates out there—while Congress won't do or can't do anything, he'll take leadership to protect families.'
Notable African-Americans have been lining up in support of Mr. Sanders, helping to spread his message to voters unfamiliar with him. Former NAACP chief Ben Jealous and Eric Garner's daughter also recently endorsed Mr. Sanders, and renowned author Ta-Nehisi Coates wrote a scathing criticism of Ms. Clinton's obliviousness to race issues after Rapper Killer Mike and other Sanders supporters of color spoke out against his apparent favoritism for Ms. Clinton in an article on reparations. New York Daily News writer and civil rights activist Shaun King wrote an in-depth article dispelling the myth that Mr. Sanders doesn't address race or racism.
Mr. Sanders' campaign has been successful. "The difference now between Hillary and Bernie's African-American support is largely driven by a lack of information," wrote Harvard and Tufts graduate Larry Harris Jr. in The Huffington Post. "Black people need to know more about Bernie and more about the Clintons' record."
In Nevada, where Latinos make up nearly 30 percent of the population, Mr. Sanders is rapidly closing the gap against Ms. Clinton. In the past month, Mr. Sanders has received endorsements from three Nevada-based Spanish publications and Former Nevada assemblywoman and candidate for Congress, Lucy Flores. Mr. Sanders' efforts to connect with Latinos in Nevada are led by prominent Dreamer Activists Javier Gonzalez, Erika Andiola and Cesar Vargas. Mr. Vargas told the Observer in December, "He [Sanders] has been one of the most consistent candidates out there, especially with his long record as a senator. Most importantly on immigration, he has been consistent in making sure that families are protected and this is reflected in his new immigration platform, one of the boldest he's introduced. While Congress won't do or can't do anything, he'll take leadership to protect families."
Mr. Sanders has also received multiple endorsements from prominent members of the Latino community around the United States. Comedians George Lopez and Paul Rodriguez performed at a fundraiser in January for his campaign. Although Ms. Clinton outpaces Mr. Sanders with establishment endorsements in the Latino community, Latinos are stepping forward in support of Mr. Sanders, including musician Alejandro Escovedo, actor Nicholas Gonzalez, singer Residente of Calle 13 and U.S. Rep. Raul Grijalva.
A poll conducted by Univision in July 2015 found 68 percent of Latinos didn't know who Bernie Sanders was or weren't familiar enough with him to form an opinion. When Democratic voters are exposed to Mr. Sanders, they overwhelmingly support him—but connecting his message to voters continues to be one of Mr. Sanders' main obstacles against Ms. Clinton, who has been in the national spotlight of politics for over two decades. He was able to overcome that obstacle enough to virtually tie in Iowa, where Ms. Clinton went from a commanding lead to nearly losing the state in a matter of a few months. If Mr. Sanders continues to stay on message with a campaign that is resonating with Democratic voters who actually want change, Ms. Clinton may begin to see the nomination dissipate before her eyes like it did in 2008 against Barack Obama, who was a junior senator from Illinois with little name recognition prior to his campaign.