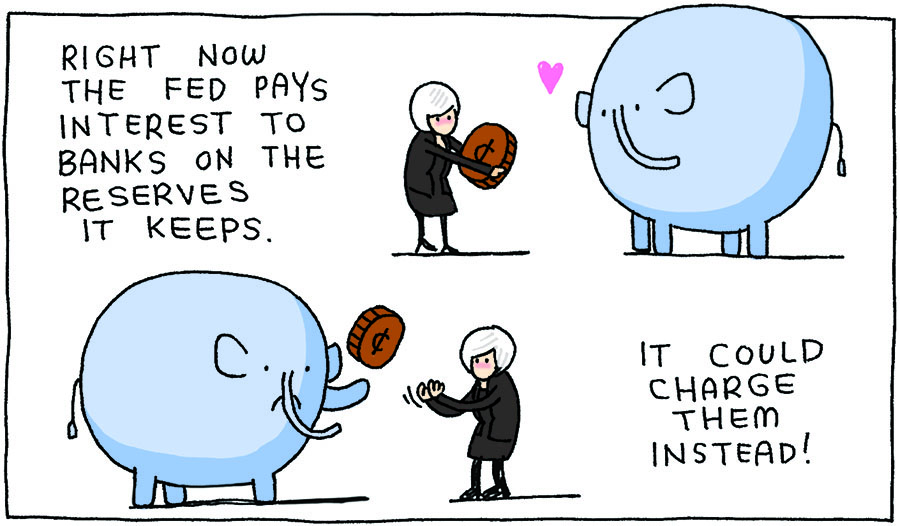 Comics made for print are tricky to read online, and the compact screens of mobile devices make it harder. In 2007, both Marvel Comics and Comixology rolled out software that improved the experience by animating the transition between panels. That allows readers to make out the words easily by reading one panel at a time, while also appreciating its place in a page's layout.
But what if a site that doesn't live and breathe comics wants to publish some? A site, for example, like Bloomberg.com.
Businessweek just published a comic strip online by Peter Coy and Dorothy Gambrell, which also appeared in print today. It argues against Fed Chair Janet Yellen introducing negative interest rates. For online readers that find their view of the strip too constricted, the site offers a way to focus on one digestible bit at a time. Open-source software released by Al Jazeera America (AJAM) last year under the MIT license, called Pulp, allowed Bloomberg to better the reading experience without writing new code.
Bloomberg has been running more and more comics, but this strip is Bloomberg's first time using Pulp, according to a spokesperson. The BBC tried it out last May. HuffPo entered into a comics partnership recently, and it might want to give the software a look.
Here's a GIF from the Github page that illustrates how panel-by-panel views work on mobile:
The new strip is a collaboration between Bloomberg Businessweek and Bloomberg Graphics. We spoke to its artist, Ms. Gambrell, known to comics fans as the creator of Cat and Girl, for our series on the changing business of webcomics.
Pulp was developed at AJAM by Michael Keller, who is now an interactive reporter at Bloomberg Graphics. It was a finalist last year for a technical innovation award from the Online News Association. AJAM digital is closing for good a week from today, according to Politico (though the TV operation will continue through April 12), and there is some doubt that its parent company will keep its archive online, as the Observer previously reported, so members of its news team created a standalone archive.
AJAM did not immediately respond to a request for comment.
Correction: A previous version of the story said that all of AJAM would close on February 26. Updated: February 19, 3:42 PM.