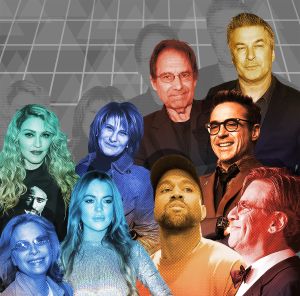 I was riveted this week by a story in The Hollywood Reporter about acclaimed TV writer-director David Milch, who created NYPD Blue and Deadwood; got his own star on the Hollywood Walk of Fame; and earned about $100 million in his 30-year Hollywood career. It turns out he was a compulsive gambler that entire time, his habit not unknown while he was hailed as a unique creative genius on those shows. It also turns out he has now gambled away everything, hurt a lot of people, owes the IRS $17 million, and that his wife is—somewhat implausibly—suing his business manager to the tune of $25 million for her husband's faults.
But what struck me most in this tale whose trajectory might have reasonably been called "a self-destructive life now up in flames" was this: HBO still has great faith in Mr. Milch. He's got an exclusive deal with that most prestigious of networks and is working on two high-status projects. "He has admirers and fans across the spectrum of the television world," the article (by Stephen Galloway with Scott Johnson) made clear, and proved it with adulatory quotes from high-echelon colleagues including HBO chairman and CEO Richard Plepler, who embraced Mr. Milch as "family" whom "all of us… love," and who passionately praised not just his talent but his "decency and generosity."
Even granting that addiction is a disease rather than a choice, the kudos heaped upon Mr. Milch's character stood in odd contrast to mentions of the long acknowledgment of his problem, the ups and downs of his decision to fight it, his flip admission that he was a "bitter heroin addict" in the '80s, and so on. My reaction was: Mr. Milch has been handed a great big pass—a wet kiss. Episodic TV is a business; it's not gonzo journalism, where you can afford to have man-crushes on your Hunter S. Thompsons. By contrast, for example, longtime Sony Pictures Entertainment co-chair Amy Pascal was humiliated and fired last year for a few non-PC jokes made in the kind of exaggeratedly dishy private email banter most of us partake in when we're bored—emails which, had they been protected by Apple's new encryption, probably would have remained appropriately private.
The Milch story may have been a standout, but it wasn't singular this week. The last seven days were actually full of such passes—or triumphs—for creative high-flying guys who've done destructive or obnoxious things. Kanye West asked Mark Zuckerberg for millions and was revealed to have thrown a tantrum and almost pulled out of his Saturday Night Live appearance at the last minute over a minor set-design issue. Yet his new album is still called "brilliant." Alec Baldwin is starring in witty Amazon Echo commercials that are all over TV, which make great fun of that trademark temper of his, which in the past led him to lob an anti-gay obscenity at a photographer (Mr. Baldwin apologized) but which never interrupted his steady work flow (or even caused good liberals at The Huffington Post and NPR to stop featuring him).
Do men get passes for supposedly creativity-compatible destructiveness while women draw either unfair suspicion or a one-wrong-move-and-then-you're-out policy? 
There was also good news this week for mega-successful writer-producer Aaron Sorkin, who back in 2001 was arrested for drugs at Burbank Airport, with no negative career consequences (his West Wing star Martin Sheen offered the same protective loyalty to him then that HBO's Mr. Peppler just did to Mr. Milch): Mr. Sorkin, who has admitted to freebase cocaine addiction in the '90s, will make his directorial debut via a new film that Jessica Chastain was offered the lead in. Another fresh announcement was that Robert Downey, Jr.'s long-stalled, sure-to-be-a-hit Pinocchio was just given new life via Ron Howard signing on to direct. (Downey Jr.'s jailing for drug use, over which colleagues were enormously sympathetic, is now such ancient history he huffily refuses to answer questions on the subject during otherwise fluff-questions-only press junkets for his blockbusters.)
By contrast, during this same past week, (1) Blake Lively was publicly excoriated for crossing her legs at a fashion show, (2) the business media news' long knives were out for Marissa Mayer again, adding Katie Couric, too; and (3) the celebrity blogs were crowing in delight that Madonna's teenage son Rocco wants to live with his father Guy Ritchie, thus making the Material Girl (long ragged for daring to be a sexy diva over 50, and criticized for smooching Drake) The Bad Mother as well.
No, but really. Do men get passes for supposedly creativity-compatible destructiveness while women draw either unfair suspicion or a one-wrong-move-and-then-you're-out policy? It's easy to call "sexism!" wolf, so I'm trying to be careful here, but the week's collection of good news for bad boys makes me think of three very different women: One, Lindsay Lohan, of course, whose early great talent has been forgotten in the long history of America's ridiculing of her (by contrast, Mr. Downey Jr.'s talent never was). Two, a gutsy female performer who's working again but whose years-ago substance problem stalled her promising career far longer than it would have a man's. (She doesn't want her identity disclosed because she feels the double standard is true.) And three, the late Ronni Chasen.
Who, you might ask? Well, the Milch story triggered my memory of Ms. Chasen, the Hollywood publicist—female, over 40, unmarried (three deficits right there)—who was randomly murdered while driving down the safest street in Beverly Hills after a premiere five years ago. Before her killer, a total stranger, was found, rumors flourished that there might have been some financial aggressiveness on Ms. Chasen's part, having to do with an art collection linked to her killing. The kind of judgmental suspicion that David Milch escaped for 30 years this woman was smeared with right after her death. 
I talked to a couple of women I know in the industry about the double standard. Prolific film critic, novelist (Playdate, and, coming, The Last Woman Standing), and Observer contributor Thelma Adams, cueing off the Milch, Sorkin and Downey examples, said: "Men in power rescue other men in power, no matter how screwed up they are. But women can't. They lack the currency and the ability to greenlight. The power is still with the men. It's not like there's a godmother in Hollywood who, if you mess up, will hire you—and she's so untouchable there isn't a problem."
'Men in power rescue other men in power, no matter how screwed up they are. But women can't. They lack the currency and the ability to greenlight. The power is still with the men.'
Of course the insurgence of feminism in Hollywood has been a vibrant meme for a year now, "but there's a gap between the Hillary Generation and the millennials. What got us to that point was banging our heads individually against the glass ceiling. Most of us didn't learn how to move with that power, gaining and keeping status once we broke through by solidifying a power base that integrated men and women and people of color," she noted.
Writer-director Katherine Dieckmann, currently in post-production on Strange Weather, starring Holly Hunter—and whose previous indie films include Motherhood, with Uma Thurman, and Diggers, starring Maura Tierney and Paul Rudd, and who is a screenwriting professor in the graduate film program in Columbia University's School of the Arts—believes the one-slip-up-and-you're-out rule that Mr. Milch elided, and men often elide, does apply to women. She worriedly cited the case of Scottish director Lynne Ramsay, "who directed a brilliant film called Ratcatcher and was attached to direct Jane's Got A Gun with Natalie Portman. But when that fell apart and they put a male director in instead, the news was splashed all over the web. It wouldn't surprise me if Lynne's name is mud—if she isn't allowed to make a more mainstream movie again."
But what about the other component of these men who misbehave and are almost charmingly branded by it: Isn't being a noisy, obnoxious person such a male thing? Who but the Kanyes and Baldwins would want to be it? Ms. Dieckmann demurred. "If Melissa McCarthy had a daughter and called her a 'pig' she would not have gotten away with it like Alec Baldwin did." (In an unethically-but-nonetheless-taped 2007 phone message that went viral and remains on YouTube, Mr. Baldwin was heard screaming at his daughter, calling her a "rude thoughtless little pig.") "There are different rules for women, especially if they're mothers." Ms. Dieckmann paused. "Another interesting thing about the Milch article: He has two daughters. But he wasn't judged as a father being selfish.
"Now, if a mother had gambled away all those millions, you bet she would have been."