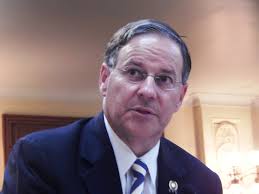 TRENTON — With support from Senator Ray Lesniak (D-20), Assembly Minority Leader Jon Bramnick (R-21) is hoping to counteract gun laws that put licensed, out-of-state gun owners in prison for a minimum of three and a half years. At the state house Tuesday, Bramnick pointed to recent cases where licensed owners have faced the possibility of prison time while traveling in New Jersey due to a gray area between the recommended sentences and the limited discretion afforded to prosecutors.
A statement from Lesniak's camp said that the notable progressive intends to advocate for Bramnick's proposed changes to enforcement of mandatory minimum sentences. Those changes would recommend probation and potentially dismissal of the charges, in the form of a bill sponsored by Assemblyman Ron Dancer (R-12).
"Senator Lesniak and Republican Leader Bramnick agree that certain "possession" charges should not mandate state prison and prosecutors should have discretion," a representative for the Senator wrote.
Saying that he hopes to prevent the usual partisan loggerheads that come with any mention of guns, Bramnick hopes Dancer's bill will memorialize the legislature's opinions on gun sentencing and teh need for enforcement to follow the Attorney General's guidelines. Under the current letter of the law, out-of-state travelers with a licensed gun in their vehicle face state prison if they do not follow requirements such as keeping the gun in a place inaccessible from the driver's seat.
Cases where there is compelling evidence of intent to shoot would be still treated with the appropriate severity, Bramnick said.
"We're always afraid if you cross over a line and you start giving that defense to the bad guys, that's bad. So I'm sure we can do that," he continued. "Right now if you do so-called 'reduce a gun charge' you must notify the attorney general's office. I don't even have a problem if it becomes subject to an attorney general's review as long as the legislature gives them clear guidelines."