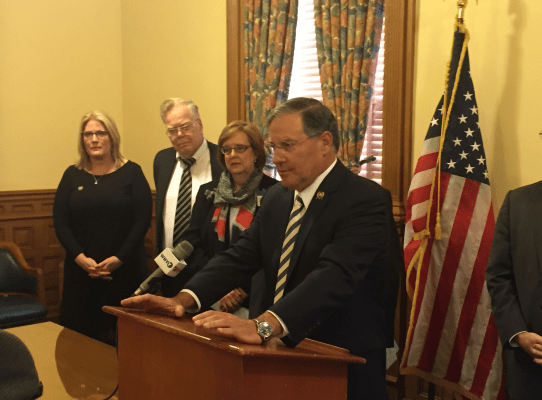 TRENTON — With doctors, nurses and administrators by his side, Assembly Minority Leader Jon Bramnick (R-21) said Thursday that opposition to Horizon Blue Cross Blue Shield's proposed tiered health insurance plans is as strong as ever in the legislature. Speakers at this afternoon's press conference came from the group of New Jersey hospitals pursuing a new lawsuit against Horizon for introducing plans that interrupt patient care and leave patients paying higher premiums and deductibles for the same services.
"I don't believe that insurance companies should pick and choose who gets the patients and who doesn't get the patients," Bramnick said of the new plans, which designate hospitals and physicians as either 'tier one' or 'tier two.' Areas of South and Central Jersey found themselves with too few first-tier providers once the new plans went into effect last September.
Horizon made its criteria for the designations public last October, after Democratic lawmakers held a series of committee hearings and attempts to block the plan. A suite of Democratic bills is already circulating in the Senate with one measure to halt the rollout of tiered networks, one to force disclosure of network standards, and one to guarantee coverage regardless of where a patient lives. Horizon Blue Cross is the state's largest insurer with 3.8 million members.
"The state insurance department needs to look at the regulation regarding networks. Some of these regulatory schemes have been set up a long time ago," Bramnick continued, calling on state Insurance Commissioner Richard Badolato to change existing regulations so that hospitals can opt into the networks of their choice.
"We simply can't throw hospitals out of their major networks without a reason," he said.
"When you set up a network, all you have to do now is touch certain bases. Maybe there should be just one. Two, no insurance company should ever designate anyone first or second tier, first or second class without a legitimate basis in fact. That should be legislation if regulation doesn't change."
Assemblywoman Holly Schepisi (R-39) said that she empathized with the frustration and costliness others have experienced because of the new plans. She said that had she switched to an OMNIA plan, she would have had to change specialists after a brain aneurysm.
"My neurosurgeon, who is one of the top neurosurgeons in the country, would not fall under the plan because he is affiliated with Valley Hospital, which is one of the hospitals that is within several miles of my home," Schepisi said.
Democratic Assemblyman Herb Conaway (D-7), himself a physician and the chair of the Assembly Health and Senior Services Committee, joined Bramnick in calling for regulatory changes from the Department of Banking and Insurance, which approved the tiered plans before their rollout last September.
"As time goes on, we know that our regulations, the way we look at our marketplace, needs to change," Conaway said. "We may end of with gaps in coverage and care that may very well work to the detriment of patients."
Asked about the timing of his announcement, Bramnick said that his opposition to the tiered plans has been consistent and that his own reservations have paralleled those of the Democrat-lead hearings. On the possibility of new legislation blocking the tiered network, Bramnick gestured to Conaway.
"Ask the Democrats, they're in the majority," he said to laughter, saying that he believes he would have the support of Speaker Vince Prieto (D-36). "You would have to ask the Democrats as to deadlines. I don't give deadlines as the minority leader."