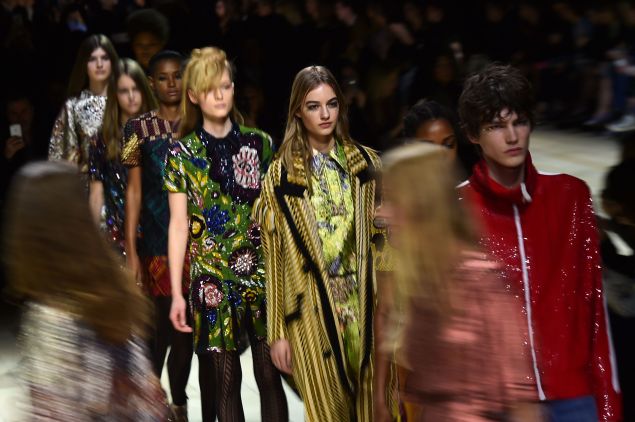 Today chief executive Christopher Bailey moved fashion giant Burberry a little closer towards his goal of showing seasonless collections, that will become instantly available for the 'I want it now' generation. In future, Mr. Bailey plans that customers should be able to buy as soon as the clothes have been revealed. Five minutes before today's global screening he personally sent an email to remind us that this A/W 16 collection would be taken directly from the supersized luxury aircraft hanger that is Burberry's own show space in Kensington Gardens (filled with comfy velvet benches and a soundtrack of Donovan's haunting "The War Drags On" ) to the flagship store in Regent Street. There, devotees who cannot bear to wait 'til autumn would be able to view and place orders immediately.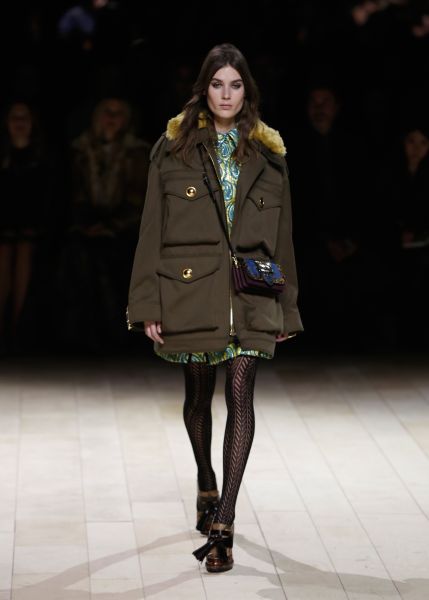 As Burberry fever and till receipts, crank higher with every new collection, pressure to produce more of what a global audience cannot get enough of increases, but from today's new show Bailey displays no signs of inspiration fatigue or burn out. The core pieces are often what we already know and love of Burberry (and Bailey) usually comfortingly familiar in silhouette (a signature trench coat, a military style great coat, simple shift dresses with kick back pleats) but the detailing and proportions, luxury fabric combinations and inventive colour palette keep us addicted to his evolving aesthetic. Sleeves are generously oversized, zingy red piping traces seam details, and neat rows of shiny silver buttons revamp a double breasted pea coat. The simplest double breasted shortie trench excites us all over again made in dip-dyed python with super wide 1970s lapels. Giant sequin rose prints turn a classic shift dress glam, and loafers have grown monster tassels and pantomime sized buckles. The collection defies categorisation, Mr. Bailey has mixed up multi-themed influences for men and women (absolutely loved the gym bunny in silver sequin leggings and classic zip up sports top) and come out winning again. Indie singer songwriter Jake Bugg sang beautifully, and the glossy FROW Naomi, Mario, Rosie, Alexa, Dianna Agron clapped in all the right places.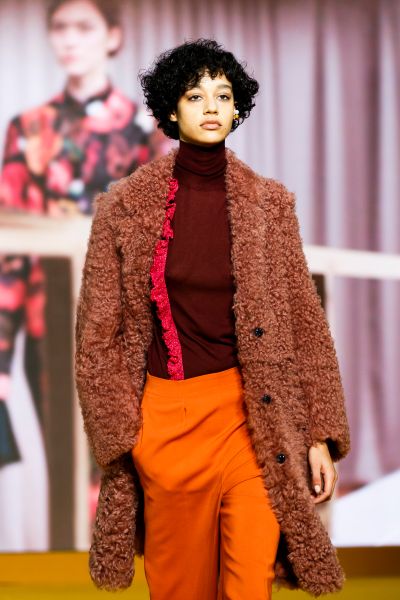 Elsewhere in the ultra modernistic environment of the Royal College of Physicians on the edge of Regents Park, Paul Smith did what he does best, and presented a typically tongue in cheek, off beat approach to wearable classics. Mr. Smith likes to subvert with an element of surprise and this season that involved texture clashes of ruffled cashmere, teddy bear fur and loud multi-coloured lurex brocade. Embroidered paisley motifs were a recurring theme on simple wrap dresses, straight skirts and silk shirts with ruffle sleeves, and a beautifully cut black and white paisley embroidered evening coat held in place with a flash of turquoise button. A broad bright red asymmetric stripe running from shoulder to toe on a perfectly tailored navy wool suit caught the eye for all the right reasons.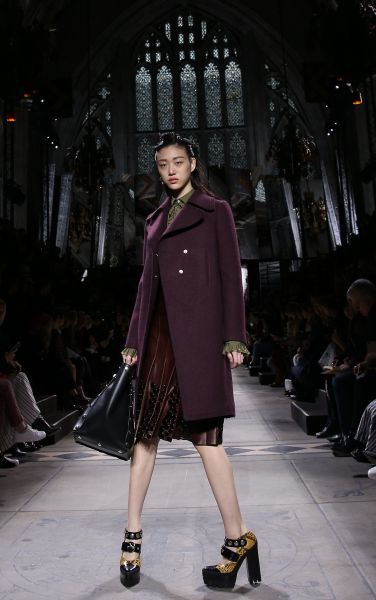 Spanish born Johnny Coca had a lot to prove as the new man at Mulberry this season, after fluctuating fortunes in recent years but his debut collection was confidently assured and eclectic in design, stealing inspiration from sources as eclectic as punk and the Scottish national kilt. Creating complex silhouettes, pleated skirts over trousers, and capes over jackets Mr. Coca happily embellished with heavy top stitching and a smattering of pleats, ruffles, press studs and chains but all applied with enough restraint to produce desirable pieces.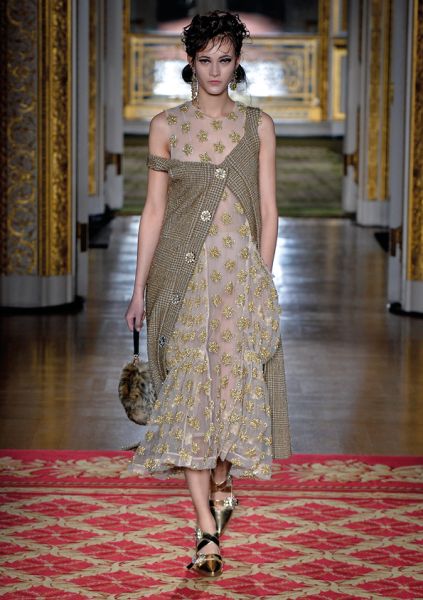 Simone Rocha produced a stunning collection of mostly black billowing dresses comprised of sheer layers that floated around the body as they moved, a gothic master class in perfection. Every piece was a complex construction that defied definition as some pieces constrained whilst others barely touched the body. Gauzy lurex knits created a fuzzy texture cleverly wrapped and swathed in layers around the body, whilst lighter organza ruffles, lazy pussy cat bows and see through cuffs, floated weightlessly with their own momentum, revealing daring glimpses of flesh as they moved. Embellishment and handicraft was everywhere, billowing pockets were beautifully embroidered with intricate beading, jeweled buttons decorated evening coats and cobweb spun layers of crochet and lace made up intricate vests and tube skirts.