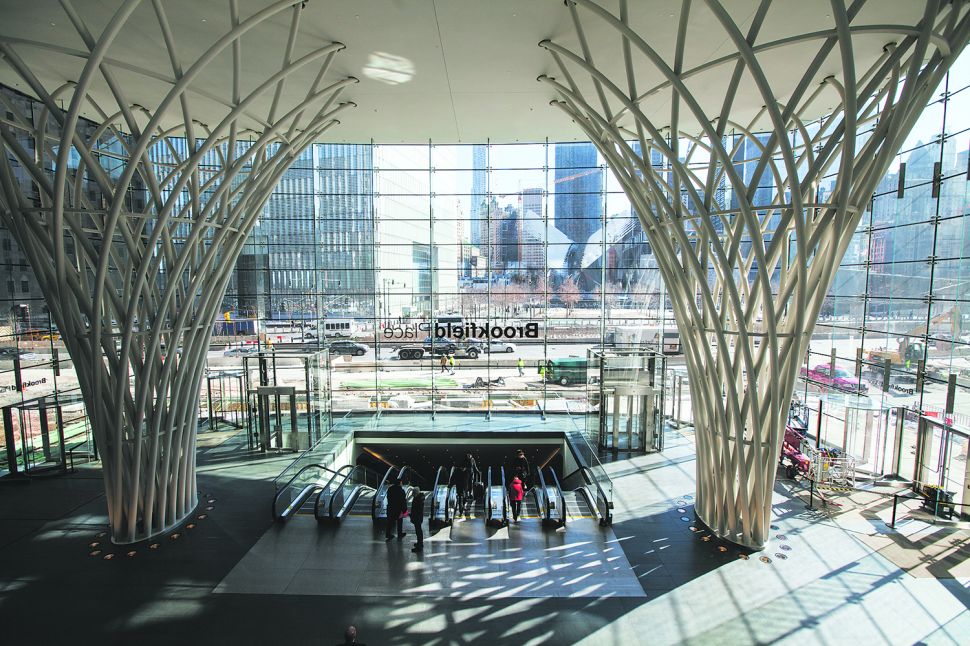 Remember when lamenting the "mall-ification" of Manhattan was a thing? The citizenry's (in retrospect) sweetly naive protests against the onslaught of shopping complexes and big box stores driving out beloved mom and pops? The way once upon a time a person could get legitimately worked up about Best Buy opening in Chelsea?
How far away it all seems now, some sepia-toned relic of the early-to-mid-aughts, like Sex and the City bus tours, or Carlos D.
Forget Manhattan. Bushwick is getting a mall. It's official—New York has been mall-ified.
And yet, a certain discomfort with the term lingers. What urban sophisticate, after all, wants to go about their errands with the specter of the Sunglass Hut looming over them? Particularly if you've shaken off your suburban upbringing and made good in a downtown neighborhood like, say, Tribeca, where, sure, the big money took over years ago but there still remains a faint patina of cool.
We speak, of course, of Brookfield Place, the city's latest and greatest temple of high-end commerce. Featuring some 300,000 square feet of retail space smattered with the likes of Gucci, Hermès and Bottega Veneta, along with restaurants including Blue Ribbon Sushi and Major Food Group's PARM, the development certainly is something. But is that something a mall?
"I wouldn't call it a mall," Douglas Elliman's Darren Sukenik told the Observer. "I would call it an indoor shopping extravaganza!"
Au contraire, said Justine Cuccia, a longtime resident of the area. "It's just like a very drab, gray, white, sterile mall."
"You don't want to call it a mall, but, effectively, it is a very pretty and high-end and singular mall," allowed broker Rob Gross, also with Elliman.
"Jersey Gardens is a mall." (Mr. Sukenik again.) "This is not a mall."
Although, noted Stribling's Rebecca Mason, so what if it is? We might not want to admit it to ourselves, but it's become pretty clear that we love the things.
"I remember when Time Warner Center went up and people were like, 'Gah, a vertical mall in Manhattan. Ugh, how suburban,' " she said. "But nowadays, I think the way we live our lives, everything [comes down to] the convenience factor. You have everything under one roof. You have great restaurants with great stores, you work in a very nice office building, and your apartment is nearby. We are living our lives perhaps in a different way than we were 10 or 15 years ago."
"Does [Brookfield] suburbanize lower Manhattan?" Mr. Gross said. "No, I don't think it does. But there are certain things about the suburbs that aren't so bad. Like being able to shop at a lot of different places without having to drive around. So that's what you have there."
'It used to be that people said, "Oh my God, after five Tribeca is so quiet." But now [the neighborhood] has all of these institutions and things going on.'—developer Winston Fisher of condo building 111 Murray
And for those doing business in the area, the development has proved the boon many anticipated.
"It adds to the story of why Tribeca is dynamic," said Winston Fisher, one of the developers of condo building 111 Murray. "I can't sit down and say, 'Here, we sold one unit because of [Brookfield],' but it gets to the overall attractiveness of the market. It goes to the sales story."
"It used to be that people said, 'Oh my God, after five Tribeca is so quiet,' " he added. "But now [the neighborhood] has all of these institutions and things going on."
"We are selling a high-end condominium and a lifestyle," Mr. Fisher said. Indeed, prices in his building range from $1.5 million for a studio to nearly $19 million for a five-bedroom. "And to really be a great building, you have to have more than just your building. It can't be an island in a sea of mediocrity. And that's what we get with Brookfield Place and all the other stuff down here."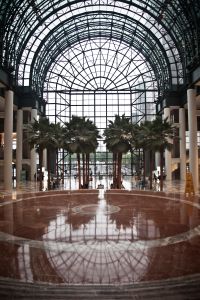 "This stuff always has an impact on real estate," said Platinum Properties' Daniel Hedaya. "Whether it is a direct impact such that people are now looking in the area as a result of this, I don't know. But what I can say is that anytime any retail or restaurant comes to the area, it is certainly a perk to the neighborhood."
"You have old Tribeca with the boutique stores and really interesting things going on, and now you also have places like Brookfield Place to go to," said Ms. Mason.
"I like to say that we're Bottega-adjacent," said Mr. Sukenik, describing his pitch to potential buyers at 111 Murray.
"I think what it does for Tribeca is it grounds it and makes it very user-friendly," he said. "There are goods and services now that [previously] you would have had to schlep up to Madison Avenue for."
That a new Hermès store could help "ground" a neighborhood is curious thought. But, when you consider that Tribeca's 10013 zip code is, according to a 2015 PropertyShark analysis, the sixth most expensive housing market in the U.S. (average sales price of $2.8 million), it makes a little more sense.
"We've been talking [Brookfield Place] up in every pitch that we do and every showing that we do down here," said Compass broker James Cox. He cited in particular the draw the complex has proved for buyers at nearby condo development 30 Park Place. (Mr. Cox noted, however, that 30 Park's claim of being a Tribeca building is, at least according to conventional understandings of downtown geography, somewhat dubious.)
"We have foreign customers [at 30 Park] who see that [Brookfield] is so close to their building and that that it is going to help the values on the resale," he said. "In fact, we did preconstruction sales and most of our customers are already up a million dollars or more. Is that wholly attributable to Brookfield? No, but it certainly has been helpful."
"There was a lot of anticipation while it was being built," said Brian Weiss, managing partner at Triumph Property Group, which is handling leasing at 90 West Street, a 410-unit rental building across the street from Brookfield. "And the opening has given a really nice energy to the area that I think was much needed."
'It's great people watching,' said Elliman's Rob Gross. 'You can spend a little money. You can spend a lot of money. The retail is definitely geared toward the high end, but it doesn't cost anything to window shop, so, why not?'
Mr. Weiss said his clients are most interested in the development's dining options. "Even though there are other restaurants in the neighborhood, people are always looking for new places to haunt," he said. And, he noted, the food court-style setting appeals to busy area office workers.
"The tenants we see tend to be working long hours and like the convenience of being close to home and having a nice alternative for food that is relatively easy and quick," he said.
Not that everyone is thrilled. Ms. Cuccia told the Observer that she preferred the space the way it was, a sentiment she said is shared by many of her fellow longtime lower Manhattan residents.
"I understand that they wanted to make it more upscale and make it a destination, but to me it's no more of a destination than it was before and is actually of less use to the community than it was before because the stores that they've placed in there are so expensive," she said. "They aren't really anything that you want in your backyard."
Ms. Cuccia is grateful, though, that the developer spared the sweeping marble staircase leading down to the space's Winter Garden Atrium. Targeted for removal in the original redevelopment plans, the stairs were destroyed in the 9-11 attacks but then rebuilt and came for many locals to stand as a symbol of the neighborhood's rebirth, Ms. Cuccia said.
"When it came out that [Brookfield] was talking about taking the stairs down, pretty much everyone who lived here was outraged at the thought," she said. "I can remember about three months went by when everyone you met on the street was like, 'Well that's terrible, they shouldn't do this. Somebody should do something about it.' "
"Finally," Ms. Cuccia recalled, "I just said, 'Well, I guess I'm going to do something about it.' " She and several likeminded neighbors launched a petition drive and began making regular appearances at community board meetings, gradually rallying residents and officials to their cause.
"And at the end of the day, Brookfield listened to us and did the right thing and kept the staircase," she said. "It was private property. They could have done whatever they wanted. People told me from the beginning, 'You can't tell them what to do.' So I am so thankful to them for making that decision."
And while the development has turned heads with its luxury-heavy focus, hanging out is still free, Ms. Cuccia noted.
"It's not as inviting as it used to be, but you can bring food in and hang out. So it's still a nice place to gather," she said.
"It's great people watching," said Elliman's Mr. Gross. "You can spend a little money. You can spend a lot of money. The retail is definitely geared toward the high end, but it doesn't cost anything to window shop, so, why not?"
"Do I go there that often?" he said. "Every now and then. But every time I go, I'm happy that I went."