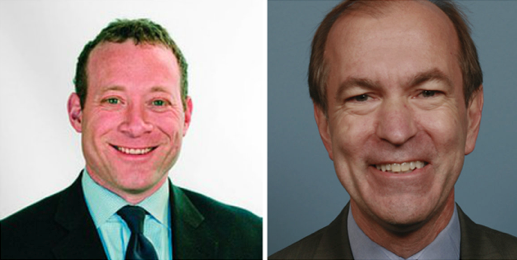 Republican Congressman Scott Garrett has had a strong grip on his congressional district 5 seat since 2003. This year, Democratic challenger Josh Gottheimer is gunning for that position and his candidacy has become a top priority for the Democratic Congressional Campaign Committee (DCCC).
Because 2016 is a presidential election year, voter turnout is expected to be especially high. This means that the stakes are even higher in CD5 because voters from both parties are expected to flood the polls in November. CD5 dominates much of northern New Jersey and spans Bergen, Passaic, Sussex and Warren Counties. The district has typically been considered a Republican one but, recently, Bergen County has trended Democrat, something that might help Gottheimer and the DCCC tip the scales in their favor come November. Even so, Democrats are facing an uphill climb due to western New Jersey's deeply Republican ties.
For Gottheimer, a former speechwriter for Bill Clinton, his ties with the Clintons might become especially critical if former Secretary of State Hillary Clinton becomes the Democratic presidential nominee. While Gottheimer would still face a boost if Vermont Senator Bernie Sanders receives the nomination due to the many "straight-ticket" voters, his connection with Clinton might give him a bit of an edge with Clinton supporters in CD5 who may choose to rally behind him and donate because of his affiliation with their candidate of choice.
Garrett has faced sharp criticism recently over comments he made last year when he allegedly said that he did not support homosexual candidates for elected office. However, as the ever-controversial Donald Trump continues to dominate the polls, voters during this election cycle continue to show that they are willing to look past controversial comments.
During his presidential run, Trump has blasted both Mexicans and Muslims but, despite backlash by some, voters continue to push him closer and closer to becoming the eventual Republican nominee. While Trump has never made any critical comments regarding homosexuals, his voters have proven that glib remarks are not a make-or-break in terms of support. Supporters who are willing to overlook comments from Trump may also apply the same principles to Garrett, regardless of whether or not they agree. However, New Jersey's Republican Party has always been more moderate than the national party, something that might make voters in the state shy away from comments such as those made by Garrett.
Another place where Garrett might struggle with those remarks also happens to be one of the strengths of his opponent: fundraising.
LD38 Assemblyman Tim Eustace and Garden State equality recently held a rally against Garrett calling him "anti-LGBT" and "anti-woman." In response, PNC bank dropped Garrett. What the loss of PNC support might mean for Garrett is a weakening support base on which to build his upcoming congressional campaign. This comes at the same time as donors continue to pump money to Gottheimer in CD5.
As of December 31, 2015, Gottheimer had received over $1.4 million in campaign contributions according to the Federal Election Commission (FEC). During the same time period, FEC reports show Garrett pulling in slightly over $706 thousand. If trends continue, Gottheimer is slated to significantly out fundraise Garrett.
Another factor that may play out well for Gottheimer is the Democratic Party's recent strength in his home county of Bergen. In November, the party swept freeholder elections and LD38, initially billed as one of the most competitive races in New Jersey. Garrett hails from Republican stronghold (but far less populated) Sussex County. If the district's Democrats turn out in high numbers—as they are wont to do in a presidential election year—Gottheimer may get somewhat of a boost, especially if recent trends in Bergen toward voting Democrat remain stable.
One area where Gottheimer might struggle, however, is the increase in anti-establishment sentiment that has become a hallmark of this presidential election season. Both Trump and Sanders—as well as Texas Senator Ted Cruz—are pulling significant numbers of votes from their establishment-connected competition. Before the rise of the Tea Party, Garrett was often considered an outsider within his own party and, because of New Jersey's moderate stance, he is often still viewed that way in state. Unlike Garrett with many New Jersey Republicans, Gottheimer is a politically well-connected contender with deep support from his party.
Another benefit for Garrett is his incumbent status. Historically, incumbents have typically won so a victory by Gottheimer would be an upset.
Gottheimer is not Garrett's only competition this year. Republican Michael Cino will also be looking to oust Garrett in CD5.