Since his start, Chris Gelinas has fiddled with how best to show his collections that often find their beauty and elegance in the softest and smallest of ways. Last season it seemed the designer had struck gold in the beautiful glassed-in garden of The Park restaurant. Models walked a short runway and then at the end, stood presentation style for closer inspection. It was arguably the designer's strongest collection (fitting as he was up for the CFDA/Vogue Fashion Fund at the time) and matched with an equally strong show format.
"I was just getting complimented by how intimate and personal last season's show was but it was a fortune" said CG creative director Chris Gelinas after his Fall 2016 showing. "You can't do anything in this city, you can't step out of your door without spending $20 to $50. To try to put on something like this — I'm so fortunate to be a part of the MADE program because I literally couldn't show otherwise." This season, the designer showed at Milk Studios but kept the runway first and a short presentation as a finale.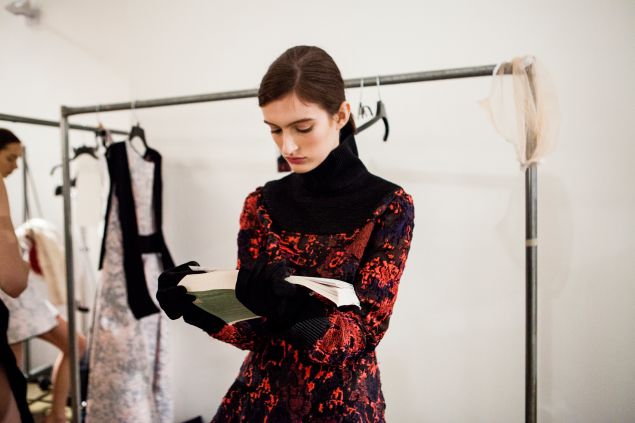 The switch-up no doubt lacked the beautiful ambience of a patio but in no way diminished the strengths of the collection. The runway portion placed an emphasis of the line's fluidity as gowns flitted by, as well as its duality. One dress looked like a full skirted ball gown from the front but once it had passed, was revealed as a minimal pencil skirt with floating panels. For Gelinas though, it was about the unsung heroes.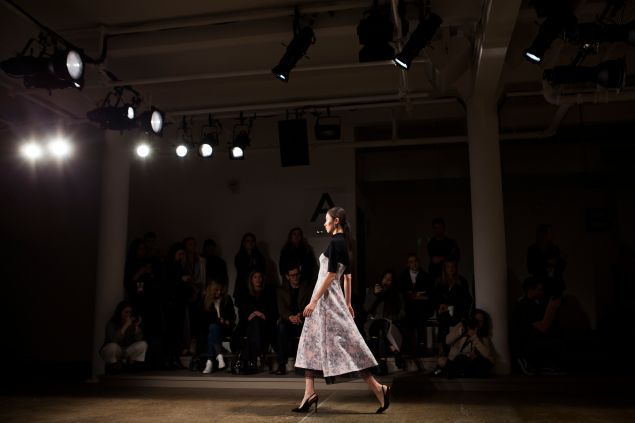 "I was thinking about how everyone has made the idea of fashion and fashion shows [into] such a spectator sport and how everyone is about being very loud now," he said, returning to an idea he's brought up season after season. "I was thinking of what it meant to have a quiet effect." The thought led the designer to looking to the insides of garments, their structure and the tailor's canvas used to line suits. Tailor's canvas, a beautiful fabric in its own right that Gelinas let shine as the primary fabric in a strapless evening dress.
As always, the range was an evolution for the Canadian, reworking ideas he'd introduced in seasons past, like a yoke neck that sits high on the chest and settles on the natural shoulder and buttoned seams that could be undone to the wearer's fancy. It's a slow approach to design, a gradual evolution and refinement that is often lost on today's generation, particularly as designers begin to alter the fashion calendar to provide apparel simultaneously with shows.
"Why?!" Gelinas asks when the topic of "see now, buy now" comes up. "I haven't had a reaction yet; I haven't seen what people think. My clients haven't said 'I love this, maybe that's not for me'" He explained. "You know, [the whole collection] can't all be hits, you're lucky if in one season you have a couple pieces that clients go crazy for."
The critique is a valid one. Six month lead times give designers the opportunity to sift through their collections with the aid of buyers, editors and private clients and really see which pieces are worth putting into production. The idea of producing products right off, will likely leave a lot of product on the floor that designers misjudged interest in.
"We look at and idolize these certain eras of design like mid-century modernism and neoclassicism as amazing period," Gelinas continued. "When people look back at today's design are they going to say 'Wow that was so well crafted' or is it, 'Wow, they could buy it five minutes after the show'? I'm scared to see what the Museum of Design will look like in 50 years."
Instead of an abundance of product, the former LVMH Prize finalist just hopes to make the right pieces, ones that women actually want to buy. "You know, if [not selling right after the show] automatically puts me at a certain level of business, that's the level I want to be at," he said. "I don't need to have 200 employees and be in 200 doors with 5,000 pieces of merchandise floating around the world. For me it's about quality over quantity and good design takes time."