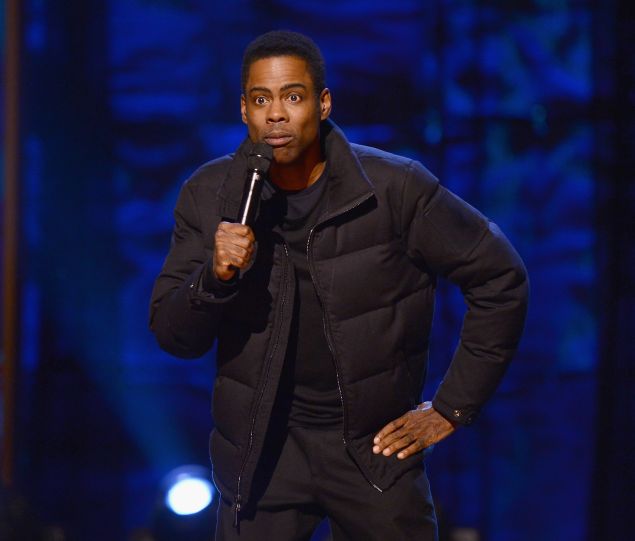 Late Thursday night, during a Judd Apatow-hosted night at Largo in Los Angeles, surprise guest Chris Rock showed up to work through some material he might use when he hosts the Oscars on February 28.
We're not here to spoil Mr. Rock's set, but will tell you there were jokes about the controversy surrounding the lack of nominations for black actors and filmmakers—of course. The comedian explained why he wasn't abandoning the ceremony, considered how Martin Luther King might react to the issue if he were alive and riffed on the absurdity of one particular boycott. That bit included a withering, perfect punchline involving two celebrities, but Mr. Rock knew it was too lewd to get by the Oscars censors.
During a Q&A, Mr. Apatow (whose Netflix series Love was released on Friday) suggested that perhaps Mr. Rock could revise that line to make it broadcast-friendly. Mr. Rock offered one idea, but he realized it didn't have as much impact.
Whether he uses that joke or not, Mr. Rock has an impressive arsenal of material to hone between now and the ceremony. He had sharp bits about actresses earning less than their male counterparts and why actresses shouldn't be upset that they keep getting asked about what they're wearing on Oscar night. He suggested some ways to create a more diverse pool of nominees and shared a story about what he once told President Obama about Hollywood. He went deep on how fantastic some black actors who have won Oscars really are. He suggested some words that should be banned from the ceremony.
During the Q&A, Mr. Rock, when pressed by Mr. Apatow, had some amusing things to say about Sean Penn's encounter with El Chapo, what winning an Oscar might do to Leonardo DiCaprio, a potential acceptance speech for Spotlight, a scenario where Straight Outta Compton would have gotten more recognition and The Hateful Eight's place in Quentin Tarantino's filmography.
Mr. Rock, however, did not have a Stars Wars joke. He likes J.J. Abrams, he said, which prompted Mr. Apatow to tweak him about "giving the richest guy in the world a pass. J.J. can take it." Mr. Rock still has more than a week to consider Mr. Apatow's feedback and how the rest of his hour on stage went. (There were also non-Oscar bits about divorce, the harsh realities of marriage and one benefit of dating younger women that you might not have considered. Maybe there was the makings of an HBO special here too.)
Either way, we really hope his jokes about Jennifer Lawrence and Paul Giamatti make the cut on February 28.