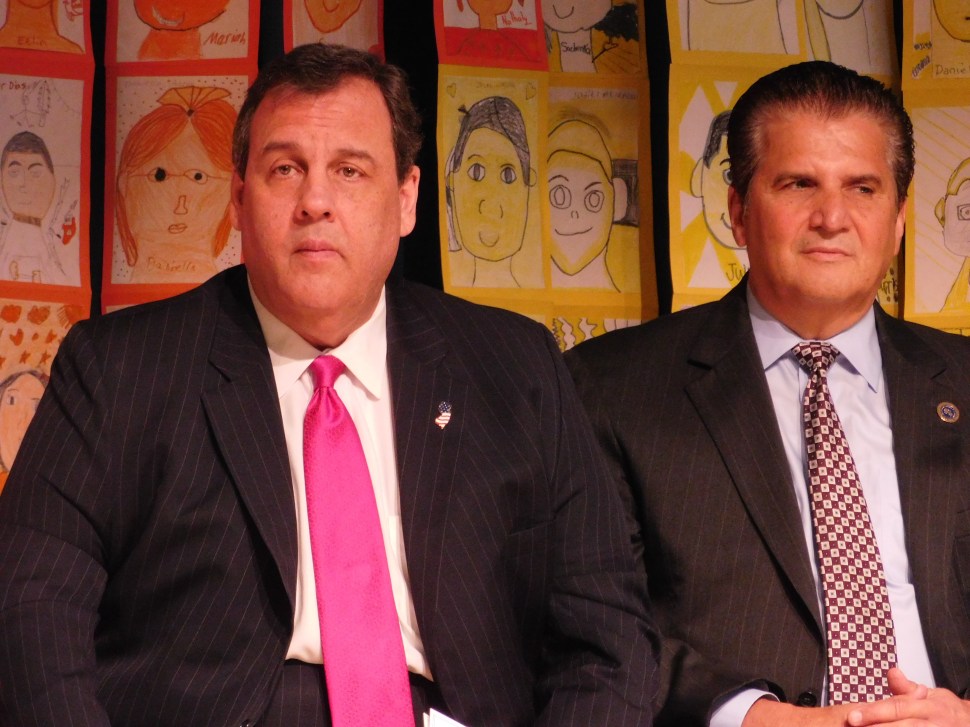 On a Texas stage on the Friday before Super Tuesday in a Republican Primary election dominated by Donald Trump's manhandling of the GOP establishment, Governor Chris today Christie broke publicly from the establishment wing of the party and endorsed Trump for president.
PolitickerNJ reported earlier this week that this was where it appeared he would go.
A losing candidate in the 2016 Republican Primary for president who labored and ultimately failed to get the support of the Republican golf course and cocktail party set, Christie realized last July that Trump was in his lane. Running a "telling it like is" campaign, he ran up against the more voluble and outrageous billionaire real estate tycoon. Earlier this month, the governor of New Jersey finished a disappointing sixth in the New Hampshire Republican Primary, the state where he had hoped to make his stand.
His endorsement of Trump did not come as a surprise behind the scenes to New Jersey Republican leaders, many of whom – following the disintegration a week ago in South Carolina of former Florida Governor Jeb Bush and the failure of Ohio Governor John Kasich to gain traction – prefer Florida Senator Marco Rubio as a last chance to buck Trump and felt bottled up by the governor.
Having demolished Rubio in his last debate appearance and discounted him as unprepared for the presidency, Christie did not ever appear in the days since dropping out to be in a position to back the now favored establishment candidate for president.
"I am proud to be here to endorse Donald Trump for president of the United States," the Republican governor told reporters at a press conference in Texas, according to a report on CNN. "The best person to beat Hillary Clinton on that state last night is undoubtedly Donald Trump."
There was some hardcore behind the scenes chafing. Christie in 213 ran for reelection with a direct play to Hispanic voters, a majority of whom voted for him, partly under the auspices of party machinery boosted by Essex County Executive Joe DiVincenzo (pictured, above right) and state Senator Brian P. Stack (D-33) of Union City. Trump has run a campaign for president organized around one central argument: building a wall along the Texas border to keep out undocumented workers from Mexico.
But a natural stylistic fit exists for the pair of combative public personalities. An New Jersey source said Trump has always loved Christie. "I absolutely appreciate him as a person and as a friend," the New Jersey governor affirmed in his endorsement. Christie went to Trump's wedding, and the relationship has always been strong. "Logically, it Trump makes it, the thinking is 'what's in it for him,'" the source said.
The news nearly upended the Chamber of Commerce train on the way back from D.C. "Imagine if, God forbid, the SOB [Trump] wins, he'll [Christie] get something," a union guy said into a cellphone upon learning the news.
The speculation includes a Christie play for attorney general in a Trump Administration. The fact that he jumped out in front of a GOP establishment still on their hands in knees in hopes of a late Rubio surge gives him a special place in the Trump political universe, a source argued.
Another source speculated about Christie as a Supreme Court pick. "Photoshop a pic of Christie onto a black robe and post it," a source urged. "You'll scare the crap out of NJ."
Democrats were laughing about the endorsement.
But not establishment Republicans in New Jersey, whose Millicent Fenwick-Tom Kean moorings don't include Apprentice-like outbursts and public temper tantrums. As chair of the Republican Governors Association, Christie eschewed in-the-weeds conservative positions parsing to voice an almost Charlie Sheen-like devotion to the concept of "winning," so fastening himself to stampeding front-runner Trump comes as no shock to his contacts in the NJ GOP.
Still, the roll-out from Texas caught flat-footed those county chairs waiting for a doubled back phone call from the governor.
Republican county chairs in fact were irritated by the news, not so much because Christie backs Trump – which they expected would occur – but because in that conference call with chairs last week he told them they would reconvene.
They didn't reconvene, a source told PolitickerNJ. "He acted unilaterally."
The way he went about it reflected the governor's desire to get something for himself, not cohere the Republican organizations, or pay them respect, the source said.
Not surprised finally by what he cited as an indefatigably ego-driven Christie and another self-serving move, the same source said the smart play for the chairs will be to wait for the results next week from Super Tuesday.
Many of them fear Trump and the shoot-from-the-hip New Yorker's impact on delicate down ballot tickets, the chairs also don't want to throw themselves in front of an oncoming bus if Trump runs over Rubio Tuesday night. Another Republican source said the chairs will probably fall in line behind Christie after Super Tuesday, using a poor showing by the Florida as justification.
"But the chairs are up in arms for real over this….they really believe Trump is a cluster," the source said.
A consistent critic of the Republican governor, NJ Working Families Executive Director Analilia Mejia released a statement in response to the news out of Texas.
"In a pathetic last bid for relevance on the national stage, Chris Christie has sold his endorsement to an even bigger bully and charlatan than he is himself," Mejia said. "Donald Trump's brand of racist demagoguery is totally out of step with New Jersey values. When they write the book on Chris Christie's fall from power, it will start with Bridgegate and end with today's shameful endorsement of Donald Trump."
In reaction to the news, Jeff Tittel, director of the New Jersey Sierra Club, released a statement of his own. "Christie's endorsement of Trump means he can keep campaigning and keep running away from New Jersey's problems," Tittel said. "Even though Christie's not running for President anymore, this endorsement will allow him to campaign for Trump, which means he won't be able to face the real issues facing our state like climate change and the Transportation Trust Fund."
A possible 2017 candidate for governor, Assemblyman Jack Ciattarelli (R-16) stepped up to PoltickerNJ's inquiry about a reaction to Christie's endorsement.
"Governor is rightfully entitled to endorse whomever he thinks can best lead the Republican Party to victory," Ciattarelli said. "I continue to maintain that, deep down, Trump isn't representative of the true party of Lincoln and is least likely, of all the remaining Republican candidates, to win in November."