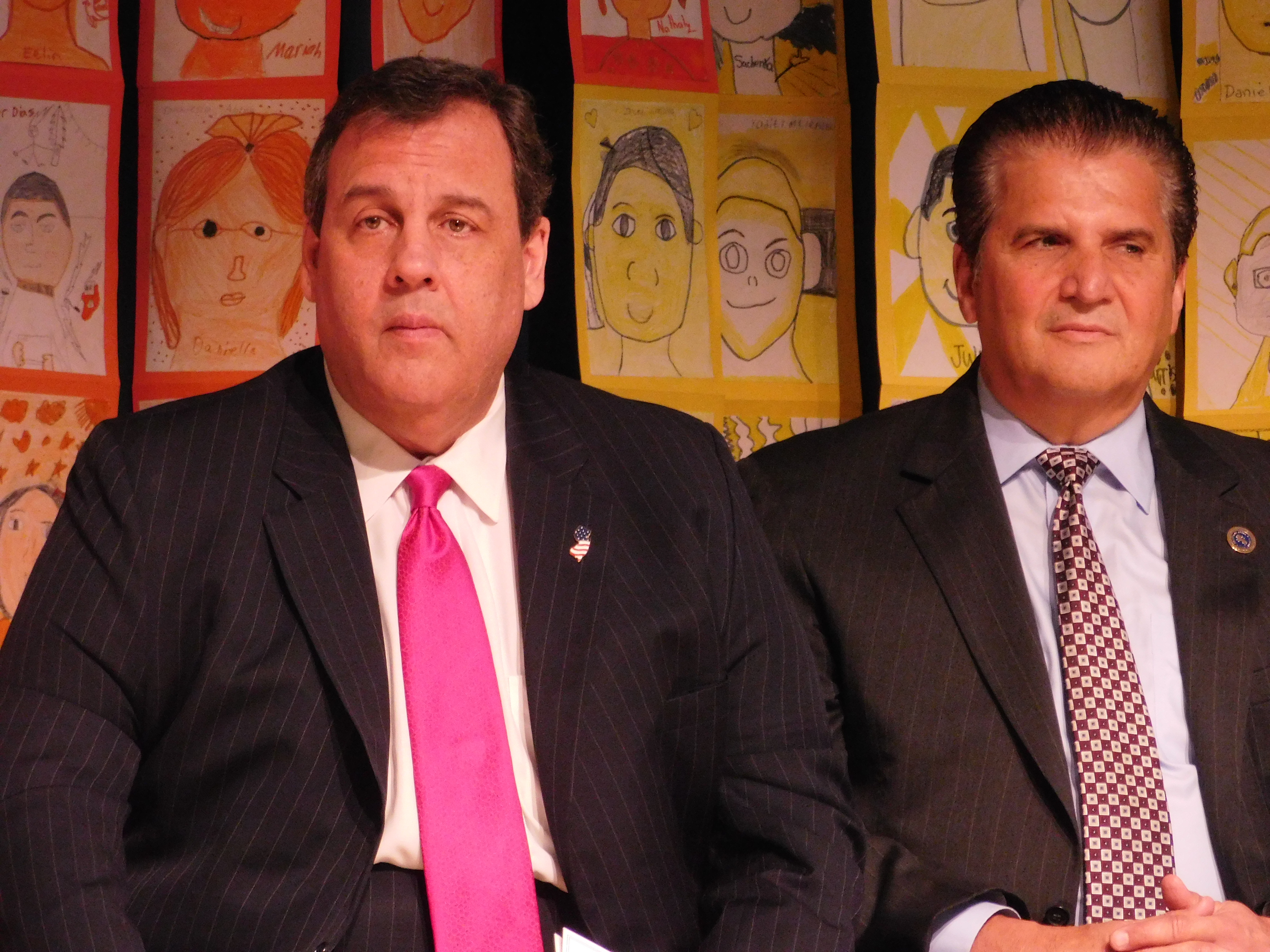 NEWARK – A hoard of reporters dashed around the new, state-of-the-art Elliot Street Elementary School on Wednesday, hoping to get a word with Governor Chris Christie during his second public appearance since his departure from the presidential race. While the Governor joined elected officials, students and school administrators for a ribbon cutting ceremony, he did not stick around long after his remarks, immediately exiting the stage and prompting reporters to (unsuccessfully) try and chase him down.
He did not stick around for the actual cutting of the ribbon.
Since his return to New Jersey full time after the end to his presidential run two weeks ago, the governor has not taken any questions from the press. During his remarks on stage, however, he did say that he will continue to fight for projects and schools like Elliot until the "last day" he is governor.
That last day is not until January 2018 but Christie's comments are in line with the message he pushed during last week's budget address, his first appearance in NJ after departing from New Hampshire at the back of the Republican presidential pack.
With his appearance at the Elliott Street ribbon cutting, Christie doubled down on his budget message where he proposed nearly $100 million in additional K-12 school aid for New Jersey school districts. That addition would take the state's total school investment to more than $9 billion.
"Advancing this project was one of the most important parts of last year's capital plan," said Christie during his remarks.
The Elliott Street School was reopened this month. A fire ten years ago destroyed the then-existing school, prompting educators to find temporary solutions to the problem of where the area's students would be educated. While replacements were found, it was taxing for community members to shuttle kids across town and into other areas to go to school. The new building is a $46 million investment by the state into the Newark education system.
The Elliott Street School appearance also marks Christie's first appearance following Donald Trump's domination in the Nevada Republican Caucus on Tuesday. Trump came in at 45.9 percent of the vote. Florida Senator Marco Rubio came in at 23.9 percent and Texas Senator Ted Cruz clocked in at 21.4 percent of the vote. Because of Christie's pointed remarks at Rubio while he was still in the race, there is speculation of who he will back as a member of the establishment.
As of now, Christie does not have any events scheduled where it is clear he will take questions. He has yet to speak about the presidential race since his departure, other than to thank the people of New Jersey for allowing him to run during his budget address.
The ribbon cutting ceremony was also attended by a number of elected officials from the Essex County area including state Senator M. Teresa Ruiz, County Executive Joe DiVincenzo, Newark Mayor Ras Baraka, county freeholders and Newark councilmembers, among others.