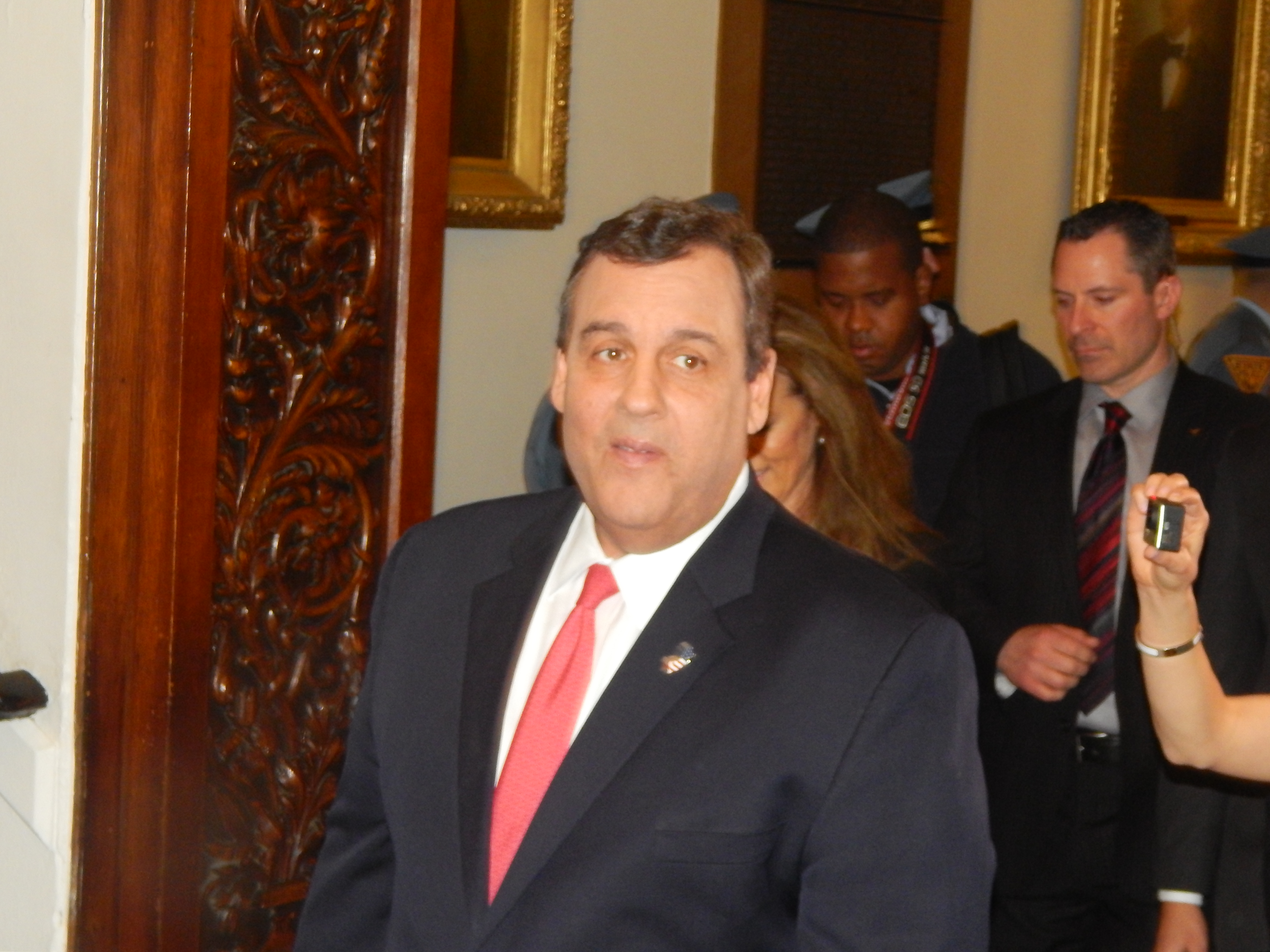 Swatted mercilessly in the aftermath of his announced endorsement of Donald Trump for president, Gov. Chris Christie today tried to change the narrative trajectory with an "on topic only" press conference.
"I'm proud to put forward once again … Judge David Bauman [for the state Supreme Court]," Christie announced today in his outer office.
A Superior Court Judge, Bauman if approved would be the first Asian American justice on the state Supreme Court. State Senator Kevin O'Toole (R-40), himself an Asian American, attended the press conference.
"I am truly honored… in nominating me a second time," said Bauman, nominated by Christie three years ago. At that time, the Senate never held a confirmation hearing and Bauman's nomination expired in January 2014.
Although Bauman failed in his first attempt to get on the Supreme Court, Christie cited the judge's unanimous confirmation last year for lifetime tenure on the superior court. Presented his pick as well qualified and noting a six-year vacancy on the bench, the governor urged the Senate to grant Bauman a hearing.
The governor alluded to the current vacancy on the United States Supreme Court and the consequent party in-fighting, and argued that New Jersey is in a position to show how the process should play out.
In September 2009, the judicial nominee was named Presiding Judge of the Civil Division in Monmouth County. He is the first Asian American to be appointed to the Superior Court in Monmouth Vicinage. He has 17 years of private-sector legal experience with the firm Bressler, Amery & Ross where he specialized in complex civil and commercial litigation as well as criminal law.
At his press conference, a reporter asked the governor why now.
"The spirit moved me," Christie said.
"Only on topic questions today," the governor told a reporter attempting to go off the subject of Bauman.
"Because I don't want to," he added, when asked why he didn't want to talk about another subject.
According to Ballotpedia, "during his four years on active duty withe Marine Corps., Bauman served as defense counsel, prosecutor and special counsel at courts-martial."