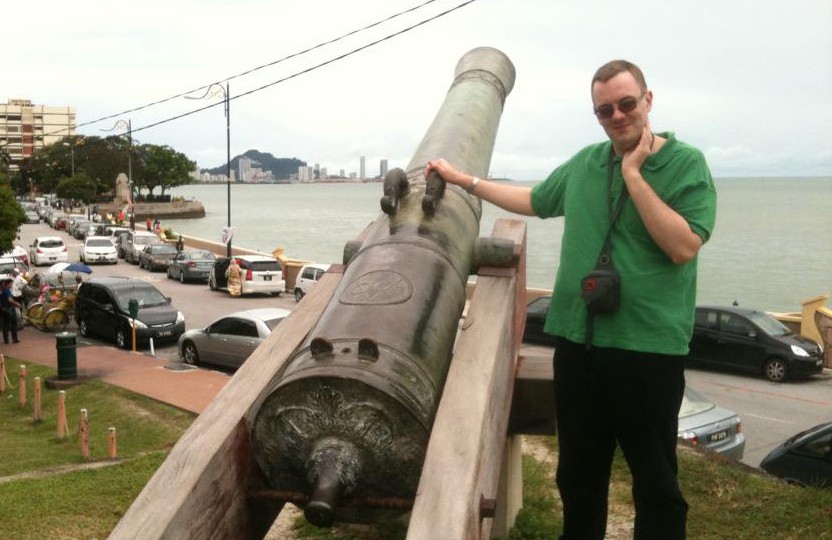 Christopher G. Nuttall is a history buff. As an author, he writes sweeping series, a good number of which take place in imagined galactic empires of the far future, yet his plots still reflect what's been intriguing about the human story so far. His books feature confrontations between space democracies and theocracies, monarchies beset by corruption and nations barely keeping it together. He takes the complications of life so far and imagines those stories spanning galaxies.
Mr. Nuttall has been publishing books on Amazon since 2011, but his career as a writer took off with 2012's The Empire's Corps, about a group of soldiers exiled to the outer edge of a galactic empire after its commander spoke too honestly to their nation's leader. Since then, he's been able to carve out a career for himself as a writer, doing nothing but coming up with book after book.
He joins a growing group of writers making a living (probably much better than a living) writing books that are published digitally. Our conversation marks the third story in our Titans of Kindle series, preceded by Kristen Ashley and Douglas E. Richards.
In fact, when the Observer spoke to Mr. Nuttall, via Skype from England, he had just published Vanguard, the seventh e-book in his Ark Royal series, about a largely retired super spaceship that finds itself in a strategically important position.
'The major companies are basically building publishing castles out of sand, and the tide is coming in'
The following conversation has been edited and condensed:
Big picture: what's your take on the world of publishing right now?
Well, I think things are changing rapidly. The current publishing world is unsustainable as it stands. Big publishers came up in a world that was completely different. They tried to price e-books as expensively as hardbacks, which cost them a lot of sales. Obviously, I'm not complaining about that, because it does me good, but it's a major problem for publishers.
We've written a lot about the hike in ebook prices. Has it helped you?
I think so, yes. Lots of people know they are being cheated. The high prices are a big incentive to people who just want to pirate e-books.
What do you think is the right price point for an e-book?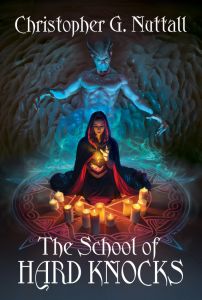 Like most e-book indies, I don't think anyone is going to pay more than $5 for one of my books. For most of my series I start at $2.99. For the next ones after that I go up to about $3.99 or $4.99. They're fairly good prices, I think, and I've got to eat. People are happy gambling with them. $3 is a reasonable price, and they won't be too angry with me if they decide they don't like the first book in a series after all.
I also give samples on the website. I do about a quarter of the book free. Then there are the free books I have on the site, which are a lot of the early stuff I wrote, but they're not really worth selling.
It looks like you did some writing in other people's series early on? Is that part of how you developed a following?
Basically, John Ringo, the guy who wrote the Posleen War series, I asked him if I could write a book set in one of his worlds, and I did. Then I wrote a second one, and I learned a great deal. It got my name out to a lot more people.
I put the first copies on his website to see how it was coming along. So it did have a proper reputation. People commented and made suggestions. Everything was made quickly , but I managed.
What was next after you wrote those?
I just kept writing story ideas of my own. The Empire's Corps was the first one that was a big success. I was delighted, as you can imagine. I just started building more books in that series and putting more books on Kindle and it just kept expanding. It's a story about bad times and it's a story about hope, but it's a good military fiction book as well.
It wasn't until someone pointed out that it was going well that I actually looked at it.
Do you do anything else to supplement your income?
I'm a writer. I just write basically.
Can you talk to me about your revenue streams? How does your income break down?
Amazon is the top source.  Amazon is adapting, and other publishers are not. Amazon is very, very convenient. Createspace is a little bit of income. I've tried experimenting with others, such as Smashwords, but it hasn't really worked out. I've also been picked up by a couple of small presses.
Does Amazon talk to you? Does it seek feedback from its authors about the industry? 
I've actually got two books in 47North [Amazon's science fiction imprint], and we do chat about things. Nothing special. We don't actually offer each other much feedback. The thing I want is a way of counting how many copies of a particular books is sold. I'd like something that does it automatically.  A lot of the secretarial work you have to do yourself.
The other thing other people want is other formats as well. Things like RTF, HTML or ePUB. People like universal products.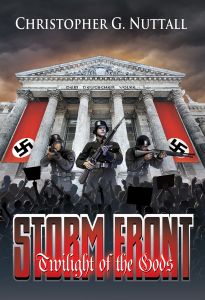 What are your thoughts around book covers?
My philosophy is that you need good and individual covers. If you look at my blog there was an instance where I and another author used the same cover. These days I try to use individual covers, designed specifically for me, because it's less of a headache.
Usually I give the artists a very vague idea with most of the books, and they usually run with it. And I'm usually quite happy with it. Except the Schooled in Magic books, there I'm much more specific about what I actually want from them. With those, I actually try to show scenes in the book. The problem with that is, the more you want, the more expensive the cover can get.
The cover for The Storm Front was as expensive as a lot of other covers together.
'It's not reviews and endorsements from famous persons that count. It's the number of reviews you get from regular people on Amazon'
Do the artists read the book?
I hope they do read the books, but mostly I get specific about what I want. It's good if they at least read the specific section. It's just something you have to do.
Have you done any work for traditional publishers?
I've worked for three small presses. And I have two books at 47 North, The Oncoming Storm and Falcone Strike.
Has that expanded your audience?
I think it has. It brings exposure. So every time you have an e-book out it brings interest in the other ones. People read one of my books and then they'll go find another books as well.
You just had a new book go on sale. This must be kind of a heady moment for you. What's it like?
You get out. You promote the book. Then you hope. There's limits to how much you can do. I do one bunch of promotion and then I hope.
It's both good and bad. It's good because the book's out, and it's bad because it's nerve-racking.
So do you understand how you blew up? Did you get a review on a prominent blog or something? 
I haven't had very many people in the media say, "This book is really good" apart from Instapundit. The thing is, it's not reviews and endorsements from famous persons that count. It's the number of reviews you get from regular people on Amazon.
The people who review books professionally are more critical, so I think they are out of touch with what people actually want. So I don't think it actually helps.
So the Amazon reviews are what matter?
I think so, yes. There's always a lot of people who will read reviews first before they buy a book.
Have you ever done any experiments with technology and books, such as incorporating multimedia, etc?
No. My experience is if you add images, it makes the file a lot bigger, which can cause headaches.
What are problems in your business that you are looking for a solution to?
I think a lot of the problems are that I don't have enough time. I write six or seven hours per day, then I have to edit, and then I have to look after my son.  At the same time, doing it myself gives me complete control. I have a guy who does the web, and I have people to do covers and such, but I don't have any staff.
Are there technology or tools or services that you make use of that help your business?
Not really. I use Microsoft Word for writing. I've looked at some of the writing programs that you see advertised, but I generally think they are useless. If you're not going to do it, then there's no point in having the program. If you are going to, then you don't need the program.
There's been a lot of talk about using the block chain to register digital IP so people who buy it can own digital works rather than leasing them, such as what Imogen Heap is trying with music. How would you feel about technology that let your readers sell their digital books?
In what I've been doing, I have been selling files without any DRM at all, because that annoys people. I don't see how re-selling e-books would work.  If it could work, I would be supportive. I'm skeptical it could. As you've probably heard, there's this ongoing war between who make digital rights management programs and people who break them.
Most of the time digital rights management systems are extremely annoying.
So if it did work, why would you be supportive?
It's essentially the same thing as a library. It's a good thing if it can happen. I may not profit from that, but I wouldn't profit if it were a physical book and just got sold on anyway, but then people would have read one of my books. So I would actually benefit to some degree.  
Which of your books most reflects where you want to go as an author?
In the Schooled In Magic series, I do standalone stories with each book. What I'm trying to do is make it so each book stands alone, but at the same time it's part of a big overarching plot. I think it's really a better service to readers.
It's hard work, to be honest. If I had a penny for everyone who asked what the secret to success in writing is, I'd have a few hundred pennies. You're not just the one in charge, you're the only one. At the same time you have a lot of freedom to adapt as things change.
I was reading in your first interview, that there's a resurgence in print books. What I think is people are just seeing the rise in price of e-books, that e-books are the same price as hardbacks, which is just a joke. I have books on CreateSpace, but they're expensive because we don't have economies of scale, so it's only a trickle of money.
In publishing, you've got the A-list, such as J.K. Rowling. They are the ones that get all the promotion. The ones below, they are the ones that get trampled. They're being driven to indie. The major companies are basically building publishing castles out of sand, and the tide is coming in.
Further reading in the Titans of Kindle series: