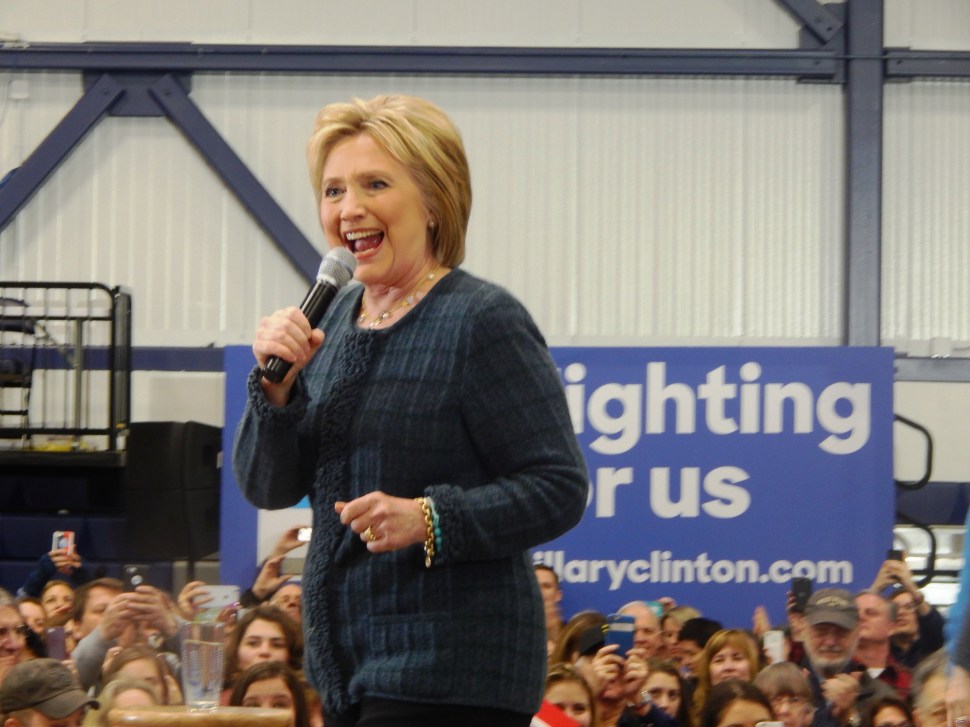 PORTSMOUTH – On the line that stretched around the back of a local community college here for a Hillary Clinton rally, much of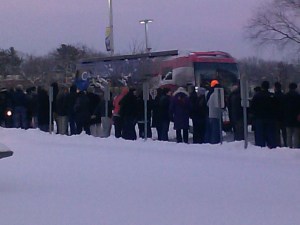 the talk centered around the virtues of Vermont Senator Bernie Sanders, who's expected to win here on Tuesday – then get run over post New Hampshire.
Anyone wavering on support for Clinton may have found another reason to back Sanders as he or she stood on line in the frigid cold. Clinton cheerleaders in boots and earmuffs appeared in an effort to pacify the crowd.
"Are you excited for Hillary?" one of them asked as he prowled the line, which appeared more and more as the minutes ticked by to be a solid block of ice containing frozen human forms.
"I'm actually leaning Bernie," a grumpy voice replied.
"Well, that's why I'm here, to help convince you to vote for Hillary," came the friendly reply.
"I'm cold," the other grunted amid stamping of feet. "I want to be warm."
Moments later, a floppy cowboy hatted presence appeared atop an unmistakable soothing Southern accent. One of 86 so-called Arkansas travelers here in support of the former first lady of that state appeared to have more success as he humorously attempted to pacify the crowd. By the time the doors opened and the U.S. Secret Service began to get to work on those in attendance as they filed into the college gym, one of the Arkansans explained to PolitickerNJ how New York Senator Hillary Clinton was "payback" on the Empire State for New York sending the late Winthrop Rockefeller to serve as governor of Arkansas.
Staged as a packed rally for Clinton, Governor Maggie Hassan, Minnesota Senator Al Franken and Jeanne Shaheen each took turns shining up the credentials of the former U.S. Secretary of State before a crowd of Democratic Primary voters. Each of them made sure to sprinkle his or her remarks with references to how "progressive" Clinton is, a tactic apparently designed to slow down Sanders, who's playing the progressive card.
"Those of you are undecided – talk to your neighbors," Hassan urged.
An ebullient Clinton took the microphone after a big buildup from Shaheen.