At the opening of "Coded Couture" at Pratt's Manhattan Gallery last week, one of the first exhibits visitors encountered was an ornate cape with black and purple feathers, channeling Maleficent, only without Angelina Jolie inside. The plumed shoulder piece by Rebeccah Pailes-Friedman, an adjunct associate professor of industrial design and fashion design at Pratt, tracks the wearer's heart rate; when they feel anxious, nervous or excited, the feathers flutter. It's a fascinating look into the convergence of fashion and technology—but perhaps not the ideal accessory for a first date.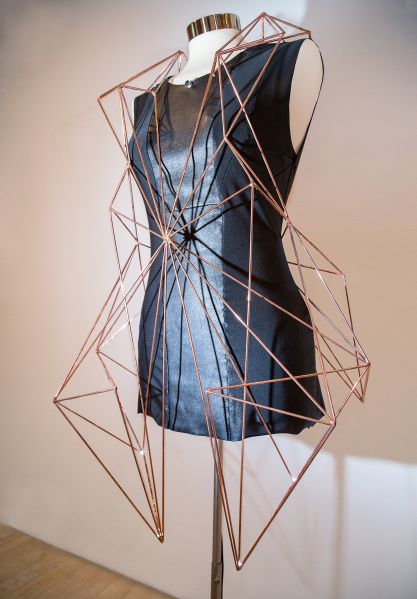 Throughout "Coded Couture," which closes on April 30, garments and accessories are interactive and highly personalized. The show's curators, Ginger Gregg Duggan and Judith Hoos Fox, gave the Observer a behind-the-scenes peek at what might, or might not, be the future of fashion.
"Couture is hand-worked with obsessive craftiness to make something customized for you," Ms. Hoos Fox told Observer. "In this exhibition, designers are using coding as the tool to personalize to an extreme level."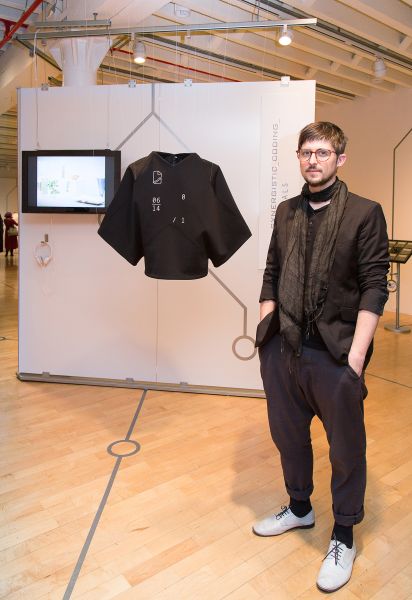 On the walkthrough, we met Cedric Flazinski, a member of the French collaborative N O R M A L S, who created an "augmented reality garment" and app. Once both are connected, a real-time image is generated and projected on the shirt by phone, showing characteristics created by tweets. One wearer, for instance, might display small Disneyesque woodland creatures on the garment if their tweets have "cute" characteristics. The Observer's Twitter animal had enormous shoulders, like a villain from an old episode of Buffy the Vampire Slayer, which apparently indicated an authoritative persona, explained a surprised Mr. Flazinski.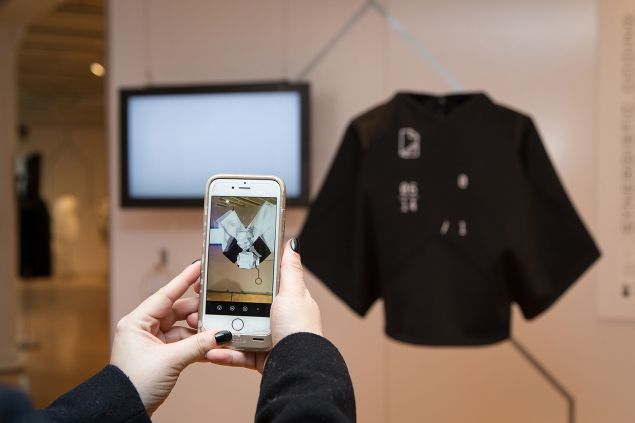 Melissa Coleman, who specializes in electronic textiles, designed "Holy Dress," a Joan of Arc-inspired armored structure that deploys polygraph technology to monitor the wearer's truthfulness. Fib and the shoulder cage lights up as a warning; continue telling whoppers and receive an electric shock as punishment.
Not exactly loungewear.
The CuteCircuit Twitter skirt, created by Francesca Rosella and Ryan Genz, appears like a regular tennis skirt on a mannequin at first—until Ms. Rosella pressed a few buttons. Suddenly, the skirt lights up, syncing with an app to show videos of tigers, changeable patterns and displaying personal texts, which could prove awkward.
While one could imagine such Twitter dresses attracting tech-obsessed teens in our increasingly confessional culture, a shock collar for liars, as well as many of the other spectacular yet seemingly impractical creations at Pratt, won't likely hang on boutique racks anytime soon.