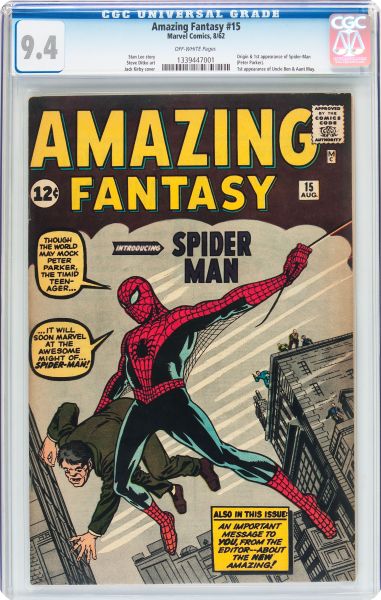 The first appearance of Marvel's Spider-Man in a comic book is a huge deal among fans and collectors. So huge, in fact, that issues of 1962's Amazing Fantasy #15—which not only features Spidey's first showing, but also his Uncle Ben and Aunt May's—could shatter previous auction records and sell for over $400,000 at Heritage Auctions' February 18-20 Comics and Comic Art Signature sale in Dallas.
If that happens, the comic will become the most expensive Spider-Man comic ever sold at a public auction, and may even crack the top ten comics ever sold, according to Heritage.
The issue is graded an impressive 9.4 by the Certified Guaranty Company (CGC), an independent organization that grades comics books for quality.
"The condition really sets this [comic] apart," Lon Allen, managing director of Heritage's comics department, told the Observer. "We see this book in average condition all the time, but a near-mint copy is extremely rare, and hardly ever comes up for sale."
The comic is being sold by collector Walter Yakaboski, who purchased the issue in 1980 for approximately $1,200 during an extensive search for the most valuable Silver Age comics on the market.
Two other comics from Mr. Yakaboski's collection are up for grabs in the sale as well: a copy of The Amazing Spider-Man #1 (estimated to sell for over $130,000) and Fantastic Four #1 (estimated $13,000), both in near-mint condition.
Mr. Allen explained that this particular copy is one of only four certified with such a high quality rating. This copy, however, stands apart for being free of one of Marvel's most distinct and harmful printing defects. "Marvel chipping," as its known in the industry, happens when the page edges become torn or frayed during the printing process and can worsen the overall condition of a comic book over time.
The last time a near-pristine issue of Amazing Fantasy #15 sold at auction was five years ago, and that copy fetched $325,000.
It's worth noting that the estimate of this single issue is more than double the recently announced price tag of the entire Marvel comics collection—every single issue ever published—which is currently being sold by Kansas City dealer B-Bop comic through a one-time auction for $200,000.