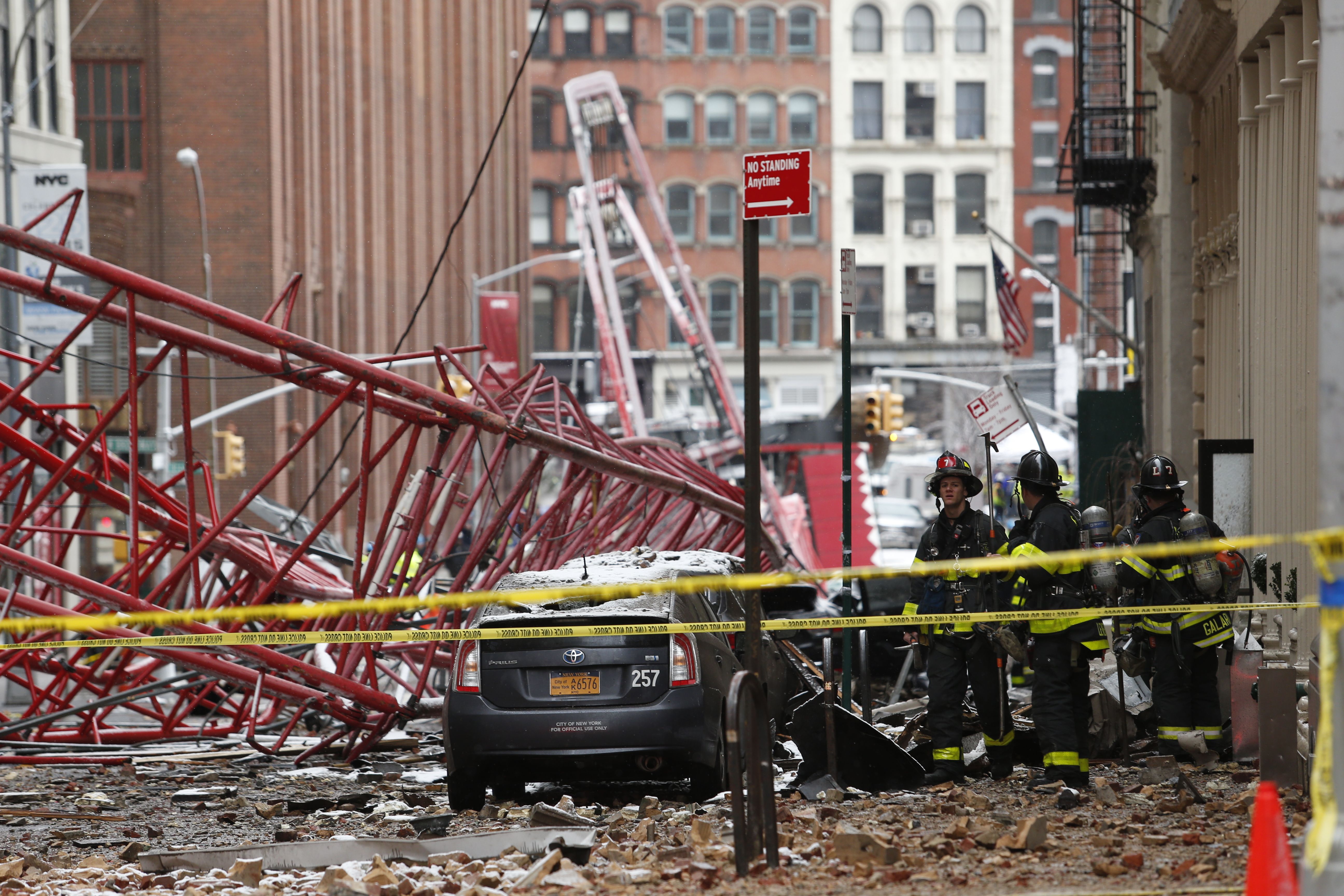 Leaving a trail of devastation in its wake, a crane collapsed this morning in Lower Manhattan killing one, and injuring several others. The collapse smashed cars, clipped buildings, forced locals to evacuate work and littered Church Street with bricks and debris.
The crane collapsed as the construction crew was in the process of securing it due to winds approaching 25 miles per hour—the manufacturer's recommendation for securing this kind of crawler crane, though city regulations would have allowed it to continue operating.
Soon after the accident happened, around 8:30 a.m., Tribeca streets were flooded with police and fire fighters with a command center being set up in a Chase bank on Church Street and Worth Street.
The crane had just been inspected yesterday, at 6:20 a.m., because the crew had sought to add an extension to bring the crane to 565 feet long—which was approved, and that was the full length of the crane when it collapsed today.
The equipment was being used to move air conditioning units and generators at the roof of 60 Hudson Street, but its base was on Worth Street.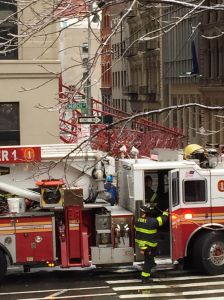 One person was killed in the accident, Mayor Bill de Blasio said: a man who happened to be sitting in parked car on Worth Street. Three others were injured, all of whom were hit by debris while passing by. Two people had minor injuries, one had serious injuries, but none were life-threatening, the mayor said.
The impact caused water main and gas leaks, officials said, and Con Edison is on scene to secure the gas line.
In response to the accident, Mr. de Blasio said all the cranes in the city—376 crawler cranes and 43 larger tower cranes—have "been ordered to go into a secure position immediately."
Mr. de Blasio said fewer people may have been on the street because the crane was being lowered at the time: "A crew was directing people away from Worth Street as the crane was being lowered."
The mayor noted this is the first crane collapse since 2008, when two cranes collapsed and Mayor Michael Bloomberg enacted reforms—apparently, distinguishing this collapse from the crane at One57 that was damaged in Superstorm Sandy which hung precariously 1,000 feet over Midtown but never made it all the way to the ground.
Indeed, amid an increase in construction and development in Manhattan, there have been a rash of construction accidents and deaths in the city in the last few years, including pedestrians being injured or killed by falling debris.
"I'm worried that we've had several incidents that I think were avoidable," Mr. de Blasio told the Observer when asked whether booming development was endangering New Yorkers, adding that the city was adding building inspectors.  "We're going to be very, very stringent."
But this accident, Mr. de Blasio said, "is a totally different matter."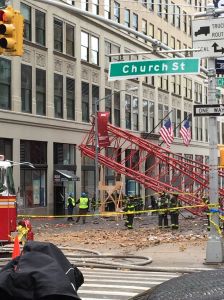 "This is a company that was putting their crane into the secure position, as we would have wanted them to, and we inspected the crane yesterday," Mr. de Blasio said.
At the news conference in City Hall, the mayor was accompanied by NYPD Chief of Department James O'Neill, Buildings Commissioner Rick Chandler, FDNY Chief of Department James Leonard.
Chief O'Neill said the NYPD is speaking with the crane operator and is investigating to determine whether there is any criminal activity.
—With reporting by Terence Cullen.