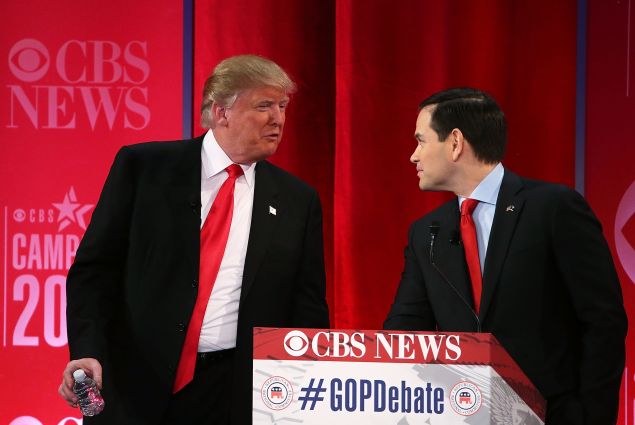 Even without the death of Supreme Court Justice Antonin Scalia early Saturday, the Republican presidential debate on CBS that night promised to be creepy and vicious.
By that standard, four of the six candidates didn't disappoint. And replacing Mr. Scalia gave them something new to snarl about..
While Donald Trump, Ted Cruz, Marco Rubio and Jeb Bush took turns calling each other liars, John Kasich and Dr. Ben Carson stayed above the fray.
"I think we're fixing to lose the election to Hillary Clinton if we don't stop this," Mr. Kasich said in a debate comment replayed at the beginning of NBC's Meet the Press Sunday.
"I've got to tell you," Mr. Kasich said in a later highlight. "This is just crazy. This is just nuts."
Perhaps by "crazy" and "nuts," the Ohio governor was referring to several scenes in which New York real estate tycoon and polling leader Donald Trump got red in the face as he raised his voice and pointed his finger and interrupted others to say things like this to Mr. Cruz, the Texas Senator:
"You are the single biggest liar. You are probably worse than Jeb Bush."
Even more offensive to Republicans might be Mr. Trump's adoption of the long-standing, left-wing charge that former President George W. Bush used lies about Iraq's non-existent "weapons of mass destruction" to coax the United States into a disastrous invasion of Iraq in 2003.
And then there was this about 9-11.
"The World Trade Center came down during the reign of George Bush," Mr. Trump said. "He kept us safe? That's not safe."
The former President—relatively quiet since leaving office in 2009—will join his brother in South Carolina this week to campaign for Saturday's primary vote.
'This is now ideological warfare of the highest order. If someone gets through, the Republican base will be highly energized.'
"This is a risky strategy," NBC's Chuck Todd told Mr. Trump Sunday. "You called him a liar last night about weapons of mass destruction."
Mr. Trump seemed to forget about what he'd said less than 12 hours before.
TRUMP: "I didn't call him a liar. I didn't call anybody a liar."
TODD: "Well, you called Ted Cruz a liar."
TRUMP: "Chuck, I said 'Maybe there were lies.'"
Most of the debaters chimed in about the Court vacancy created by Mr. Scalia's unexpected death and most agreed with Republican Senate majority leader Mitch McConnell who said Saturday that he will not let the Senate even consider a vote on President Obama's Supreme Court nomination—whoever it is.
In that the essence of the word "prejudice" is to "prejudge," it appears that the official Republican position in this judicial matter is that they have already judged Mr. Obama's nominee before they know who he or she might be.
This distressed lawyer Floyd Abrams, a guest on CNN's Reliable Sources with Brian Stelter.
"The level of antipathy to President Obama, and the unwillingness sometimes to treat him as president, come together at a moment like this," Mr. Abrams said. "And it's depressing."
On the same show, NPR's Supreme Court reporter Nina Tottenberg discussed by telephone the ramifications of Mr. Scalia's death at age 79 while on a hunting trip.
"The minute I heard this, I knew that this was going to be a horrible political storm," she said. "It came at a horribly inopportune time, probably more for the Republicans than the Democrats."
Speaking on this subject on Fox News Sunday was David Gregory, who used to host Meet the Press until Mr. Todd replaced him.
"This is now ideological warfare of the highest order," Mr. Gregory said. "If Obama nominates someone and they get blocked, the Democratic base is going to be highly energized. If someone gets through, the Republican base will be highly energized."
There are so many possibilities. What if the Republican Senate stonewalls the nomination while Mr. Cruz or Mr. Trump win the GOP nomination?
With their extremist statements and talent for making enemies, they could lead the Republicans off a Goldwater-like cliff in a Democratic landslide that damages their entire ticket across 50 states and puts the Democrats in charge of the Senate. (The Republicans now hold 54 of the 100 seats).
Just think: If Ms. Clinton or Bernie Sanders were to win the White House and enter with a Supreme Court vacancy and a Senate majority, they might just nominate and confirm someone Republicans really hate, perhaps someone like Barack Obama.
OTHER WEEKEND HIGHLIGHTS:
RONALD REAGAN AWARD: To Mr. Rubio, the Florida Senator, who invoked the sainted President's name seven times in a 64-second answer during the debate.
NEAR THE LAST STRAW: On Fox News Sunday, George Will discussed Mr. Trump's insults and bluster in terms of the straw that broke the camel's back. "If there is such a thing as critical mass, he's approaching it," Mr. Will said.
SAY WHAT? In a lengthy rant, Mr. Cruz said a liberal Supreme Court justice would write the Second Amendment out of the Constitution and "want the crosses and Stars of David sandblasted off the tombstones of our veterans."
SYRIAN CIVIL WAR: On Meet the Press, Mr. Kasich discussed the wisdom of American intervention in the Syrian civil war. "Since the sixth(cq) century, Sunni and Shia have been fighting and we want to get in the middle of that? It makes no sense."
TRUMP ON LINE ONE: Mr. Trump phoned ABC's This Week and called Mr. Cruz "a lone wolf. He's never employed anybody. Never created a job. He's a nasty guy." When asked about his 2008 statement that President Bush should have been impeached, Mr. Trump replied "I don't even think about it."
NO PARTY LINE: Sometimes, Mr. Trump talked as if he were a third-party candidate, referring to Republicans at a distance. "Between Bush and Cruz, I'll tell you what, the Republicans are in trouble," he said on ABC, "and they will never beat Hillary Clinton."
TRUMP TRIUMPHANT: On Face the Nation, Mr. Trump told John Dickerson of CBS that he was happy with Saturday night's debate. "I thought this might've been my best performance," Mr. Trump said. "I was being hit from all sides. Lot of lies out there." He also called Iraq "The Harvard of terrorism."
RELIGIOUS WRONG: Interesting exchange between Mr. Dickerson and Mr. Trump.
DICKERSON: "You also have questioned (Mr. Cruz's) Christianity. Is that a Christian thing to do?
TRUMP: "I say this: You can't lie and then hold up the Bible, OK? He consistently lies."
When Mr. Trump suggested that Mr. Bush threatened to pull down his pants and moon everybody, Mr. Dickerson replied: "Seems like a race to the bottom to me." Mr. Dickerson, Saturday night's ringmaster, is one of the best interviewers in TV news. Smiles and short questions.
ON WHOSE SIDE? On CNN, Mr. Bush said Mr. Trump seems more interested in Russian President Vladimir Putin than in his brother, Dubya. "We shouldn't be changing teams here," Mr. Bush said . . .Right-wing radio man Hugh Hewitt warned Republicans not to support Mr. Obama's Supreme Court nominee. "The base will not forgive anyone," he said. "Senators will lose their jobs if they block the blockade."
TROLLING FOR QUOTES: On Fox's Media Buzz, host Howard Kurtz showed a clip of MSNBC's Chris Matthews talking about Mr. Cruz. "There's a troll-like quality to Cruz," Mr. Matthews said. "He operates below the level of human life." Mr. Matthews looked very tired in this Morning Joe appearance. The word he was searching for here might have been "reptilian."
TRUMP'S IRAQ OPPOSITION: Several commentators, including James Fallows of The Atlantic, doubted Mr. Trump's claim of early opposition to the Iraq invasion. On CNN's Reliable Sources, he said "There is no evidence Donald Trump was against the war (in Iraq) before it started. This is a uniquely truth-immune phase of politics."
BOO BIRDS: No fans, they weren't saying "Cruuuuuuuuuz!" They were booing at the debate in the Peace Center in Greenville, S.C. Especially targeted were Mr. Cruz and Mr. Trump. Mr. Trump said that's because the spectators were donors and lobbyists.
BEST CHEAP SHOT: Mr. Rubio said "Thank God it was George Bush in the White House on 9-11 and not Al Gore." (Really? Why? )
SECOND BEST CHEAP SHOT: Mr. Trump interrupting Mr. Bush in the debate to say "Spend a little more money on commercials." When Mr. Bush objected to Mr. Trump insulting his family, Mr. Trump suggested Mr. Bush's mother should be running.
THIRD-BEST CHEAP SHOT: In a discussion of Mr. Bush's performance as governor of Florida, he said: "We didn't go bankrupt like Trump did and call it success."
FOURTH-BEST CHEAP SHOT: Mr. Cruz to Mr. Trump: "Donald, adults learn not to interrupt."
PHONIEST COMPLIMENT: Mr. Cruz to Mr. Trump: "I like Donald. He is an amazing entertainer." Mr.Trump to Mr. Cruz : "Thank you."
BEN CARSON WAS THERE: The fading surgeon told MSNBC Saturday night: "I'm not going to get into the mud-slinging. That was pretty immature."
HOMETOWN SCORING: On MSNBC, after the debate, Republican Senator Lindsey Graham of South Carolina said of Mr. Bush: "He's been standing up to Trump for weeks now. He's been getting under Trump's skin. Donald Trump seemed to be just a crazy man . . . What a lowlife kind of fellow he is."
Also after the debate, Steve Hayes said on Fox News: "I thought Trump had the worst of his debates. At times, he didn't seem to know what he was talking about."
Disclosure: Donald Trump is the father-in-law of Jared Kushner, the publisher of Observer Media.