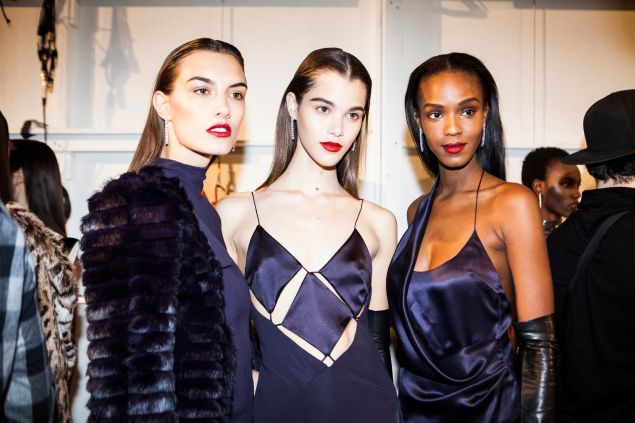 "You know it's been so calm," Peter Arnold, the newly crowned CEO of Cushnie et Ochs said minutes before the brand's Fall 2016 showing. "I'm used to bolts of fabric flying across the room and running to the show with the last dress to make it just in time! The girls were done yesterday." For that experience to be relayed by an industry veteran who has logged time at both the Council of Fashion Designers of America as well as Cynthia Rowley, was quite telling of the 8-year-old label. But days prior, in the brand's Garment District studio, the vibe was similarly low key.
Carly Cushnie and Michelle Ochs set up their brand in 2008 which, according to Ms. Ochs, was admittedly not the best time to set up a brand. But, with a current stockist list that includes 150 stores globally as well as news of a major investor, CEO and CFO (Yuang Zhang, formerly of Milly) all brought on in the past three months, the brand is showing no signs of slowing growth. "2015 was a big year for us," Ms. Ochs said looking back at the growth that has seen the company double its full-time staff number to 12 since last February's show. "But just in the past 2 months, we've been able to accomplish so much with Peter here; it would have taken another year for us to do all of that."
"I'm not sure we would have been able to get it done, period," Ms. Cushnie added.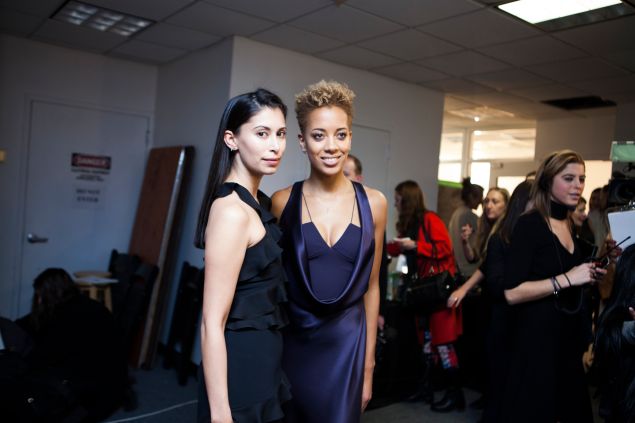 The Fall 2016 showing with its coterie of little back dresses, smattering of bold red lips and towering Christian Louboutins was the debut of an era of refinement for a label predicated on a space between minimal and sexy. "[When we started,] we thought that minimal was thought of as being androgynous, like Jil Sander, and sexy was sort of Versace and overt," Ms. Cushnie explained of the brand's aesthetic. "We always wanted to be in the middle; minimal, sexy, timeless, modern and could be worn season after season." That aesthetic has brought out fans in droves. In addition to the likes of singer Jennifer Hudson, actress Jaime King of Sin City and actress Serayah from Empire sitting front row at the label's show, the likes of Jennifer Lopez, Michelle Obama and more have worn their wares over the past few years. The duo has even gotten some Kardashian love, and without any prompting of their own.
"I think the biggest misconception about our brand is that you have to be a size 0 to wear it," Ms. Ochs said. "So in that regard we had a big hit with Khloe [Khardashian,] who actually bought something, wore it on an episode but tagged us in it on Instagram. I thought my phone was going to explode from the amount of followers that we gained and notifications there were.
"We really love seeing all women in our pieces and that really addressed the concept that you have to be a size 0 or 2 to be in our pieces. No one is thinking the Kardashians are that small. Another misconception was that it was a separates look; people think we only do dresses."
Showgoers were treated in tidbits of that separates business which the brand hopes to expand in the coming year, having handed off the business side of their workload to Mr. Arnold and Mr. Zhang. This season, having worked with celebrity stylist Kate Young (she's dressed Selena Gomez, Natalie Portman, Dakota Johnson and Sienna Miller), the label trotted out a sexy knit turtleneck and A-line skirt number as well as quite a few ruffled tops alongside their on-trend slip dresses, drawing from actress Louise Brooks as inspiration.
But Ms. Kardashian's experience of buying a piece and falling in love because of the cut and thought put into it isn't unique to her. In an industry where most top design jobs are held by men, women appreciate the brand's feminine sensibility.
"Whenever we do appearances and things we do get customer's saying, 'You can tell this is designed by a woman,'" Ms. Cushnie responded when asked what it's like being amongst a minority of women designing for women. In this year's CFDA/Vogue Fashion Fund alone, there were no women designing purely ready-to-wear sportswear for women. "[The difference is] we're designing from a place of experience. We're thinking about how you have to sit in the piece, how it's going to work getting out of a cab, do I have to wear a bra, the way you feel, what's the support, the lining and all of that."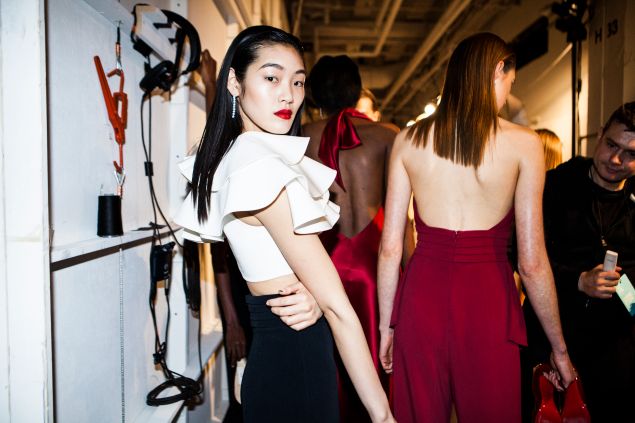 "Sometimes we'll walk the floor and try things on," Ms. Ochs interjects. "I'll put on a piece and then you find you have to wear a slip with it, and no one has time to go buy a slip. Or like, this dress needs to cover these things," she said as she motioned to her body. But it's not just the cut, but also the fabric that benefits from the personal experience and viewpoints of the designers.
"We dress a wide age range and all types of ethnicities, so when we're chosing fabrics we're thinking about how [they] are going to look on different skin tones," Ms. Ochs continued. She is half German and half Filipino while her business partner is Afro-Caribbean. "I think it's these sort of nuances that women appreciate. We've gotten comments like 'I would never wear yellow but this is the perfect shade of yellow.' We really put a lot of thought into the colors we use; we don't use trend books we go with what will look good, period." And for the likes of Rihanna, Reese Witherspoon, Jessica Alba and more, it seems like the pair have hit the nail on the head.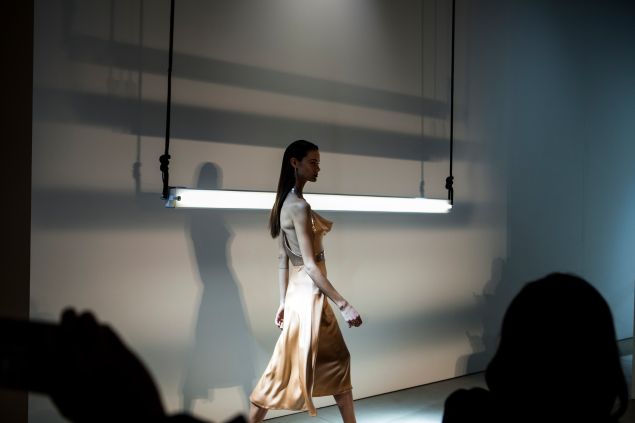 As for 2016, and the brand's refining. Ms. Ochs takes a second: "Everything going forward is just going to feel really different."
And from what we can tell from last week's show, so far, so good.