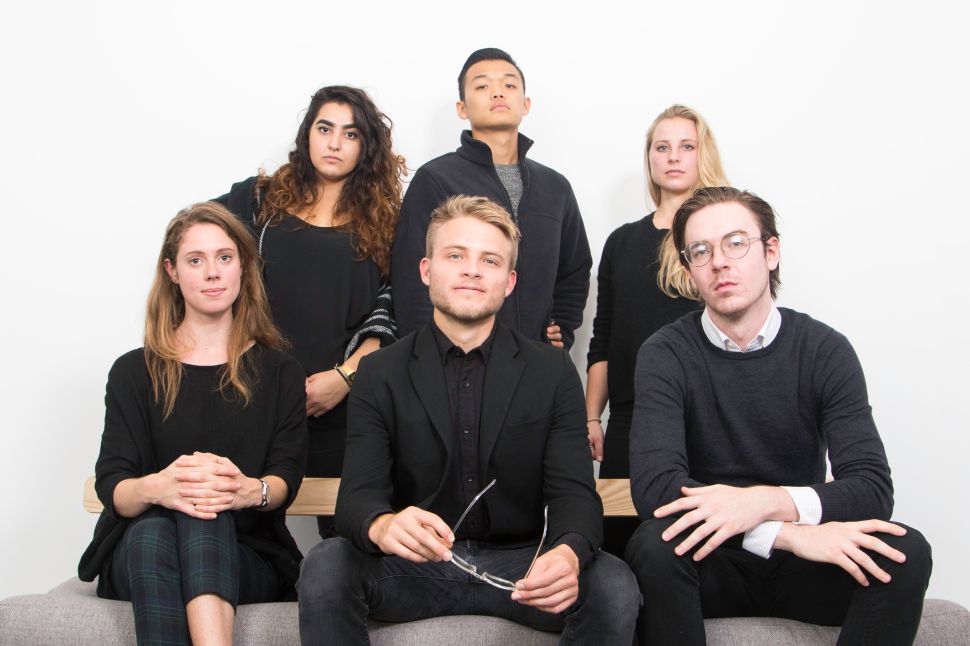 On Valentine's Day two years ago, Facebook explained how it can tell when you're falling in love. Future couples start to interact a lot more and then, boom: kissy face. Not exactly mind blowing, but the true insights come from gathering data that tracks us across multiple websites and apps to learn our secret hearts' desires—for stuff.
Data brokers know what you are like, and what you might want to buy. These opaque companies know so much that the Federal Trade Commission has been concerned about their scale since at least 2014. Using open source products like Tor or browsers' private modes help conceal some of your behavior from these spies-for-profit, but one group of designers has another strategy: make personal data worthless.
DataArbitrage is a project that aims to build a vast network of fake social accounts that generate personal data, interact with each other and sell all that data back to data brokers. Eventually, it plans to release an app out into the system that creates fake social profiles, creates activities for those profiles, sells the data it generates and using the funds to buy more fake profiles. On the project's website, it writes:
DataAbitrage seeks to deconstruct a system of corporate interest and greed by creating a self-destructive loop in which the system, in its continuous search for profit, feeds on and eventually destroys itself.
It's based on the simple law of supply and demand: if vastly more personal data becomes available, it cheapens the pool, until one day information is no longer even worth collecting.
The project is in the testing phase now, but interested users can submit their emails. While the site has the veneer of anonymity, it's run by a new design agency, Nikolas Gregory Studio, which previously spoofed the Internet with a fake real estate company running a strategy to profit from climate change, as Motherboard previously reported.
"All our personal information is being used without our knowledge or consent. So I wanted to do some kind of design activism," Nikolas Gregory, the firm's founder, explained, in a phone call with the Observer. 
Mr. Gregory said he hopes to release the software late this year. Then, once users install it, they will then create a fake Twitter, Facebook and Instagram acccount. A facet of the program, called the Arbibot, will take over from there, generating social activity (such as posts and likes) that it can sell to data brokerages. With the income, it will buy more fake accounts, and then repeat. "By the end, we hope there will be a large network of Arbibots talking to each other and making a mass amount of fake date."
Will it work? "We are pretty confident," Mr. Gregory said. The software is already running several private accounts today, though a some have been shut down. On the other hand, he told us, "There's already a couple that are doing pretty well in the world right now. A lot of people have already been doing this for years."
"It will not have an influence on the actual big data market," another digital instigator, Hans Bernhard, told the Observer from Vienna, via Skype. "It's not possible at this scale."
Mr. Bernhard has some reason to know, he's one half of Ubermorgen. DataArbitrage is conceptually similar one of its art projects, Google Will Eat Itself. That project loaded Google's ads on hidden websites and programmed bots to click them. As the hidden sites earned money from the clicks, the project plowed the money into buying equity in Google. Before the team shut the project down, it had bought 819 shares. Had it kept running, it would have owned the company in just 202 million years.
"We learned things, like that Google is larger than all Swiss banks together," Mr. Bernhard said. "It was paradigm shifting knowledge."
The company that pays mobile users to let it listen to what TV shows they are watching. 
For an activist project, it would take tens or hundreds of thousands of computers to dent the ocean of data. That many, he says, can never be recruited. It's not like when NASA convinced people to let it use their personal computers to analyze SETI data. Activist projects engender skepticism.
That said, Mr. Bernhard reads DataArbitrage as more statement than action. "If you do the project as an artistic project, you aren't doing it for the political activist part. If you would do that," he said, "then you would do it dark."
Aral Balkan, a designer currently working on a platform that would let users participate in the Internet without revealing their secrets, shared that skepticism, particularly about installing an app geared toward harvesting data, at least without a lot more transparency. "The method sounds interesting but without the specifics, it could be anything," he wrote.
Another company, DataCoup, is battling the same problem, but it shares the money it earns from users data with them. "We think it will be exceedingly difficult to dig up the pipes upon which data is transacted and interchanged," Matt Hogan, its CEO, wrote the Observer in an email. While sympathetic to its aims, he thought DataArbitrage's greatest vulnerability will be the social networks themselves. "The social silos have a vested stake in maintaining a high value for their data," he wrote. See, for example, Facebook's real name policy.
The Observer first learned about DataArbitrage during a discussion called "Art In The Overseen World," during a conference organized by Rhizome and the New Museum. Generating conversation was part of its purpose. 
"We try to make speculative and discursive design work, but stuff that can participate in the thing it's critiquing," Mr. Gregory said. "By using it you actively know, and then therefore know about big data."
Related posts:
If you've seen interesting new approaches to protect privacy, email bdale@observer.com.