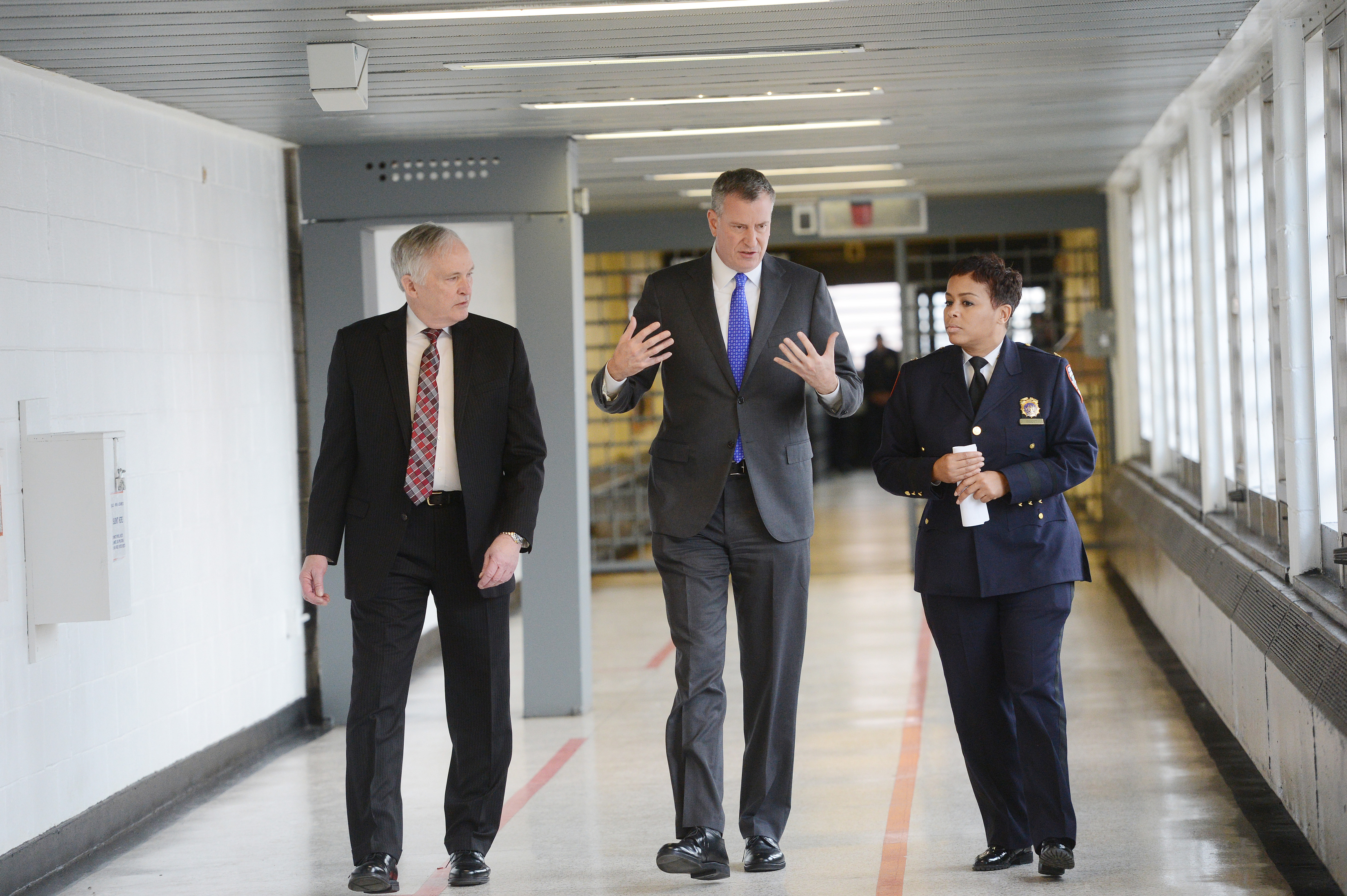 Mayor Bill de Blasio thinks closing Rikers Island is a "noble" idea—but not one that's likely to happen anytime soon, he said today.
"My job is to level with the people of New York City," Mr. de Blasio said at an unrelated press conference. "This would cost billions and billions of dollars, be logistically very difficult, and we don't have the space right now."
In her State of the City speech last week, Council Speaker Melissa Mark-Viverito announced plans for a commission to study ways to shrink the population at Rikers Island—with the end goal of making the "dream" of closing down the city's jail compound a reality.
"I understand, obviously, her idea that we have to make major, major changes in our correction system, and there is a certain appeal to the notion of starting over," Mr. de Blasio said. "But it's  avery complicated idea."
Rikers Island has been under a harsh spotlight for the last two years, following investigations from the press and a scathing report by U.S. Attorney Preet Bharara, which outlined what he deemed "a culture of violence" against young inmates by correction officers. And while the jail's population has shrunk to an all-time low, violence has continued to rise—and correction officers have said they are increasingly the target of it, placing the blame on reforms, including the reduction of solitary confinement, put in place by Mr. de Blasio and his Commissioner Joseph Ponte.
Some advocates have argued Rikers itself is a major part of the problem: the facilities are old and crumbling, and geographically the island is easy for the rest of the city to ignore. The isolated location is very difficult for visitors to reach and far from borough courthouses where the inmates must make regular appearances—requiring the city to spend millions busing them.
This week, Gov. Andrew Cuomo, a perpetual foe, added his name to the list of people advocating a closer of the jail compound.
"We should close down Rikers and build a new state of the art jail that is just safer for the guards and for the inmates," Mr. Cuomo said on NY1 this morning.
Of course, that requires putting the inmates somewhere. Ms. Mark-Viverito's commission, which will be led by former Chief Judge Jonathan Lippman, will consider using more borough-based jails—not likely to be particularly cheap and certain to raise the ire of local officials who will find it hard to sell their constituents on jails in their districts.
"I see the merit in it, but we can't embrace something until we figure out where would we then put the inmates, how would we pay for it," Mr. de Blasio said.
While he repeatedly asserted shutting down Rikers would cost billions, the mayor said the city had not conducted a study of doing so—but had rather "looked at the basic question" of doing things different and "what would it take."
Mr. Lippman said last week he was not beginning the commission with a particular outcome in mind, but intended only to study the population, see if it could be shrunk, and determine whether a different model is feasible. Mr. de Blasio he thinks "the world" of Mr. Lippman, with whom he has worked on efforts to reform bail laws, and that it was "fine" for others to consider the idea. But as the mayor, he said, he has to be pragmatic.
"I have to look out for what's feasible," he said. "And I have to look out for the taxpayer."