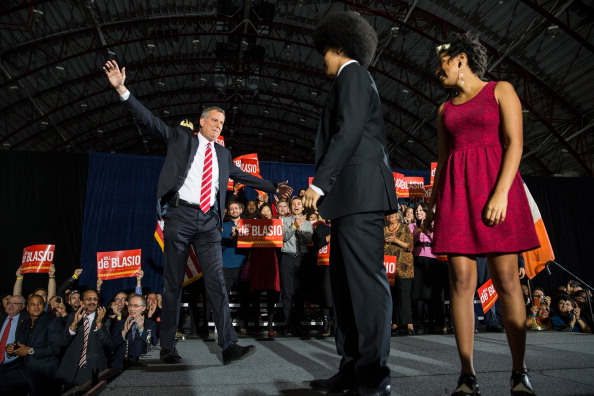 More than a year after describing how he warned his biracial son Dante about the "dangers" of interacting with the NYPD, Mayor Bill de Blasio defended the comment at an event tonight.
Onstage at the CUNY Graduate Center, Mr. de Blasio reflected on the Black Lives Matter movement and the December 2014 remark, which he made hours after a grand jury decided not to indict the white police officer who killed Staten Islander Eric Garner, an unarmed black man. The mayor immediately caught heat from police unions at the time, but argued today that such criticism was unfair.
"I said something that hundreds of thousands of American families acknowledge as their reality," he said. "Of course, it became a huge controversy. But it shouldn't be a controversy, because it's true. And we have to grapple with it and we have to change it."
The comment was in answer to a question from CUNY Professor Janet Gornick about the Black Lives Matter movement, which erupted last year in the wake of the Garner killing and the deaths of other black people at the hands of police nationwide. Mr. de Blasio, who shared the dais with economist Paul Krugman, said his relationship with his African-American wife Chirlane McCray, son Dante and daughter Chiara had given him a special perspective on the struggles of minorities.
"My experience as, married to a black woman and as the father to two black children is—multiracial, but obviously perceived to the world as black—has been eye-opening on so many levels," he said. "We still have profound race problems. It is structural. It combines with structural economic unfairness and amplifies it."
Mr. de Blasio praised the Black Lives Matter for bringing those inequities to the fore, and highlighted his plans to obligate NYPD officers to undergo "implicit bias training."
"Black Lives Matter movement has said that we must break down the whole culture surrounding that. That we call it for what it is: structural racism," he said. "Until African-Americans feel the absence of overt racism, we're just not there. And it is on the principle of what people feel."
The night of the Garner decision, Mr. de Blasio had described the steps he and Ms. McCray took to shield their son from potential clashes with law enforcement.
"Chirlane and I have had to talk to Dante for years about the dangers that he may face," Mr. de Blasio said. "We have to literally train him, as families have all over this city for decades, in how to take special care in any encounter he has with the police officers who are there to protect him."
Tonight marks the first time Mr. de Blasio fully embraced his rhetoric from that day since the assassination of police officers Rafael Ramos and Wenjian Liu. Their disturbed killer cited the death of Garner and of Ferguson, Mo., teen Michael Brown as his inspiration to "put wings on pigs."
Police unions afterward asserted Mr. de Blasio had "blood on the hands" for tacitly encouraging anti-cop sentiment.
The mayor shied away from discussing the comments in subsequent months, even as the case against Officer Peter Liang—who shot unarmed black Brooklynite Akai Gurley in the stairwell of a public housing development—progressed.