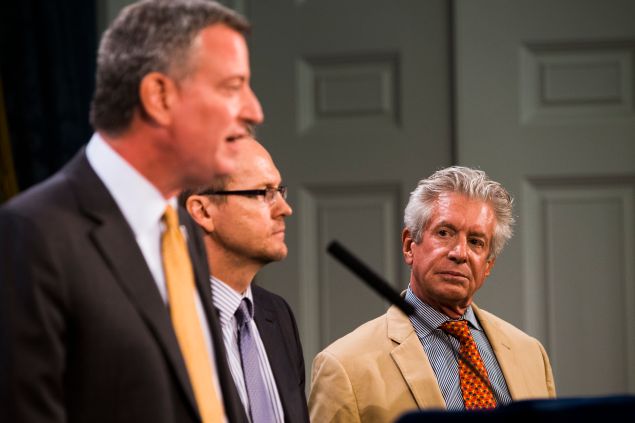 Mayor Bill de Blasio said today he wouldn't demand Richard Emery, chairman of the cop-regulating Civilian Complaint Review Board, resign for claiming police unions were "squealing like a stuck pig."
Mr. de Blasio labeled Mr. Emery's remarks "insensitive and inappropriate" but said at an unrelated City Hall press conference that he would not ask his appointee to step down, instead praising how he has run the CCRB. Gov. Andrew Cuomo and Patrolmen's Benevolent Association President Patrick Lynch—both longtime de Blasio foes—have called for Mr. Emery to abdicate his post over the use of the anti-police epithet.
"Under Chairman Emery, the CCRB is functioning a lot better. It is more fair both to community members and police officers," he said, asserting that the board is investigating and processing claims of NYPD misconduct "faster and more efficiently. "
Mr. Emery made the remark in a conversation with the Daily News yesterday, dismissing grumblings from police unions that he has continued to serve as a partner in the law firm of Emery Celli Brinckerhoff & Abady LLP, which represents clients bringing suits against the NYPD. The city Conflict of Interests Board has permitted Mr. Emery to remain with the firm so long as he recuses himself from litigation involving the city.
"I'm not going to deprive the public and people who are abused by police officers of having access to excellent lawyers because some union is squealing like a stuck pig," Mr. Emery told the News.
Mr. Emery gained his reputation bringing suits against the city himself, most famously to end inmate strip searches at Rikers Island, and to end the old Board of Estimate and rewrite the city charter to be more democratic in 1989.
The mayor noted today that Mr. Emery has released an apology for the comment.
"It was very insensitive and he shouldn't have done it," Mr. de Blasio said. "It needed to be fixed, and I'm glad he fixed it."