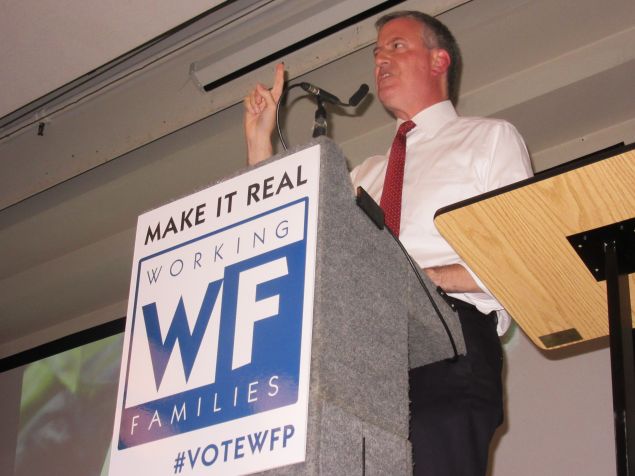 Mayor Bill de Blasio today defended himself from good government group charges that two nonprofits collecting money to promote his agenda had created "a shadow government" and "perpetual campaign"—arguing that both organizations fully disclosed their donors and were promoting worthy liberal causes.
Speaking at an unrelated event in Brooklyn, Mr. de Blasio brushed off Common Cause NY's call for the city Campaign Finance Board and Conflict of Interest Board investigate the fundraising efforts of the Campaign for One New York and United for Affordable NYC. Both nonprofits are registered as 501(c)4s with the Internal Revenue Service, meaning they can raise unlimited funds to lobby and advertise for political causes—specifically, for mayoral initiatives like universal pre-kindergarten and for his sweeping plans to rezone the city to boost below-market housing production.
"There's a long history of coalitions forming to achieve policy goals," Mr. de Blasio said today, comparing the two groups' work to that of organizations that pushed to legalize gay marriage and to increase the minimum wage. "The idea that organizations would come together to fight for things like full-day pre-K for all, or affordable housing programs that could reach hundreds of thousands of people, I think is understandable and makes sense."
Both groups have raised money from developers, unions and other groups with financial interests before the city. Common Cause argued that this creates the possibility of these groups exercising undue influence on important policy decisions.
"The mayor's unprecedented use of 501(c)4 fundraising has spawned a shadow government that raises serious questions about who has influence and access to the policy-making process," Common Cause said in a statement announcing its complaints. "It has created a perpetual campaign, confusing the role of government and politics, to the detriment of the public interest."
The mayor called himself "a big fan" of Common Cause and their "great work." But he disputed its description of the donations to his nonprofits as "dark money," since both nonprofits periodically report their collections and spending—even though the law does not require them to.
"What we've said from the beginning is anything that's supporting this administration's goals, or anything I'm involved in, must be fully disclosed," he said, adding that he had cleared both Campaign for One New York and United for Affordable NYC's work with COIB.
The mayor bitterly rejected a reporter's comparison of his nonprofits' fundraising to the conservative political operation that oil magnates Charles and David Koch have set up to benefit Republican candidates and causes.
"A lot of what's going on is very self-interested. Koch brothers are not doing what they're doing to help kids get pre-K. They're doing a lot of what they're doing to help their business," he said. "So I think there are differences."