Mayor Bill de Blasio rallied the troops around his proposed streetcar to connect Brooklyn and Queens today—blasting out emails from supporters and holding a pep rally press conference in Red Hook.
"The center of gravity is shifting more and more to the outer boroughs—and particularly to our two most populous boroughs," Mr. de Blasio said today at Pioneer Works, an arts space in Red Hook. "So we've got to answer that with a new kind of transportation and a new way to connect everyone."
It was the first time Mr. de Blasio has spoken at length about the proposed streetcar, which was announced in a State of the City speech that was overshadowed by the shooting of two police officers and a crane collapse the next morning.
But what is probably the top question for most commuters remains unanswered: whether they would be able to transfer between the city-run streetcar and state-run MTA subways and buses (and, as such, whether the streetcar ride will be included in an unlimited MetroCard).
"Our goal is full integration, maximum transfers, et cetera, obviously because that's a way to create opportunity and access," Mr. de Blasio said. "We've got to work that through with the MTA. There's a lot of moving parts there."
The mayor was joined by a cadre of characters from Brooklyn and Queens—elected officials and business group leaders among them—who served as cheerleaders for the project. The mayor's office also sent out three different e-mails with quotes from supporters of the project—one from elected officials, one from "leading innovators and employers," and another from leaders in "America's great streetcar cities"—which are apparently New Orleans and Portland, according to the mayor's office.
The mayor's plan has been hailed by some transit wonks, but it has also raised plenty of questions with other transit advocates, including whether a streetcar line between Astoria and Sunset Park ought to be the top priority for the city. Plenty of neighborhoods have even fewer options or longer commutes than the Brooklyn and Queens waterfront—an area that Mr. de Blasio has noted is home to 40,000 public housing residents, but which is also fertile ground for developers looking to capitalize on rapidly gentrifying hipster enclaves.
But Mr. de Blasio said today that rapid development is exactly what made the location a good fit for a light rail—because the city plans to pay off the bonds it takes out to build the line with the increased revenue it believes the streetcar will yield in development.
"This, to me, is a good and noble experiment to see if we can make this one work. It could open the door to light rail in other parts of the city as well," Mr. de Blasio said today. "There's a set of conditions here that may be different than many other places, but if it works here, it's going to make it easier to do light rail in other areas that could use it as well."
The proposal has raised the ire of Staten Island politicians, who have long pleaded with the city to study the possibility of light rail—or even the less-sexy bus rapid transit—to little avail. Lawmakers in southern Brooklyn, not reached by the proposed line, have also expressed frustration. But Mr. de Blasio urged those neighborhoods to be happy for the people living along the BQX route.
"In terms of critiquing, I would say that people should support each other's neighborhoods. And if we've had a whole group of neighborhoods here that have not had enough service until now that are going to get more service, I think we should celebrate that," Mr. de Blasio said. 
But the city has not always been so keen on developing light rail or streetcars (the two are different—light rail goes faster and is usually in a dedicated right-of-way separate from traffic—but Mr. de Blasio appeared to use the terms interchangeably and Transportation Commissioner Polly Trottenberg described the plan as a "hybrid.") Back in 2011, the city conducted a study on light rail between Red Hook and downtown Brooklyn and found it wasn't feasible—something it reiterated in a November 2014 to Mr. Oddo, who was looking for a similar study in his borough.
"Two years have passed, where we look very intensely at a specific idea," Mr. de Blasio said in explaining the about-face since that letter. "This is different from going from Red Hook to downtown Brooklyn. It's different from going to the North Shore of Staten Island."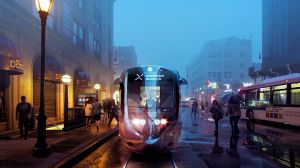 The streetcar will at times share the road with traffic and will run at an average speed of about 11 miles per hour—prompting some to ask why the city is not proposing select bus service or bus rapid transit instead, both of which are much less costly. But Mr. de Blasio said buses just don't have the same appeal for economic development.
"The development of light rail we believe is going to create a lot more revenue that will pay ultimately for light rail," Mr. de Blasio said. "We can't say that about bus service. We just know for a fact that it doesn't create the same dynamic."
Much of the line, particularly in Red Hook, is in a flood zone. But Mr. de Blasio said the city is spending $20 billion to shore up coastlines, and argued the streetcars—which will be self-powered with batteries and not reliant on any underground power source—will fare better than other forms of transit.
"Surface transportation will come back online a lot quicker than subways under many situations," he argued.