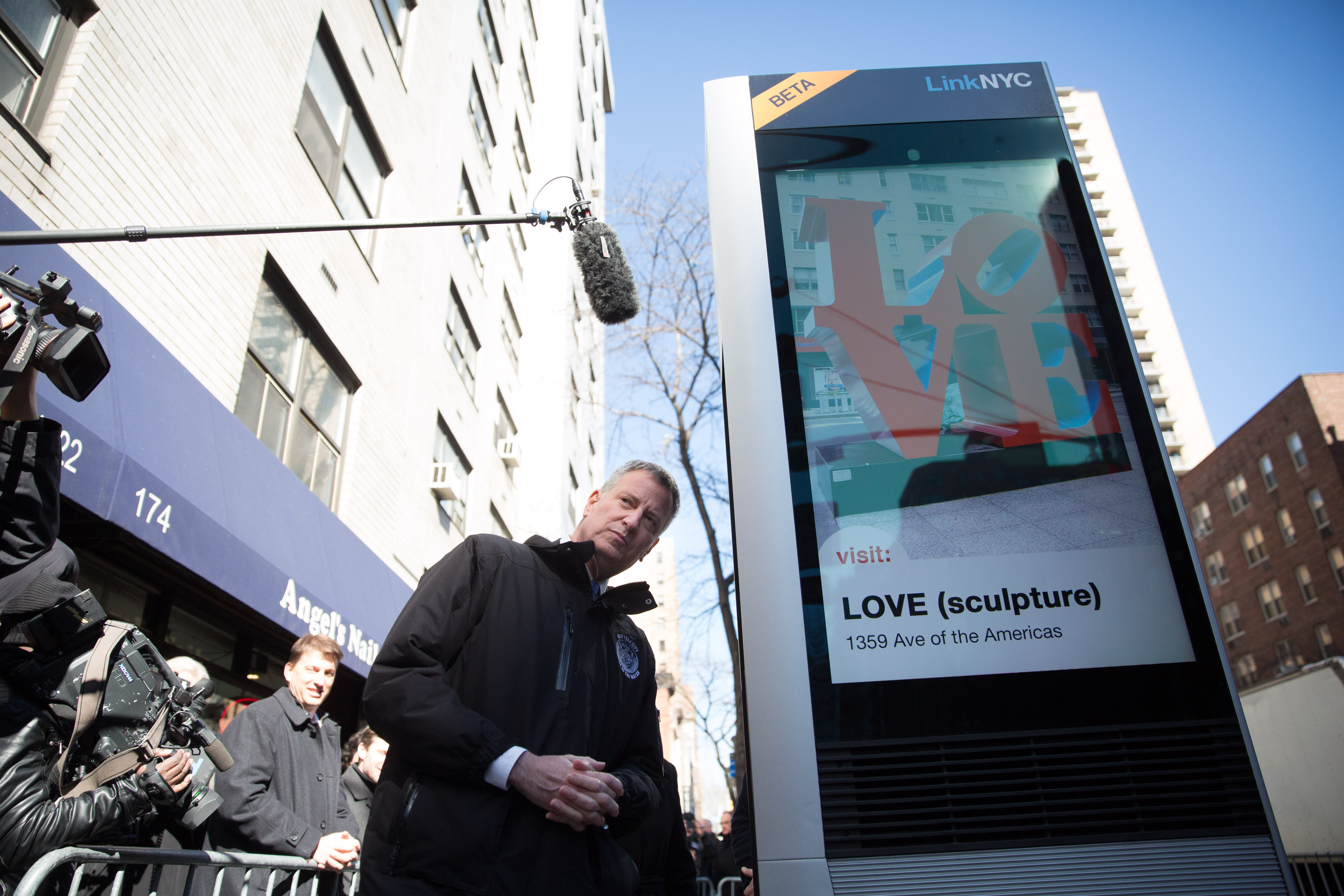 Mayor Bill de Blasio today rolled out the first of the city's snazzy new LinkNYC kiosks, which will let New Yorkers connect to wifi, charge their phones, and make calls—and which officials promised would also protect the privacy of people who use it.
"Privacy is very important to us," Colin O'Donnell, the chief innovation officer at Intersection, the company powering the kiosks, said today at a press conference beside one of them on Third Avenue. "We worked with the mayor's office to create what we think is the most user-centric privacy policy of any public wifi network. It will never share your email address or any personally identifiable information with any third-party—period."
Well, with one exception: the police. If you use the wifi network in the commission of a crime, your data may be handed over to the NYPD.
"There would be a process, as always, for any public safety agency to get such information, but we're ready to follow through with that," Mr. de Blasio said.
That process has been in the spotlight this week, after a judge ordered Apple (AAPL) to help law enforcement authorities gather information from the iPhone of the man accused of leading an ISIS-inspired shooting spree in San Bernardino, California—something Apple is challenging.
"From a technical standpoint, if we are asked by the police department and a subpoena is issued, we'll give up the information," Scott Goldsmith, president of media at Intersection, said. "We are not going to challenge the New York City police department if they ask us for information that we are legally required to give to them."
The data created by the wifi kiosks, will not be owned by the city, but instead by CityBridge, a consortium of companies including Intersection that are installing the kiosks where phone booths once stood, in a franchise agreement with the city. That means your browsing history won't be accessible to reporters or other rabble-rousers through Freedom of Information Law requests, according to the mayor's counsel Maya Wiley said.
"The city will only have anonymized data—we will not have any personally identifiable data on anyone using the systems," Ms. Wiley said.
But some of that anonymized data will be made public, Mr. O'Donnell said.
"We will not share any personally identifiable information—that means your name, email address, any identifiable information about you," he said. "We do recognize there's an opportunity to create aggregate, anonymized data that we can use to create better policies, better understand broadband utilization across the city. And that aggregate anonymous data we will shared with the city, to be shared through the city open data platform."
While Mr. O'Donnell promised e-mails and other personal information wouldn't be shared by Intersection, it's worth noting that accessing a wifi hotspot can reveal more than just the email you use to sign up for it. As a group of artists recently illustrated, cell phones with wifi enabled are constantly shouting out each mobile users most frequently visited places.
And for the very security conscious, even anonymized data can be an issue: with three basic data points, plenty of third parties who are interested in the data Intersection is collecting could easily determine an internet user's identity.
Mr. O'Donnell said they'd urge users to adopt "common internet hygiene practices"—like ensuring you're using an SSL connection for things like banking. For those with an iPhone using iOS7 and up, the kiosks will offer an encrypted network.
Mr. de Blasio demonstrated the kiosk by using it to make a phone call to 311—where he asked the operator for information about his proudest accomplishment, universal pre-kindergarten—but he didn't hook up to the wifi network. That is perhaps unsurprising, because he is notably attached to his years-old flip phone.
"That phone is strong and resilient," Mr. de Blasio offered as a defense of his Luddite tendencies.
Mr. de Blasio said he didn't plan on trading that phone in, nor did he carry around any other high-tech devices that he'd use to access the wifi.
"Just a Blackberry and my old reliable flip phone," Mr. de Blasio said. "But everyone else in my family would benefit a lot from it."