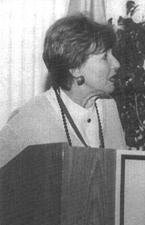 Assemblyman John Wisniewski (D-19), chairman of the Bernie Sanders campaign in New Jersey, today unfurled the name of a super delegate from Scotch Plains who also wants Sanders to be the Democratic presidential nominee.
Wisniewski said Reni Erdos, a member of the Democratic National Committee and super delegate has endorsed Sanders. Erdos is a current member of the state Parole Board.  She, also, has served as state Consumer Affairs director.
"Reni is a longtime supporter of progressive causes," said Wisniewski. "She knows the real thing when she sees it."
Erdos attended every Democratic National Convention since 1976. She served on the DNC Platform Committee and Rules Committee was a delegate in 1984, 1988 and 2012. In 1968, Erdos — a high school biology teacher at the time — won a house on the television quiz show, Dream House.
"It significantly changed my life, allowing a kid from The Bronx to raise a family in Summit, NJ and served in part to create a political person from a high school biology teacher," Erdos said.