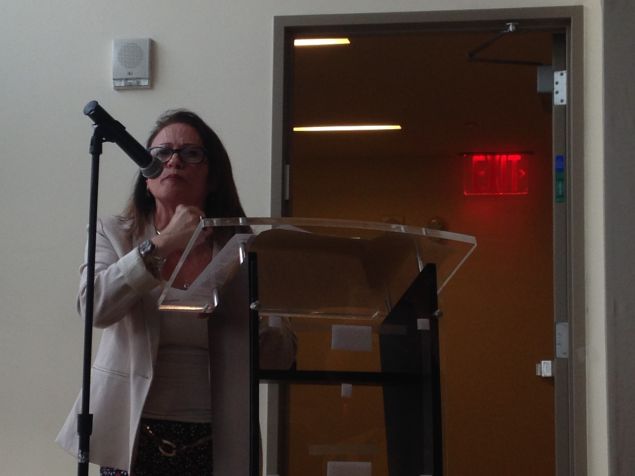 Alice Cancel, a longtime Lower East Side district leader, triumphed in a backroom battle for the Democratic nomination to take over the Assembly seat of disgraced former Speaker Sheldon Silver.
The 65th Assembly Democratic County Committee voted overwhelmingly for Ms. Cancel over her rivals: district leader Paul Newell, district leader Jenifer Rajkumar, community board chairwoman Gigi Li and Yuh-Line Niou, chief of staff to Queens Assemblyman Ron Kim. Numerous allies of Mr. Silver, convicted on corruption charges last year, worked the room ahead of the decision—including his former chief of staff Judy Rapfogel, wife of his close friend William Rapfogel, who pleaded guilty in 2014 to using his post as CEO of the Metropolitan Council on Jewish Poverty to embezzle $9 million.
Ms. Rapfogel was not charged with any wrongdoing, and has denied any awareness of her husband's misdeeds.
"I want to thank all of the folks who were out there for me," Ms. Cancel said in her acceptance speech. "It's going to be a great challenge."
Insiders anticipated Ms. Cancel's victory, and attributed it to the support of Mr. Silver's Harry Truman Democratic Club and its operatives. She also had the endorsement of Manhattan Councilwoman Rosie Mendez.
Ms. Cancel, who has served as district leader for 25 years, praised Mr. Silver when speaking to reporters.
"I can only say he did wonderful things in our district," she said.
Each candidate had five minutes at the microphone before the vote, though the nomination was seen as a fait accompli. Ms. Niou used her time in front of the room to denounce the process and announce her withdrawal from contention—though not from the race.
"Let's be honest here, this process is not one anyone would have chosen, and it does not reflect the diversity of our district," she said. "This process is the problem."
Ms. Niou secured the endorsement and ballot line of the labor-backed Working Families Party last week, which uses a similar process to select its candidates. She vowed to carry on her candidacy on the WFP line.
Ms. Niou is a three-year resident of the district, having roots in Texas and Washington State. She has secured the endorsements of former Comptroller John Liu and current Comptroller Scott Stringer, and is believed to have institutional backing in the Assembly.
A source from her campaign indicated that the unions that make up the WFP will announce their endorsements in the coming weeks. A victory in April would be a coup for the left-wing third party, which elected Diana Richardson to the Assembly on its line in a special last year—though a series of snafus resulted in that race having no candidate on the Democratic row.
Mr. Newell, Ms. Rajkumar and Ms. Li all told the Observer they intended to run against the winner of the special election in the Democratic primary in September.
Updated to reflect the correct number of years Ms. Niou has lived in the 65th Assembly District. A spokesman for her campaign told the Observer on Sunday she had lived in Lower Manhattan four years, but later reached out say he had been incorrect.