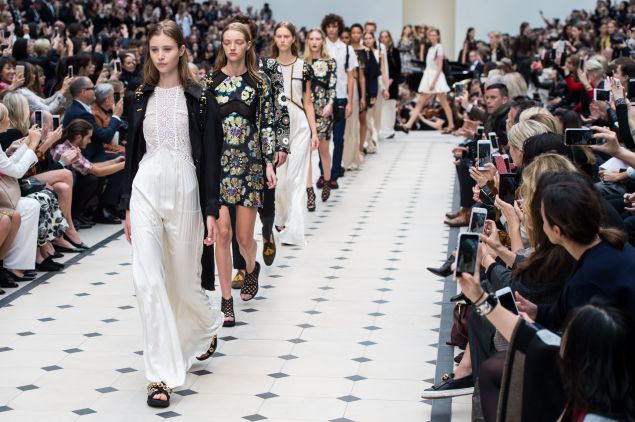 As New York Fashion Week: Men's ends and the industry gears up for a month of women's shows, a trio of major fashion labels have made headlines for announcing changes to their upcoming show formats. Burberry, Vetements and Tom Ford all have announced in some way, initiatives to put a brake on the pace of fashion.
The buzzy upstart Vetements has decided that the brand will only show two collections a year–featuring both menswear and womenswear–beginning January 2017. The change will not only significantly cut production costs for the shows themselves, but will also allow the collections to stay on shop floors longer, as the move will include the cancellation of pre-collections. In the future, the Parisian label, whose CEO Guram Gvasalia claims to have been profitable since day one, even hopes to head into a "see now, wear now" approach where collections are available in stores when they are shown. As a trade-off though, the company believes they will have to move into a process where the entire collection is limited-edition with no ability to re-stock.
Tom Ford and Burberry are echoing that "see now, wear now" approach. Mr. Ford is canceling his February show, which was scheduled to take place in New York. Instead, the designer will show his Fall 2016 collection in September when the line will be immediately available for purchase both in store and online. The move seems like a more savvy version of his attempt, when he debuted his women's line, to align customer demand with the time garments actually hit the floor.
Having just combined their three lines (Brit, Prorsum and London), Burberry will not only combine their men's and women's shows, but make the collections available both online and in-store. Directly following the blockbuster catwalk presentations, Burberry shop windows will be promptly merchandised with the new product. As the brand is an anchor of the London Collections: Men's shows, they hope to be involved in some aspect, though not in a runway show. Of course, these three shifts do not come without context.
Labels like Bill Blass, Rebecca Minkoff and Thakoon have been making similar moves in the past six months. For their revamp under the hand of the talented Chris Benz, Bill Blass eschews runway shows completely and presents their wares directly to consumers in a shoppable site. In December, Thakoon announced that they were bought out by Vivian Chou's Bright Fame Fashion, who is pushing for a "show now, see now, buy now and wear now" mentality.  For Ms. Minkoff? The designer will show in-season products this month that will be available within the next 30 to 45 days in stores as a part of a "fully immersive fashion show experience."
Even this week at the New York Men's shows, the idea was trending. Brands like Cadet, Nautica and Tim Coppens all offered something for purchase this week following their shows at New York Fashion Week: Men's. For Cadet, fans could get in on the look via their collaborative shoe effort with the Brooklyn-based footwear company Greats. That $290 style available in black and silver was put up for purchase yesterday at noon. The seafaring Nautica made six looks available for purchase in a limited-edition project that included several stand out turtlenecks. Also, beginning later today, Tim Coppens' ACID printed hoodies and t-shirts shown in the designer's Wednesday range will be made available. It's an astounding amount of brands signing on to the effort.
Of course Moschino has been one of the fastest and savvy of them all, with New York-based creative director Jeremy Scott at the helm. Though the brand still shows collections six months ahead, for seasons they have provided a select number of items from shows immediately available both online and in-store. The brand also works with retailers like Nordstrom to make full looks available for purchase. 
When we talked to David Hart about his jazz-inspired Fall 2016 collection, he spoke to the paradox of the industry. "We are in this moment where people don't want to wait," he said. "Everything is so instantaneous." The designer experienced that fact first hand when he made a one-off bag for a CFDA/Vogue Fashion Fund challenge and one Instagram snap triggered a flood of email inquiries about the piece which was created in collaboration with Ernest Alexander.
"You have people like Eva Chen and Ken Downing front row, posting these images. People see them and want them. By the time [the product is] in stores, six months later, people are so over it and on to the next thing. [Being consumer-focused at a show] is a great idea and I think a lot of designers are starting to make things instantaneous in terms of pre-order."
Although, not all designers feel that way. The spunky Duckie Brown didn't seem to be fans when we chatted with them about their Fall 2016 range. "I think it's interesting what you just said, because I don't even understand it," Steven Cox said when the topic of the CFDA re-examining New York Fashion Week in order to possibly make it more consumer facing came up. Once it was explained, he continued.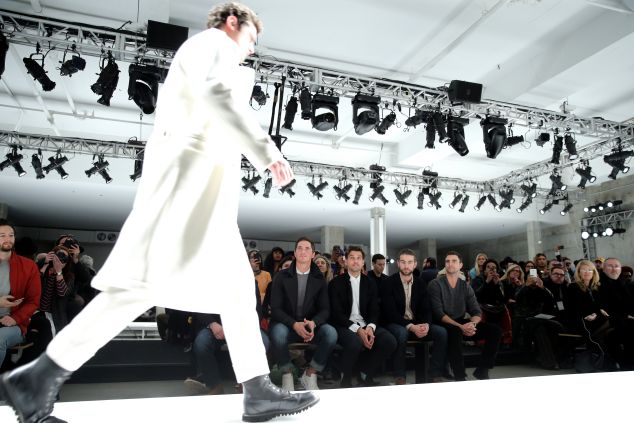 "Well god knows how they're going to do that, they're going to have to skip a season!" As the conversation progressed, he returned to the idea. "You know, I think that's all very good but those brands — Rebecca Minkoff, Nautica — are very different from us. We're two designers that are threading a needle and about to sew a label onto something."
As the industry seems to be moving towards a consumer-facing version of New York Fashion Week (no matter of what the Boston Consulting Group finds in their examination of the event) how will emerging designers deal with the possibility of not only having to produce samples for a show, but possibly pieces for market, without being able to gauge interest? Will buyers view pieces at private appointments prior to these newfangled runway shows? What about press and editorials?
Only time will tell.