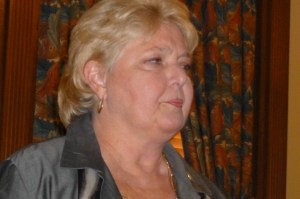 With the aftermath of the South Carolina primaries reshaping the field for all but frontrunner Donald Trump, South Jersey Senator Diane Allen (R-7) said that she is still holding out for Rubio or Kasich to win the nomination. Despite momentum that would seem king making for candidates in earlier primary cycles, Allen said that she doesn't believe Donald Trump's popularity will translate into the former reality TV star commanding respect.
Despite his early lead and a total delegate count six times greater than his nearest competitor, Ted Cruz, Trump still only has thin support among incumbents. Trump currently has 67 delegates to Cruz's 11. Governor Chris Christie could be forced to either eat crow and endorse new establishment favorite Marco Rubio, or come out as a Trump supporter.
Saying that she still senses a strong anti-Trump sentiment among the New Jersey GOP, Allen said that Trump's outlandish comments, which she described as "sometimes dead-on," will do little to improve the country's diplomatic position.
"We know that people in Great Britain are not fond of him, and we really do need him to be able to get along with our allies and to be respected. At this point I don't think he's respected at all. We've already had a president who doesn't seem to be really well respected," she said of President Barack Obama. "I feel like the US is not holding the position that it used to hold in the world."
"He's saying things in general that are reflecting a lot of feelings people have, but he's saying it in ways that really concern me," Allen added. "Some of the things he says I think are spot-on. It's how he does it, how far he goes. He smears people, he says nasty things and then he quickly changes it back."