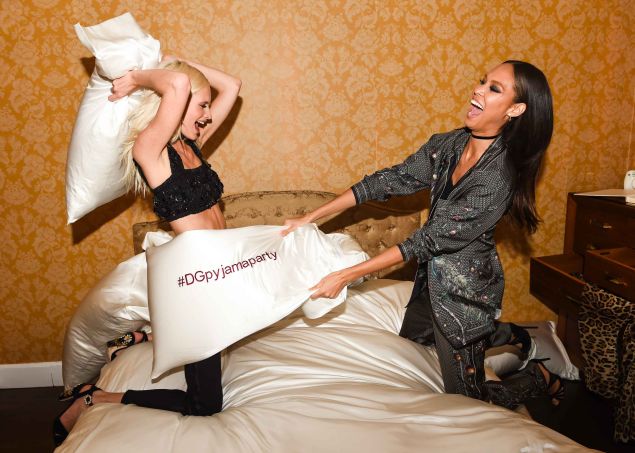 Do you ever dream of dressing in designer pajamas and having a champagne-fueled slumber party, where you get to rub elbows with top models and mingle with gorgeous Hollywood actresses? Well, Dolce & Gabbana hosted your dream party last night, with a little help from Derek Blasberg.
Held in the hallowed Penthouse Room of the Chateau Marmont, the brand was celebrating their sleepwear-inspired capsule collection, titled Pyjama Party. The sensual Italian brand has always been a fan of embracing innerwear as outerwear, so this intimate collection makes perfect sense. The collection of silk separates are inspired by men's tailoring and come in bright colors, over-exaggerated florals and, of course, leopard print. Keep in mind, these styles are meant to be worn outside of the house, so don't relegate the button-down tops and slinky trousers to the boudoir.
And in the name of celebration, a faithful crowd of actors and models slipped on these chic bedclothes and got cozy last night. Joan Smalls and Poppy Delevingne got engrossed in a pillow fight, Juno Temple embraced the leopard and Nicole Richie gave off a retro vibe, pairing her violet jammies with a turban. Also on hand for the coolest sleepover ever was Naomi Campbell, Emily Ratajkowski, Jessica Alba, Camilla Belle, Selma Blair, Will Peltz, and Nicole Richie.
Suffice it to say, a sleepy time dress code is much, much better than black tie.
Will Peltz
Talita von Furstenberg
Rachel Zoe
Noah Mills
Kelly Sawyer
Jennifer Meyer
Jamie Chung
Derek Blasberg
Adam Senn
Nicole Richie
Naomi Campbell
Juno Temple
Joan Smalls
Jessica Alba
Emily Ratajkowski
Camilla Belle
Selma Blair
Amber Valletta
Poppy Delevingne