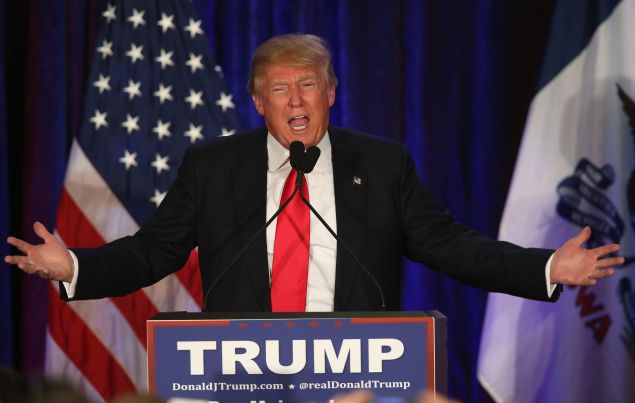 For more than a half year, Donald Trump dominated cable television, talk radio and every other kind of media to such a degree that his nomination began to look like an inevitability.
But Mr. Trump's humbling loss in Iowa last night, in addition to serving as a startling wake-up call for the billionaire real estate developer's many fans, may herald a new phase of this chaotic Republican primary: the end of his free media windfall.
"That is potentially one of the most powerful repercussions of last night's second place showing," said David Birdsell, the Dean of the Baruch College School of Public Affairs.
"I can't think of a precedent in recent history where we've given a candidate carte blanche to always call into the Sunday talk shows at the top of the hour," Mr. Birdsell, who studies the intersection of politics and media, added. "It was pretty much kid gloves treatment from the media, the red carpet rolled out and gleaming. That's not gonna happen anymore."
Mr. Trump's power, despite the insistence of some talking heads, derived at least partially from the blanket media coverage he commanded from the moment he burst into the race last June to the moment he delivered his brief concession speech in Des Moines. By one measure, Mr. Trump received 54 percent of the media coverage in the primary. The next best was 8 percent for struggling Jeb Bush.
Yes, Mr. Trump built a fervent base of support, especially among the white working class, but his formidable leads in poll after poll were helped along by his celebrity status and the fact that most voters only knew his name, and no one else's. This created a feedback loop: every twitch of the Trump campaign was covered 24/7, his poll numbers rose and the media treated him like the vaunted front-runner he seemed to be, giving him even more air time.
Next week, Mr. Trump has a chance to hold the spotlight on himself with a decisive win in New Hampshire where he, of course, has polled ahead of the field. A win means we will all continue to live on Planet Trump. A loss, and news cameras will aggressively seek out his top rivals.
As of now, those two men appear to be Sen. Ted Cruz of Texas and Sen. Marco Rubio of Florida. (If another candidate wins New Hampshire, like Ohio Gov. John Kasich, they will join that class.)
"Everything now hangs on New Hampshire. I think in order to get covered, Trump needs to focus his attacks on both Cruz and Rubio," said Roger Stone, a veteran Republican consultant and former Trump adviser.
Ultimately, media coverage for Mr. Trump "depends entirely on what he has to say, if he has something interesting to say," Mr. Stone argued. "If he doesn't have something interesting to say, it'll tail off."
So far, Mr. Trump has followed this pattern, taking advantage of lulls in the campaign season to say something controversial and garner outsize coverage. After he likened Mexican immigrants to "rapists" in his kickoff speech last summer, he mocked Sen. John McCain's war record, belittled Fox host Megyn Kelly, ridiculed a disabled reporter and, as a kind of climax, called for a full ban on Muslim immigration. Armed with the knowledge that he's an automatic ratings boost for cable networks covering a presidential election lacking a true celebrity, outside of maybe Hillary Clinton, Mr. Trump has vacuumed up coverage that could have gone to his numerous rivals.
In the wake of his loss yesterday, more stories are beginning to crop up about Mr. Cruz's win and Mr. Rubio's ability to outperform polls in Iowa. Perhaps as a way to head this off, news broke today that Scott Brown, the former Massachusetts senator who also ran for the Senate in New Hampshire, is backing Mr. Trump.
"He's going to have a harder time dominating the news if he's not winning," said John Geer, a political science professor at Vanderbilt University who studies negative advertising. "This sets off a domino effect; if he loses New Hampshire and South Carolina, his claim to media attention is going to dwindle."
Relying on free media has allowed Mr. Trump to eschew most trappings of the traditional campaign. He rarely slept overnight in Iowa and favored large, raucous rallies over intimate meet-and-greets in living room and restaurants. The playbook for New Hampshire probably won't change, and if he keeps getting crowds, the saturation coverage will follow.
Most political observers expect the GOP field to winnow after South Carolina, which may bode poorly for Mr. Trump. He thrived off a crowded, confused Republican field that had no idea how to handle him because he was so unprecedented, an unruly superstar who flouted taboo after taboo and only seemed to get stronger. For a long time, Mr. Cruz avoided attacking him altogether, and Mr. Rubio still keeps his distance.
This could all change very soon, especially if fixtures of the Republican establishment decide to unite around Mr. Rubio and train their fire towards a Republican candidate who, in addition to disparaging Latinos and Muslims, has donated lavishly to Democratic candidates and backed single-payer healthcare. In a potential field of three viable candidates, Mr. Trump included, the air time will be allotted far more evenly across the ideological spectrum. A rollicking Trump press conference, quite simply, will no longer be a live event on CNN if he's not winning.
"Donald Trump is right about one thing," said Bruce Haynes, a veteran Republican consultant. "The story is about the winning. It's not about the losing and until he wins again and wins the way he's expected to, it puts him at risk of not being the story anymore."
Mr. Trump, a true savant of self-promotion, will need to find another way to stay on top.
Disclosure: Donald Trump is the father-in-law of Jared Kushner, the publisher of Observer Media.