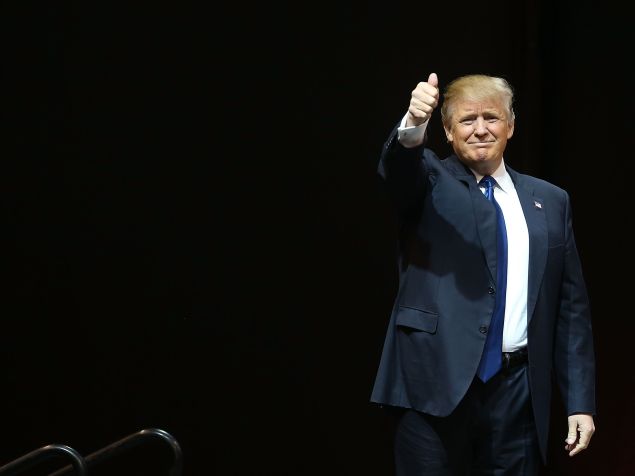 MANCHESTER, N.H.—Securing the first win of his unprecedented presidential campaign, Donald Trump rolled to victory in New Hampshire tonight, validating months of polling that showed him on top.
Mr. Trump, a billionaire real estate developer, suffered a setback after losing Iowa to Sen. Ted Cruz last week, but showed he will be a formidable contender heading into South Carolina by winning 35 percent of the vote, according to unofficial returns.
"We are going to make America great again," Mr. Trump, repeating his now famous catchphrase, declared as he took the stage a little before 10 p.m. "We learned a lot about ground games in one week, I have to tell you."
It's Sen. Bernie Sanders, the winner on the Democratic side tonight, that promises a political revolution. But it's Mr. Trump who entered and left the stage to the tune of the Beatles' "Revolution," grinning and waving all the way.
The Republican conducted few of the town halls and coffee shop meet-and-greets that are staples of Granite State politicking, winning over voters with his furious anti-immigration rhetoric and promises to strengthen America at home and abroad. Mr. Trump's insurgency long threatened to upend the GOP and his decisive victory tonight will no doubt send new shivers up some spines in the establishment. It signals that a yawning gulf between the Republican Party's poorer, less-educated base and wealthy elite is very much real.
Observers questioned whether Mr. Trump, who has insulted many of his rivals, Latinos and Muslims while violating several Republican orthodoxies, could encourage his legion of fans to show up at the polls. His convincing win shows that there is real muscle behind his movement, which draws strength from an electorate enraged at the political establishment and an economic recovery that has not buoyed much of the working class.
New Hampshire was long viewed as fertile ground for a Trump campaign. The state handed Pat Buchanan, another immigration hardliner, a victory in 1996, before he lost to the eventual Republican nominee, Bob Dole.
"Don't believe those phony numbers when you hear 4.9 and 5 percent unemployment. The number's probably 28, 29, as high as 35. In fact I recently heard 42 percent," Mr. Trump said. "Do you think we would have gatherings like this if we had 5 percent unemployment? Do you really think we would've had these gatherings?"
Mr. Trump's victory speech was uncharacteristically short, clocking in under 20 minutes. He was even humble, calling his Republican rivals "talented" without a seeming hint of irony. He said his deceased father, the New York real estate developer Fred Trump, and his mother were looking down at him from their heavenly perch. His family and staff joined him on stage, basking in the adulation of the hundreds jammed into the banquet hall.
He cycled through many of his campaign promises. He said he'd keep China and Japan from "stealing" from the United States, make great trade deals and stem the tide of immigration. The economy under President Trump would hum, he promised.
"I am going to be the greatest jobs president that God ever created," he said.
Disclosure: Donald Trump is the father-in-law of Jared Kushner, the publisher of Observer Media.