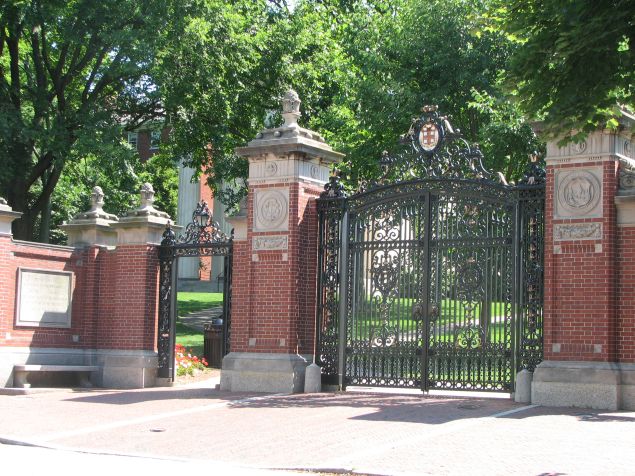 Free speech and the free exchange of ideas in higher education were under attack Thursday evening as anti-Israel forces attempted to thwart a conversation about Jewish identity at Brown University. The event, featuring Jewish actor Michael Douglas and human rights icon Natan Sharansky, was met by protestors attempting to use the "hecklers veto" to stop the conversation.
With loud chants of "free, free, Palestine" coming from outside the lecture hall and pamphlets being handed out with erroneous claims that Israel engages in "ethnic cleansing" and that Mr. Sharansky is a racist, the Jewish Journey conversation on Judaism, Israel and anti-Semitism still took place.
Mr. Sharansky took advantage of the opportunity to point out the insanity behind the anti-Israel protestors' perspective and the Boycott, Divestment and Sanctions (BDS) movement:
"The moment you move to a logical debate; they have nothing to say. They are only shouting," Mr. Sharansky told the crowd. "Behind it there is a desire to destroy Israel. It is not about human rights. The question is, how to destroy Israel? My fear is they are discouraging so many young Jews from being connected to their people and to the State of Israel."
We urge Brown University's Board of Trustees to respect the rights of all those on campus.
Mr. Sharansky, who currently serves as chairman of the executive for the Jewish Agency for Israel, told students to embrace and be proud of their Jewish identity.
"First of all, always remember from where you came," said Mr. Sharansky. "If you want to make the world a better place, you have to be strongly connected to your roots and your identity. This is your source of power to change the world."
According to the Brown University student newspaper, there were approximately 30 protestors outside the gathering. Most were gone before the event ended and their numbers failed to compare to the hundreds who attended the conversation with Mr. Sharansky and Mr. Douglas.
While it's encouraging that only a handful of students protested the Jewish Journey conversation, especially after the school newspaper allowed Students for Justice in Palestine (SJP) to run an editorial calling for protests, the fact that we must use the word "encouraging" regarding anti-Semitic activity—and don't be fooled, SJP and BDS are rooted in a disdain for Jews—reveals the non-stop angst on college campuses and in progressive circles toward Israel and Jews.
Days before the Brown event, 200 protestors at a gay rights conference in Chicago embraced blatant anti-Semitism and physical intimidation, arguably assault, against LGBT Jews who attended a reception featuring two Israel gay rights activists. Due to safety concerns, the Israelis had to leave with a police escort and the Jews who attended the reception had to escape through a back door.
Israel has been an international leader for LGBT rights, yet hatred for Israel's existence trumps its humanity in the eyes of some in the gay and progressive community.
Brown is just the latest example of anti-Israel activity and attempts to stifle free speech on college campuses.
In her statement praising Mr. Douglas and Mr. Sharansky, Tammi Ross-Benjamin of the anti-Semitism watchdog group AMCHA Initiative wrote:
"We applaud Michael Douglas and Natan Sharansky for speaking to students about Israel and modern anti-Semitism since, unfortunately, bigotry against Jewish students and anti-Israel hatred go hand in hand on today's American campuses. For instance, acts of anti-Jewish harassment, discrimination and defamation are increased in schools where Boycott, Divestment and Sanctions (BDS) activity is high."
What took place at Brown has become commonplace on college campuses across the country. Anti-Semitic incidents on University of California campuses have become so common that the UC Board of Regents is considering adopting the State Department definition of anti-Semitism to be enforced on their 10-campus system.
Since the invasion of political correctness in academia, which has now evolved into the need for students of virtually every imaginable description to have "safe space zones," we have seen that Jewish students and pro-Israel voices are not permitted the same sense of security. The advocates of tolerance have moved so far left that they now tolerate the intolerable. Muslim groups and anti-Israel organizations can bully Jewish students and Zionist organizations without fear of consequences.
The protestors at Brown had every right to protest. That's what free speech is about. But free speech is supposed to be a two-way street. Unfortunately, if you are a Jew, or even just pro-Israel, on a college campus today, the First Amendment doesn't apply to you. We urge Brown University's Board of Trustees, which includes current chancellor Thomas Tisch, a Brown alum who also heads the New York investment firm Four Partners, to respect the rights of all those on campus.