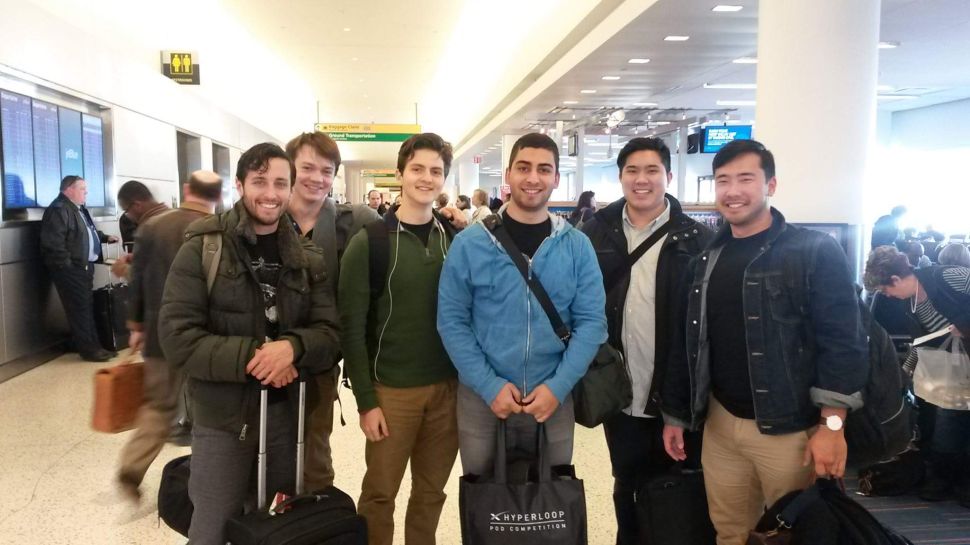 Six undergrads in Brooklyn have a place in a very limited queue to make tech history this coming June, having earned the right to test out their vision for a completely new mode of transportation, a chance hundreds of other students wanted. Their secret? They aimed lower.
In 2013, Elon Musk released a crazy idea into the public domain: the Hyperloop. He proposed building a vacuum tube from Los Angeles to San Francisco that would let pods filled with people or stuff travel between the two cities in as little as 35 minutes. His company, SpaceX, announced a hyperloop design competition last summer, in which a select number of teams would get the opportunity to test their pod on a Hyperloop test track. A group of New York University students secured a slot this summer (provided the track gets built). The test is expected to take place outside the SpaceX headquarters in Hawthorne, California.
Keith Gildea, a film industry expatriate,  and Benjamin High, an engine and car enthusiast, are two mechanical engineering majors that the Observer spoke to in Downtown Brooklyn last week. The two seniors make up one-third of the team that traveled to Texas A&M to show off their pod design. SpaceX declined to comment on why the team was picked, but the two undergrads seemed to think they were chosen in part for what they left out of their design, that is, spots for people.
The Hyperloop concept has two big engineering challenges: the vacuum tube and the pods that will fly through it. In summer 2015, SpaceX invited college students to come up with designs for the latter, and students all over the world worked through the fall to prepare proposals for the event.
The students spent most of their time showing off their vision to other teams inside Texas A&M's Hall of Champions. "It was like an enormous science fair on steroids," Mr. High said. Each of the teams had booths, as did a bunch of other companies, which were showing off their technology and scouting for talent. The real competition, however, took place in a little conference room where each team showed their proposed design to a panel of Mr. Musk's engineers and potential sponsors.
The six students flew into Houston on Thursday night only to learn that the rental car they needed to get from the airport to their hotel had been booked at the wrong place. So they lost an hour and a half before starting the two hour drive to the hotel near campus. "We stayed up pretty late, going over things, and only got four or five hours of sleep or something," Mr. Gildea said. The event opened up on Friday morning, January 29, at 8 a.m.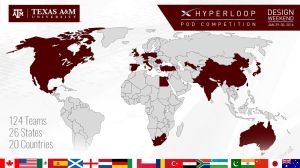 NYU Hyperloop made up one of the very smallest teams of the 120 or so in attendance. They called their concept "Slate," a minimalist design that Mr. Gildea compares to a flatbed truck. The team's big insight going into the competition was to plan for goods rather than people, because regulators might be skeptical about the idea of running people through a tube at 750 miles per hour right away, but that moving stuff could be an easier place to start.
"So we took that idea, thinking that would be a real world constraint, and tried to think about how that would effect the design of a first generation pod," Mr. High added. SpaceX left the terms for the competition as open as possible, which fostered creativity, but how can a team know where to begin when it can begin anywhere? By narrowing their scope, they had an objective, Mr. High said.
They came up with a sled, basically, with all the systems housed under it and maximum space for securing stuff above it. "One of the things that set us apart from the other teams," Mr. Gildea explained, "is that a lot of other teams focused a lot on aerodynamics and making a whole aerodynamic chassis. The whole point of this thing is that there is not that much air." The tube won't be a true vacuum, but it will maintain extremely low air pressure.
On Saturday, they went back to their booths and the team's electrical engineer got an offer of a SpaceX interview by one of the judges from the day before. "So that was kind of a good sign in the beginning," Mr. Gildea said.

Texas A&M opened up the show floor to everyone on that second day, so NYU Hyperloop got all kinds of feedback. A Union Pacific freight train passes right through the campus, which could explain why the general public seemed to get their strategy. "There were a lot of people who had these kind of blue collar backgrounds, who could see the utility of something being used—not just sleek, aerodynamic and flashy—but actually: we're going to use this to move freight," Mr. High said.
At the event's end on Saturday, the competitors got a surprise: Elon Musk. "His speaking style is just kind of to think and talk at the same time," Mr. High said, "so he'd be up there, and just kind of stare off into space and look up and process some thought and tell us some idea he had."
At the same ceremony, they also found out that they weren't in the first 23 teams to get picked to carry on, but that, for Mr. Gildea, was not a surprise. Other teams were larger and better resourced, but after, at the hotel, mingling with people involved in the contest, they met an attorney who'd been privy to deliberations who told them they had gotten close. By then, they also knew that SpaceX planned to name a few more teams after everyone went home.
A little after they got back home, they found out that Slate was in. Now the undergrads are recruiting more NYU students and also New York City companies to help them get Slate built and working.
When the Observer spoke to the teammates, they were looking forward to a test of its levitation system later that day. It will use air bearings, which Mr. Gildea called "a box with a lot of holes in it," to float one millimeter off the Hyperloop's floor, giving it the near frictionless state that could allow it to hit something like 200 miles per hour this summer.
Erasing sources of resistance is the whole point of the Hyperloop, of course, so the NYU team's insight appears self-evident in hindsight. To curtail friction, eliminating people is always a good place to start.