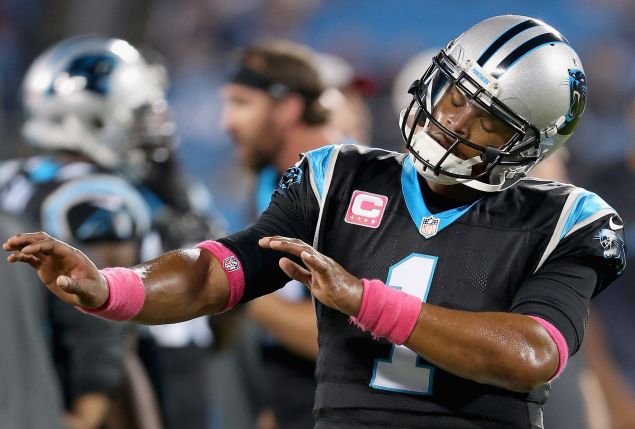 Touchdown celebrations this season have been critical, more volatile than pigskin air pressure after Travis Kelcie scores. Carolina Panthers Quarterback Cam Newton—a top-five all time end zone reveler, for me—led all QBs with 10 regular-season rushing touchdowns and two more in NFC championship game. He is positioned to provide the Golden Game's immortal post-score revelry optics. Should Mr. Newton choreography be executed on Sunday, the personal public speech that is touchdown celebration will get shine like never before.
The touchdown dance shall be offishall, as the youngstas say.
These movement storylines—potentially as much as any dive, bootleg, or bomb—will go viral.
In the entirety of your mediated American life, when do we experience the Shock of the New as powerfully as when a football player makes a move within goal post range that leaves the broadcast analyst stunned?
Until 2016, there had been no media moment like it for uncut American chagrin. Now the gods have spoken, the dam done broke, and co-optation has overcome outrage on the depth chart.
But what has lay in the shadow of that shock? We really need to know how to evaluate what we're seeing.
Take Newton's signature dab, put on dem folks from Nashville last fall. His routine garnered predictable criticism by those who thought it could have used some editing. This misses the point: The innovative brilliance in the 2015 Tennessee Dab lay in Mr. Newton's improvisational extension of space. Note how the idea of this dance evolves once Titans linebacker Avery Wilson comes past the goal line pile up, threatening Cam's dab. Even as a striped official intercedes to—it would appear—shut down the end zone act, our principal dancer is preparing to pull the narrative with a staccato secondary dab. The supra-play is not truly over. A third dabbing gesture, executed yards away from the goal posts, dissolves all of Wilson would-be disruption. The footwork is remarkable. Newton's thus signature celebration performance reminds that the Ickey Shuffle was more pedestrian than getting high on cough syrup. Touchdown dances have come so far.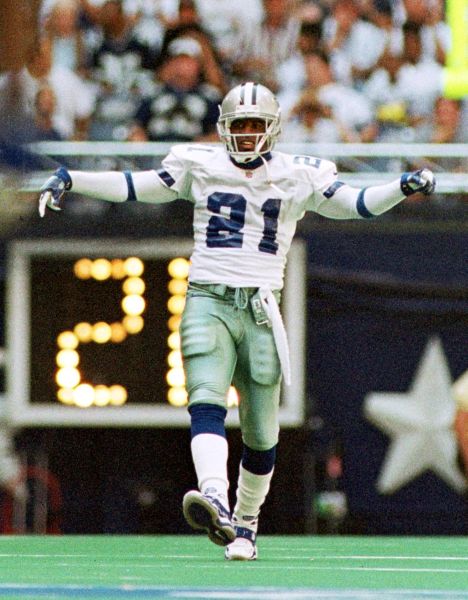 Joining Newton among my indispensable NFL celebratory dancers is Deion Sanders—still the only athlete with enough swag to have succeeded as a legitimate hip hop MC. (Apologies, Dame Lillard.) I also list Terrell Owens, a pioneer whose pom-pom dances with cheerleaders helped liberate celebration of its playing field boundaries, and former star safety Merton Hanks. Mr. Hanks built a bridge between the touchdown celebration and the sack dance with his singular duck walk. Post-Hanks, genre lines were blurred. Celebration could then seek its level in niches across the stadium floor, with the Lambeau Leap suggesting the form's limits.
Homer Jones spiked the ball first. Jimmy Graham and the genius showman Thomas "Hollywood" Henderson gave verticality to end zone festivities. However, it's the incomparable Billy "White Shoes" Johnson who sits atop of my list. Way back in 1975, Mr. Johnson took three punts back to the house—something utterly no one called a return for a score back then—for the Houston Oilers and, on a dare from a teammate, begin doing the funky chicken dance authored by Rufus Thomas. A 5-9, 170-pounds fifteenth round pick out Widener College, White Shoes Johnson was an outlier. Perhaps the opposite sort as the prototypical Cam Newton. But an outlier, like Deion Sanders and T.O. He formed the foundation on which Cam dabs. It's of note that standout NFL dancers have anomaly status all but as prerequisite. And I find myself considering the gay baseball player credited with inventing the high five, although I am not completely sure why.
Chad Johnson introduced irony with his "River Dance," then changed his name to Ochocinco.
To execute celebration as these athletes have, says T.O., "it's like bein' in the movies."
Peyton Manning is attempting the epic. His narrative of seeking victory through sheer guile while under official investigation might have been—in another time—the seeds of legend, fodder for an antihero paradigm shift. Instead, we dance. Or, rather, we are waiting for giants to go light on their feet and and maybe carve out new space for free expression. And these movement storylines — potentially as much as any dive, bootleg, or bomb — will go viral. There will be Vines. Poor Peyton; he just wasn't made for these times. Public funding for dance has, in my lifetime, fallen off of a cliff. Still, dance in America keeps coming back. Because we have the horses.