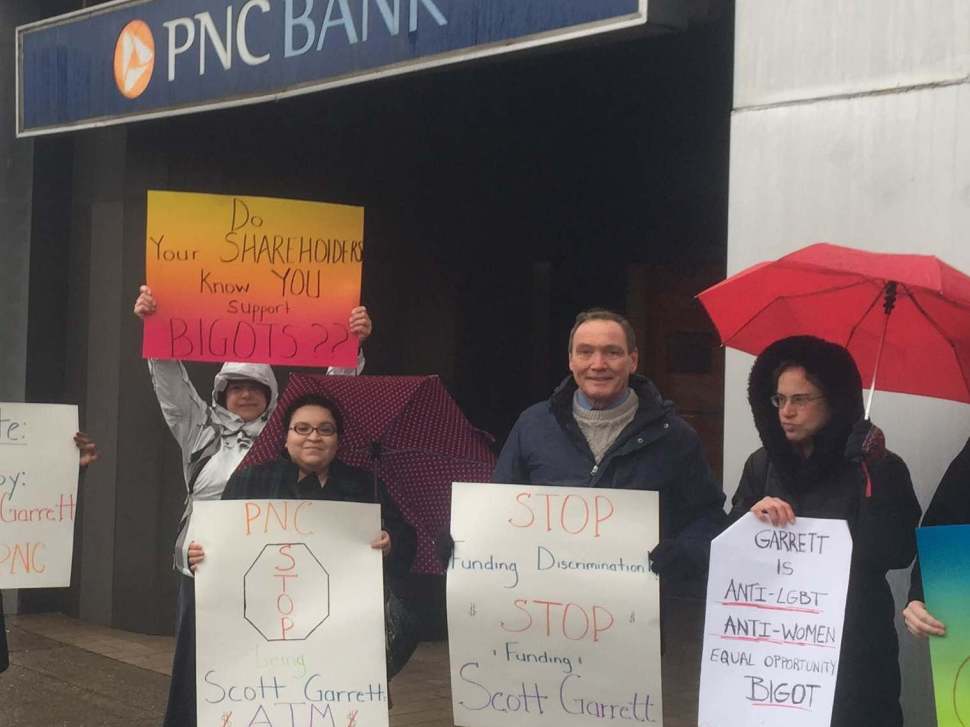 In response to a planned demonstration by Assemblyman Tim Eustace (D-38) and Garden State Equality today, PNC Bank became the latest institution to distance themselves from incumbent U.S. Rep. Scott Garrett (R-5). Eustace and Garden State Equality thanked PNC, one the nation's largest banks, for announcing that they would immediately suspend all financial contributions to Garrett, who pickled himself politically last year by making some anti-gay comments.
Garrett has a stern challenge this year from financially and politically well-connected former Bill Clinton speechwriter Josh Gottheimer.
"We applaud PNC's decision and thank them taking a stand against hate and discrimination," said Eustace. "Garrett's reprehensible positions are clearly out of line with New Jersey values. It shouldn't have to take a planned protest for companies to align with their own stated values of diversity and equality, but nonetheless we are glad that PNC will no longer contribute to Scott Garrett."
Eustace added that he hoped PNC Bank would be an example to other businesses whose contributions to Garrett would seem to contradict their LGBT policies. "We will go branch to branch, company to company, until others show they stand with the LGBT community by dropping their financial support of Scott Garrett's bigotry and hatred."
According to published reports, Garrett last year refused to pay his dues to the House Republicans' fundraising arm (NRCC) unless the party stopped supporting gay candidates for Congress. Several Wall Street firms including Goldman Sachs, Morgan Stanley, BBVA, and JP Morgan Chase subsequently stopped pulled the financial plug on Garrett, who chairs a House financial services subcommittee.
NJ Advance Media reported last week that according to a recently released FEC report PNC Bank's PAC gave $3,000 to Garrett's re-election campaign in October, which caused state Senate Majority Leader Loretta Weinberg (D-37) to send a letter to five financial institutions, including PNC, asking them to discontinue financial support of Garrett.
Eustace and Garden State Equality joined Weinberg's call for the business community to take a clear stand against discrimination by no longer enriching Garrett's campaign account and asking for previous donations to be returned.